2018 is the introductory year of the 1 oz. Platinum Australian Kangaroo Bullion Coin.
The reverse side of the platinum bullion coin pays tribute to the largest marsupial in existence and Australia's most recognizable mammal; the Red Kangaroo.
The design captures the mighty Red Kangaroo in its distinct bounding movement, inside the rays of the sun.

The Australian 1oz. Platinum Kangaroo bullion coin will be released for purchasing by The Perth Mint after October 23rd, 2017, and it will have an unlimited production mintage.
Design of the
1 oz. Australian Kangaroo
Platinum Bullion Coin
---
---
Obverse
The obverse side displays the profile of Queen Elizabeth II designed by Ian Rank-Broadley, his initials "IRB" are inscribed directly below the Queen's neck.
"ELIZABETH II" is inscribed around the outer perimeter of the coin, along with "AUSTRALIA and the bullion coins face value of "100 DOLLAR."

 Obverse Coin photo provided courtesy of The Perth Mint

---
---
---
Reverse
The reverse side of the 1oz. Australian Platinum Kangaroo bullion coin depicts the classic artistry of a bounding red kangaroo, surrounded by rays of sunlight.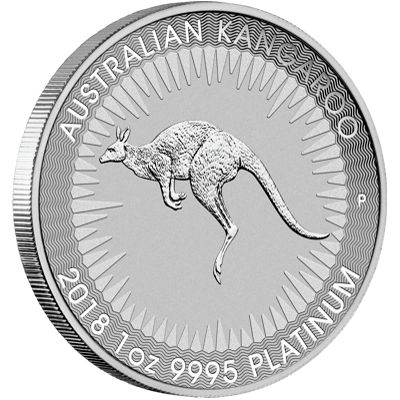 Along the top of the coin are the words "AUSTRALIAN KANGAROO." 

The Platinum bullion coin's 'year of issue,' weight of "1 OZ" and purity of "9995 PLATINUM" are inscribed along the bottom perimeter of the coin.
The Perth Mint's mint mark of 'P' is found in the outer perimeter, directly below the last 'O' in 'KANGAROO.'
The platinum bullion coin has a reeded edge.

 Reverse Coin photo provided courtesy of The Perth Mint
---
---
Australian

1 oz.

Platinum

Kangaroo
Coin Information
---
---
Introduction:........2018
Ofcl. Coin Name..."Australian Kangaroo"
IRA Approved:......Yes
Grade:..................Uncirculated
Face Value:..........$100 AUD

Silver Content:.....1 troy oz. (ozt.)

Total Weight:.......31.119 grams
Purity:.................99.95% / .9995
Diameter:............32.60 mm
Thickness:............2.45 mm
Designers:............Ian Rank-Broadley (obverse)
Mint Mark:............Yes ('P' - The Perth Mint)

Edge:...................Reeded