Introduced in 2007, the Australian Silver Koala bullion coins are minted by Australia's famous Perth Mint.
The silver bullion coin has legal tender status, which means the precious metal content is guaranteed by the Government of Australia.
Design of the
1oz. Australian Silver Koala
Bullion Coin
---
---
---
Obverse
The obverse side of the 1 oz. Australian Silver Koala displays the profile of Queen Elizabeth II by designer Ian Rank-Broadley, his initial's 'IRB' are engraved directly below the Queen's neck.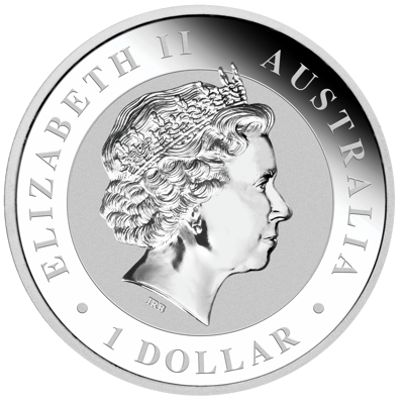 Encircled along the upper portion of the Queen's profile are the words "ELIZABETH II" and "AUSTRALIA."
The coin's Face Value of "1 DOLLAR" is inscribed along the bottom perimeter of the silver bullion coin.
Obverse side photo provided courtesy of The Perth Mint
---
---
---
Reverse
Every year, the reverse side of the Silver Koala bullion coin receives a new portrait of a Koala Bear.
The 2018's reverse portrays a koala sitting in a eucalyptus tree branch surrounded by leaves.
Inscribed along the top of the silver bullion coin is "AUSTRALIA KOALA."

Along the bottom of the Silver Koala is the Year of Issue, Weight of "1OZ" and the Purity of the silver coin "9999 SILVER."
Every year, the Mint Mark of "P" representing The Perth Mint, can be found somewhere on the reverse side of the silver bullion coin.

The edge on the 1 oz. Silver Koala bullion coin is Reeded.

Note: The proof-like finish and limited mintage of the 1 oz. Silver Koala bullion coin can give the coin a higher premium in off years. Purchasing the silver koala bullion coin in its current year of production is often the best way to purchase the coin closest to its spot price, in silver.
Reverse side photo provided courtesy of The Perth Mint
---
---
1oz. Silver Koala
Coin Information:

---
---
Introduction:..........2007
IRA Approved:........Yes
Coin Grade:............Uncirculated
Face Value:............$1 AUD
Silver Content:.......1 Troy oz. (ozt.)

Total Weight:.........31.10 grams
Purity:...................99.90% / .999 (2007 - 2017)

Purity:...................99.99% / .9999 (2018 - Present)

Diameter:..............40.60 mm
Thickness:.............3.21 mm
Mint Mark:.............Yes ("P" = Perth Mint)
Designer:..............Ian Rank-Broadley (obverse)
Edge:....................Reeded
---
---