1oz. Austrian Philharmonic Silver Bullion Coin

2008 - Present

Austrian Philharmonic Silver Bullion coins are part of an eight hundred year old tradition of fine coinage, produced by the Austrian Mint.
Silver Vienna Philharmonic coins were introduced in 2008.
The bullion coin's design celebrates one of Austria's greatest cultural institutions, the Vienna Philharmonic Orchestra.
---
---
Bullion Guide




&




Gold Nanoparticle Cancer Research Awareness




This bullion guide serves to help those who want to learn about gold, silver and other precious metals bullion, and it is one of the largest resources of  information about Gold Nanoparticle Cancer Research.

Gold Nanoparticle Cancer Research offers a better way to treat Cancer by killing cancer without harming the rest of the body.

Please Help Keep this Guide Online by Supporting our Affiliated Merchants or by giving a Donation.

(Every Advertising LINK on this Guide is from one of our Affiliates)
---
---
Page Navigation

---
---
'Click' back to return to this navigation section
---
---
Affiliate Ad
---
---
---
---
---
Design of the

1 oz. Austrian Philharmonic


Silver Bullion Coin
---
---
Obverse

The obverse side of the coin displays the Great Organ, located in the Golden Hall, in Vienna's Musikverein, the concert hall of the Vienna Philharmonic Orchestra.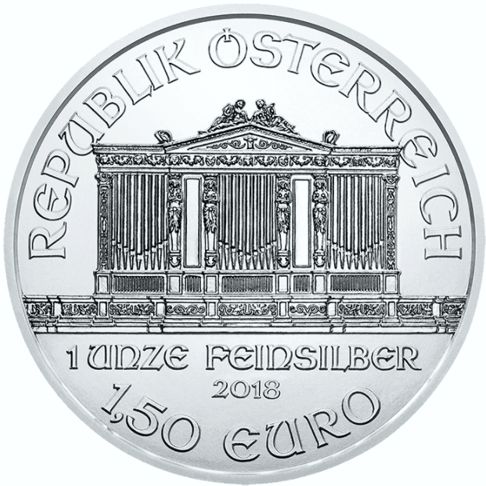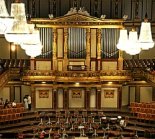 Inscribed across the top of the silver coin is "REPUBLIK OSTERREICH" (Republic of Austria).

The silver bullion coin also displays the face value in Euros "1.50 EURO", the weight and purity "1 UNZE FEINSILBER" (1 Ounce Fine Silver).

The year of issue is also inscribed on this side of the Silver Philharmonic coin.

---
---
---
Reverse

The reverse side of each Silver Philharmonic Bullion coin displays and arrangement of instruments.

The Instruments are of a string bass, surrounded by cellos and violins, in front of a bassoon, a harp, and a Viennese horn.
The word "SILBER" (silver in German), is inscribed directly above the instruments.

The text "WIENER PHILHARMONIKER" ("Vienna Philharmonic"), is also on the reverse of the coin.

---
---
Edge of the

1 oz. Austrian Philharmonic


Silver Bullion Coin
---
---
The Edge on the 1oz. Austrian Philharmonic Silver bullion coin is unique to most of the other bullion coins on the market.

Most bullion coins have a reeded edge, but all of the Austrian Vienna Silver Philharmonic Bullion Coins have a plain or smooth edge.

The Plain Edge of the 1oz. Silver Philharmonic Bullion Coin
In addition, the edge of the Gold Philharmonic bullion coin is Grained, and the Platinum Philharmonic has a reeded edge.
---
---
1 oz. Austrian Philharmonic Silver
Coin Information
---
---
Introduction:.........2008
IRA Approved:.......Yes
Grade:...................Uncirculated
Face Value:............€1.50 euro
Silver Content:.......1 Troy oz. (ozt.)

Total Weight:.........31.10 grams
Purity:...................99.90% / .999
Diameter:..............37mm
Thickness:.............3.2mm
Designer:..............Thomas Pesendorfer
Mint Mark:.............No
Edge:....................Plain (smooth)

Coin Photo courtesy of The Austrian Mint
Affiliate Ad
Buy Silver Philharmonic
Bullion Coins

(from one of the links below)
The Bullion Dealers below are Not Listed in Any Specific Order
| | | |
| --- | --- | --- |
| | "Click Here" for Trust Pilot, Better Business Reviews & other Customer Reviews on the Dealers below. | |



Sprott Money
Current Year - Silver Philharmonics page

Random Year - Silver Philharmonics page



Bullion Exchanges
Silver Philharmonics page



SDBullion.com
Silver Philharmonics page




GoldenEagle Coins
Silver Philharmonics page



BGASC
Silver Philharmonics page



Money Metals Exchange
1oz. Silver Philharmonics page
Notice

Half of this Guide's Earnings from our Retail Affiliates goes to The Angel of Healing Cancer Research Fund.
_____
(Time-line of Who this Guide has Sponsored)
2012 - 2017
The Cookies on

your computer

must be Enabled

for the Guide to receive a commission.

Cookies only indicate, to the merchant, that you linked to the merchant's website from the Free Bullion Investment Guide.com

No Personal Information is Obtained during this process

The only time more information is obtained

is when you make a purchase, but that information is between you and the merchant Only! (See this guide's Affiliate page for more information; here)

---
---
1 oz. Austrian Silver Philharmonic
Mintage Figures:
---
---
Year      Mintage
2008....7.773,000
2009....9.014,800
2010....11.358,200
2011....17,873,700
2012....8.769,200
2013....14,536,400
2014....4.643,508
2015....7.298,600
2016....3.448,390
Austrian Bullion

---
---
Affiliate Ad
---
---
1 oz. Austrian Philharmonic Silver page
OR
For the Best Bullion Market News...
---

Written Permission Must Be Received to Reproduce
For Source of Information Purposes: Please Give a Return Link


---
---
Free Bullion Investment Guide