Half Ounce Silver Timber Wolf Canadian Bullion Coin

When the half ounce Silver Timber Wolf bullion coin was released, it became an instant classic. The silver coin is now considered more of a collector's coin, than an investment grade, bullion coin.
When the Royal Canadian Mint first released the silver coin, it had an asking price of $4.50, today it is hard to find the 1/2 ozt. silver bullion coin for under $50.00. 
The coin became so popular, the mint used the image of the 1ozt. Timber Wolf for the first release in The Canadian Wildlife bullion coin series program.
---
See the Guide's New Amazon.com Silver Bullion Store Updated Monthly
---
---
---
Design
Obverse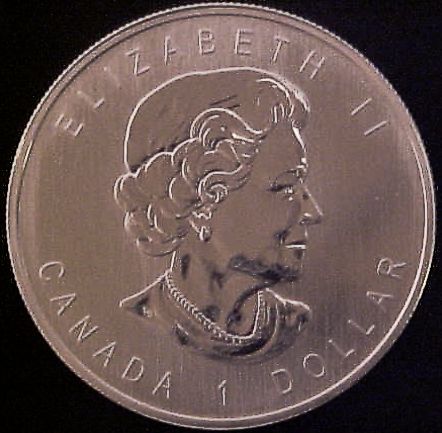 The obverse displays the profile of Queen Elizabeth II, designed by Canadian portrait artist Susanna Blunt.
Her initials "SB," are located at the top of the Queen's right shoulder, (narrated in the first person point of view).
Inscribed at the top of the silver coin is the Queen's name "ELIZABETH II."
At the bottom of the silver bullion coin is "CANADA" and its face value of "1 DOLLAR."
The edge on the half ozt. silver coin is Reeded.
---
---
---
Reverse

The reverse of the silver bullion coin was designed by the Royal Canadian Mint's senior engraver, William Woodruff.
The "WW" to the right (narrated in the first person point of view) of the Silver Timber Wolf are the initial's of William Woodruff, above his initials, is the silver coin's 'year of issue.'

The Canadian Silver Coin displays a Timber Wolf standing on a mountain landscape with the moon above and trees in the background.
The '.9999' to the left of the silver Timber Wolf indicates the purity of the 1/2ozt. silver bullion coin.

"FINE SILVER 1/2 OZ. ARGENT PUR" is inscribed along the bottom of the bullion coin, this is its fineness and weight, written in both English and French languages.
---
---
---
---
---
---
Coin Information:

Introduction:.........2006
IRA approved:.......Unknown
Grade:..................Uncirculated
Face Value:...........$1 CAD
Silver Content:......1/2 Troy oz. (ozt.)

Total Weight:........15.55 grams
Purity:..................99.99% / .9999
Diameter:.............34mm
Mint Mark:............No
Designers:............William Woodruff & Susanna Blunt
Edge:...................Reeded
Mintage: 2006......106,800
---
---
Thank You for Visiting the Free Bullion Investment Guide
Please Help Us Give to those who are Battling Cancer by Supporting our Affiliates
(Every Advertisement on the Guide is from one of our Affiliates)
---
---
1/2 oz. Silver Timber Wolf bullion coin page
OR
For the Best Bullion Market News...
---

Written Permission Must Be Received to Reproduce
For Source of Information Purposes: Please Give a Return Link


---
---
Free Bullion Investment Guide