Find Bullion Market News here

July 2020
Donation Lottery Process
& Recipient

The Angel of Healing Cancer Fund makes a donation, when it collects more than $100.00, to a random individual who is battling a cancer that corresponds with the Cancer Awareness Month, on GoFundMe.
The Fund collected over one hundred dollars during the month of July, however, the donation is made on the 15th of the next month. (August 15th)
July is Sarcoma Cancer Awareness Month, the individuals chosen for this lottery are all battling the cancer.

This page shows you the process and donation in photos.
List of those chosen for the Lottery

July's donation was made on August 15th, and is recorded on the ledger-journal page and the ledger-spreadsheet page of this guide.
This donation is recorded under the 101st (CI) Ledger Entry on both pages.
In the process of finding those to be in the Lottery, five random individuals, who are battling Sarcoma Cancer, were selected from GoFundMe.com
Sam I am, I Need a Helping Hand

Help Roxanne Conquer Ewing's - Like Sarcoma Cancer

---
The list is cut into strips so they can be put into a box, as you'll see in the next series of photos.
---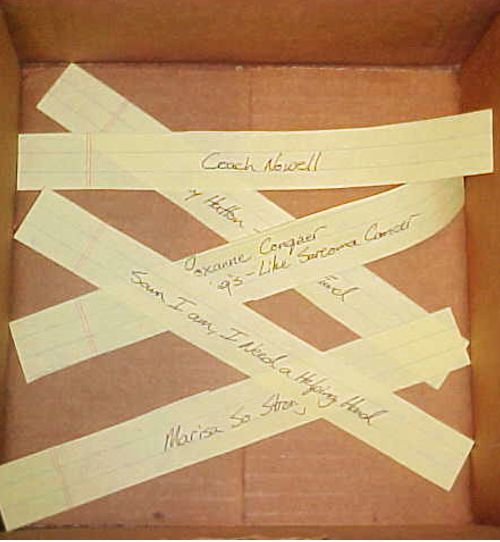 ---
The box is taped shut.

---
Shuffling the Names...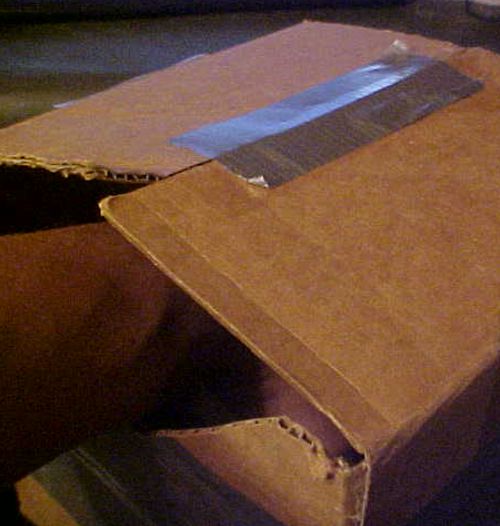 ---
Pulling out Name Chosen for Donation

Help Roxanne Conquer Ewing's - Like Sarcoma Cancer
---
Donation Made.
Here's a screenshot of the donation, currently the donation has to be in my name (Steven Warrenfeltz) because the 'Angel of Healing Cancer Fund' is not a 501(c)(3) organization, and my name is on the Credit Card, not the fund's name.

However, in the comment section, I write that the donation is being made on the behalf of the 'Angel of Healing Cancer Fund.'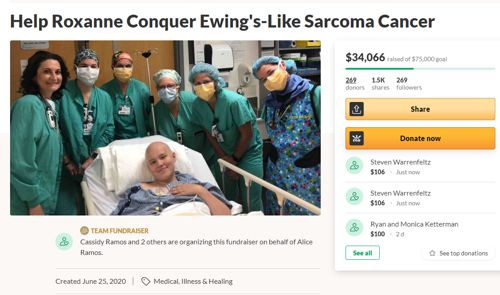 Due to the constraints of the size of this website's spacing, it may be hard for you to see my name under the donation amount, so I've blown it up for you.

'Click' the screenshots to visit Help Roxanne Conquer Ewing's-Like Sarcoma Cancer on her GoFundMe page.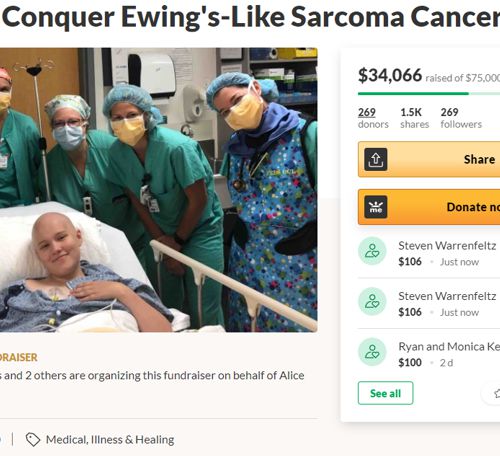 In the comment section I posted the following:

This donation was made on the behalf of the 'Angel of Healing Cancer Fund.'  We are sending many prayers for Roxanne to Overcome and Win her battle with cancer.
Anyone can help Roxanne financially by clicking on this link, or on the two GoFundMe screenshots, directly above.
Thanks be to God, through Jesus Christ our Lord for making everything possible.
I created the Angel of Healing Fund as a vessel for Jesus Christ to bring forth help to those who are battling cancer.
Friends of Roxanne's family asked for help by posting her on GoFundMe.com, I am thankful that the Fund was able to be one of many to answer their call for help.

Furthermore, I wanted to offer my many Thanks to all those who helped the Free Bullion Investment Guide and the Angel of Healing Fund.
Take Care & God Bless,
Steve Warrenfeltz


---
New Affiliate

Royal Canadian Mint - Customer Reviews

---
---
---
---
---
Free Bullion Investment Guide