Update #2
The U.S. Mint is reporting 13,531,000 more 2014 American Silver Eagle Bullion Coins than the U.S. Treasury.  Who's Right?
---
Originally Posted on 05/26/2017 @2:45pm
by Steven Warrenfeltz

---
Subscribe to this Weekly Blog post

Subscribe by RSS Feed
---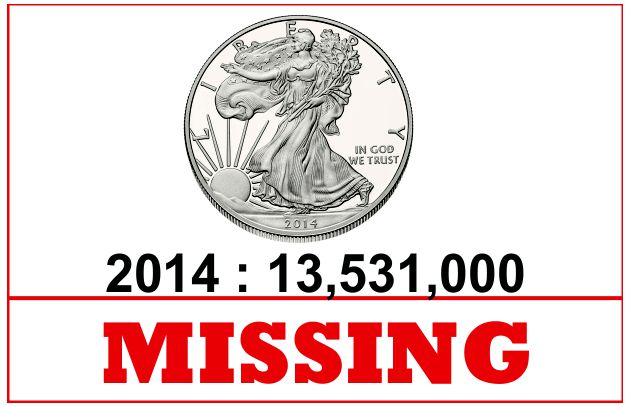 Update #2

---
About a month ago, I wrote the last update to you about an error I found in the accounting of the 2014 American Silver Eagle bullion coin.

The accounting error I found has to do with the reported mintage numbers of the U.S. Mint and the U.S. Treasury.

The U.S. Mint has posted on their website that 44,006,000 ASE's were minted in 2014, while the U.S. Treasury official mintage for the same coin is 30,475,000.

Clearly, something is wrong here, not only is this an accounting error of 13,531,000 American Silver Eagles but in dollar terms, this is an accounting error of over $200 million dollars.
Update #1 - 'Missing' 13,531,000 2014 American Silver Eagles explains everything up to where this matter is now. (click the link to see the post)
---
---
The Status of the Matter

Shortly after I sent my last email that was posted in Update #1, I received a response from Paul Gilkes of Coin World.

Mr. Gilkes stated that he would forward the details of my findings to the U.S. Mint for a full explanation and that he would send me the details of their response.

After receiving his response to my email, I considered filing an FOIA (Freedom of Information Act request) about the 2014 American Silver Eagle Mintage figures, but I decided not to because it would have turned out to be a waste of time had Mr. Gilkes gotten back to me with the details from his sources.

I contacted Mr. Gilkes several times over the last four weeks and I was told repeatedly that he had not heard a response.

Furthermore, about a week ago, in our last correspondence on this subject, he informed me that since he had not heard a response from the U.S. Mint, and that he had filed FOIA requests to get some answers on the matter.

Now, I am currently preparing my own FOIA request to be filed with the government for answers.

I have been advised that it could take some time to get a response.
One more thing: it looks like the U.S. Mint is already starting to review their accounting methods for the American Silver Eagle Bullion coins -  See this article:  05/25: Mint walks back some 2015 American Eagle information, says it got info wrong - Released mintages are accurate but way of identifying coins may not be - Coin World
---
I will keep you updated as I find out information on the subject.

Thank you for your time & God Bless,
Steve
---
---
Free Bullion Investment Guide
Thanks You for Visiting!


---

---

---




My name is Steven Warrenfeltz, and I created the this guide for those who are looking for honest information about investing in precious metals bullion.

The other side of this guide is my way of fulfilling a promise to a childhood friend who died of cancer.

That promise was to do whatever I could to support those who are Battling Cancer (researchers/patients), and in doing so, try to help rid the world of this horrible disease.

The guide is my effort to make a bigger impact against the disease by combining what I love, 'investing,' while fulfilling a promise.




| | |
| --- | --- |
| | The Free Bullion Investment Guide has three missions: |

The 1st mission is to be an Honest place on the web that provides you with the Best Bullion Market Reference Material.





---
---
'Click Here' see all of the prior Blog posts,
---
Thank You for Your Time!
---
---
Free Bullion Investment Guide