Homepage / Bullion Investment Basics: Investing Gurus

---
Find Bullion Market News here

Investing Gurus
photo courtesy of dreamstime
Knowledge, Wisdom, and some Luck is involved in becoming a investing guru.

A Guru of any type is someone who is an experts in their field. 
An Investing Guru is someone who's been right more than wrong with their investments and is considered an expert among their peers on a macro and microeconomics level.

This page explores those who've I followed in becoming a self-taught investor, and it introduces you to those who have free-market thinking and understand the value of holding precious metals in their savings/portfolio.

---
---
---
Finding
Peter Lynch & Sir John Templeton
---
---
I fell in love with investing at an early age, my uncle got me interested in investing after showing me a $1000.00 dividend check.

At this time, in the early-80's, Louis Rukeyser's Wall Street Week was virtually the only investing show there was on TV.  There was no CNBC or Fox Business in those days.
It was a blessing in disguise that those networks didn't exist at that time because business media doesn't help you learn about investing, unfortunately, they mostly teach you how to follow the herd.

Louis Rukeyser had a few guests on his show that I gravitated towards, these investors were Sir John Templeton and Peter Lynch.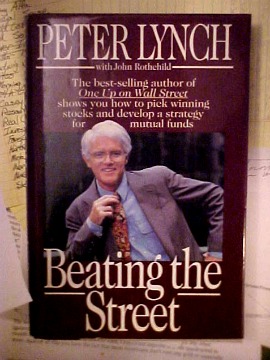 I found them both very interesting; Peter Lynch had a way of talking about stocks and the economy that, for an 11year old, I found to be easy to understand.
These quotes from him offer some examples of this:
"The worst thing you can do is invest in companies you know nothing about."

"There's no shame in losing money on a stock. Everybody does it. What is shameful is to hold on to a stock, or worse, to buy more of it when the fundamentals are deteriorating."
"In the long run, it's not just how much money you make that will determine your future prosperity. It's how much of that money you put to work by saving it and investing it."

Peter also understood precious metals, in 1993 he wrote the following in his book 'Beating the Street' 

"...Gold having been highly prized by the world's population since before the time of the Egyptians and the Incas, I doubt that we've seen its last hurrah."
Every 'Investing Guru' has developed their own style toward investing, Sir John Templeton, for instance, was known for having perfect timing in the markets.
He bought up stocks when they were low in price, after a crash, and sold them when they were high, when everyone was buying.
Sir John Templeton was an 'Independent Investor, ' and that is what I liked about him.

In 1939, when the war in Europe began, and the markets tanked, Sir John Templeton bought shares in over 100 different companies selling at one dollar or less per share; only four turned out to be worthless.
He is also known for this famous quote: "Buy at maximum pessimism"

---
---
Maverick Investing

---
---
'Investing Gurus' are 'Maverick Investors,' meaning that they didn't prosper by copying some other guy.

They learned from the mistakes and accomplishments of those who went before them; then they created their own path towards becoming a successful investor.

If you want to become a Maverick Investor like an 'Investing Guru,' the key is to not do what they say verbatim, but to do your own homework on how they invested and learn from their experiences.

Then before you get into whatever market it is you want to get in on, devise your own investment strategy for that market with what you know will or will not work.

For instance, the video below is a short excerpt of Louis Rukeyser's Wall Street Week featuring guests Peter Lynch & Sir John Templeton.

The video runs just under 11 minutes, but in that short amount of time both legendary investors offer valuable insights into their Independent Investment Philosophies. 
Note: the video is a little grainy, but the audio is fine

Below is a list of Investing Gurus, some may help you, some may not.
The investors listed below offer you glimpse into the known investing gurus and economists who understand the importance of having at least 10% of their portfolio allocated towards precious metals.

On each investing gurus page you will find a description about each of them, a link to their website and some audio and or video clips with them speaking about their investing strategies and economic views.
---
---
Investing Gurus
---
---
---
---
Economics Guru
---
---
---
---
For the Best Bullion Market News...
Transfer from the Investing Gurus page
---
---
---
Free Bullion Investment Guide