Homepage / Bullion Investment Basics: Investing Gurus / Doug Casey

Find Bullion Market News here

Investment Guru - Doug Casey

Investment Guru - Doug Casey is known for telling it like he sees it. It may turn off some people, but others find it to be a breath of fresh air.
In 1968, Doug Casey graduated from Georgetown University, he is an American born free market investor, entrepreneur and best selling author, and the founder and chairman of Casey Research.
Doug Casey has lived in seven countries, visited more than 100, he currently resides in Argentina.
Doug Casey's Point of View
His view point is from a libertarian stance. He believes in the power of the individual and his or her freedom to live ones' life to their own liberties and individual responsibilities.
Investment Guru - Doug Casey is not a fan of the over reaching arms of government, like other free market investing gurus.
Doug Casey's View on Money...
In the following quotes are from Investment Guru - Doug Casey, he is being interviewed about the Morality of Money.

"... the accumulation of wealth is in and of itself an important social, as well as personal, good. The good to individuals of accumulating wealth is obvious, but the social good often goes unrecognized. Put simply, progress requires capital. Major new undertakings, from hydro-power dams to spaceships, to new medical devices and treatments, require huge amounts of capital. If you're not willing to extract that capital from the population via the coercion of taxes, i.e., steal it, you need wealth to accumulate in private hands to pay for these things. In other words, if the world is going to improve, we need huge pools of capital, intelligently invested. We need as many "obscenely" rich people as possible."
                              Source: Daily Reckoning - The Morality of Money Part II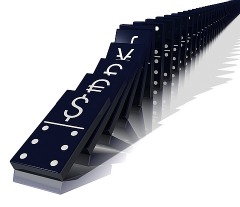 photo courtesy of dreamstime
He's stating that Capitalism is a Good Thing, as well as capital, profit, and people who have wealth.
He was then asked "so money is all good...nothing bad about it at all?"
Doug states:
"...money itself isn't the problem. Money is just a store of value and a means of exchange. What is bad about that? Gold, as we've discussed many times, happens to be the best form of money the market has ever produced: It's convenient, consistent, durable, divisible, has intrinsic value (it's the second-most reflective and conductive metal, the most nonreactive, the most ductile, and the most malleable of all metals), and can't be created out of thin air.
Those are gold's attributes. People attribute all sorts of other silly things to gold, and poetic critics talk about the evils of the lust for gold. But it's not the gold itself that's evil — it's the psychological aberrations and weaknesses of unethical people that are the problem. The critics are fixating on what is merely a tool, rather than the ethical merits or failures of the people who use the tool and are responsible for the consequences of their actions."
                              Source: Daily Reckoning - The Morality of Money Part II
Money is not evil, it's what individuals do with it that brings scrutiny on to capital and wealth.
Publishing
Investment Guru - Doug Casey's first book written in 1979, called "Crisis Investing" was one of the  best selling financial book at the time.  It stood at #1 on the New York Times Best Seller list for a total of 12 non-consecutive weeks.
He is the founder and chairman of Casey Research, a website that offers financial analysis about specific markets. The site focuses their analysis on mining, energy, commodity and the technology markets.
Since 1979, he has written, and later co-written, the monthly metals and mining focused investment newsletter, "The International Speculator."
He also contributes to other newsletters, including "The Casey Report" and other independent free market oriented publications.
He has also served as a trustee on the Board of Governors of Washington College and Northwoods University, Doug has been a director and adviser to several financial corporations.
Doug is widely respected as one of the preeminent authorities on "rational speculation," in the commodity sector.
Link to Investment Guru - Doug Casey's Casey Research.com



Free Bullion Investment Guide
Thanks You for Visiting!

---

---

---

---




This guide was created to give you an honest place, on the web, that provides reliable bullion market information.

However, it is a little unusual to other guides because it also advocates for Gold Nanoparticle Cancer Research, and supports individuals who are Battling Cancer.

This guide is here to assist you in preserving the value of your savings and or investments through precious metals bullion while helping patients battle cancer.

Thank you for visiting!





Go to this guide's Mission page for more information.




---
SD Bullion - Customer Reviews link
Affiliate Ad
---
---
Investment Guru - Doug Casey's Books:
Crisis Investing
The International Man: The Complete Guidebook to the World's Last Frontiers, for Freedom Seekers, Investors, Adventurers, Speculators, and Expatriates
Crisis Investing for the Rest of the 90s
Lifetime Getting Rich in the Age of Crisis - Investment Opportunites
Totally Incorrect - Conversations with Doug Casey
Right on the Money - Doug Casey on Economics, Investing and the Ways of the Real World with Louis James
---
Investment Guru - Doug Casey's  Articles & Interviews
Note: all of these articles were first posted on the Homepage
Bullion Vault - Efficient Markets' Nobel Nonsense by Doug Casey
AUDIO : Wall St. for Main St. - Doug Casey & Jim Rogers: Legendary Investors' Roundtable
The Gold Report - Born Libertarian: Doug Casey on Ron Paul and the Price of Freedom
The Daily Bell - Doug Casey on Conspiracies, Gold and the Continuing 'Greater Depression' of the World's Economies
Casey Research - Doug Casey: All Banks Are Bankrupt
VIDEO : SafeHaven - Doug Casey Interviews Peter Schiff on Gold, Inflation, and Interest Rates
The Gold Report - The World According to Doug Casey
AUDIO : GoldMoney - Doug Casey: 'We are living in the middle of the biggest bubble in history'
Daily Reckoning -

The Morality of Money
by Doug Casey
Daily Reckoning -

The Morality of Money, Part II
by Doug Casey
VIDEO : Kitco News - Doug Casey's thoughts on the Future of the Financial System and Gold
The Gold Report - Doug Casey Predicts Day of Economic Reckoning Is Near
VIDEO : Casey Research - Interview with Doug Casey and his Ten Tips on Speculation and Life
VIDEO : Howe Street - Doug Casey - Governments Are Out of Control
VIDEO : Doug Casey on Crisis Investing, Political Risk, and a Benign Anarchy!
VIDEO : Future Money Trends - Doug Casey Interview: Governments are Igniting Bubbles
24h Gold - How to Save Your Money And Your Life by Doug Casey
Casey Research - Doug Casey on the Coming Eurocrash 
VIDEO : Howe Street - Doug Casey; Optimism and Pessimism 
Daily Reckoning - Doug Casey on Taxes and Freedom
The Gold Report - How to Speculate Your Way to Success: Doug Casey
Casey Research - Doug Casey on the Collapse of the Euro and the EU
Casey Research - The US Government Is Bankrupt; A In-Depth Breakdown by Doug Casey
Summary & AUDIO : Bull Market Thinking - Doug Casey: "Its Getting Late in the Day to Diversify Politically, Capital Controls Are Coming"
---
Investment Guru - Doug Casey page
OR
For the Best Bullion Market News...
---
---
---
Free Bullion Investment Guide