Homepage / Bullion Investment Basics: Investing Gurus / Peter Lynch

Investment Guru - Peter Lynch

Investment Guru - Peter Lynch is known for his outstanding achievements as the manager of the Fidelity Magellan Fund, from 1977 to 1990.
He has shown his expertise in the field of investment by using a common sense approach to picking stocks.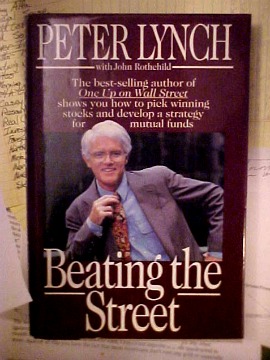 History
Peter Lynch was born on January 19, 1944, in Newton, Massachusetts, a suburb of Boston. 
He did not have an easy childhood as one may think when they hear of a successful Wall Street Fund Manager.
When Peter was a young boy, his father died at the age of 46 from cancer.  To help his mother during this hard time, he worked odd jobs to help with the finances. 
One of those odd jobs he took, was of a Golf Caddy at Brae Burn golf club, in his hometown of Newton.
The job was a blessing for him because it helped him to meet many wall street investors.   After repeatedly caddying for them he picked up on the investment language and some strategies for investing by listening to their conversations.
Peter's caddying earned him the Frances Wimen Scholarship, a financial aid scholarship that ultimately helped him get a degree in Finance from Boston College in 1965.
In 1966, he joined Fidelity as an intern, in 1968, he earned a Masters degree in Business Administration from Wharton School of the University of Pennsylvania. 
After serving two years in the Army, Peter was hired by Fidelity as a full-time Investment Analyst, shortly thereafter, he was made the head of their textiles, mining, metals and chemicals investment sector.
Eventually he became the firm's director of research, a position he held from 1974 to 1977. Then in 1977, he was named manager of the little known Magellan Fund which had $18 million in assets.
Over the next 13 years, Peter Lynch, grew the Magellan Fund into one of the top asset funds in the world with a 29.2% average annual return.
By the time Lynch resigned as a fund manager in 1990, the Magellan Fund had grown to more than $14 billion in assets with more than 1,000 individual stock positions.
Investing
Here are a some of Investment Guru - Peter Lynch's fundamental principles to his investing process.
Invest in what you know.
Identify and recognize exceptional investments.
Don't buy on impulse or emotion
Avoid long shots.
Be flexible and humble, and learn from mistakes.
Before you make a investment, you should be able to explain why you're buying it.
Peter Lynch bought stocks he knew and could easily understand. He dedicated himself to do his homework on a stock, leaving few stones unturned when researching a stock.
He would concentrate on the company's management and fundamentals and not following what the whole market was doing.  One of Peter's best quotes is; "Investing without research is like playing stud poker and never looking at the cards."
| | |
| --- | --- |
| The video to the right is from a group of students that did a video report about Peter Lynch, it ads some additional insight into his career and investment philosophy. | Expand Screen to see Video Better |
Peter Lynch's Books
Investment Guru - Peter Lynch's Articles & Commentary
The video below comes from Fidelity Investments.  In the video Peter Lynch goes in-depth into his investment strategy.
2010

Peter Lynch interview with Frontline  - (interview)
A Good Place To Be  - (interview)

Investment guru Lynch funds US education initiative
2009
Beating The Dalal Street  - (interview)

Peter Lynch: 10-Bagger Tales
2004

Q&A with legend of mutual funds: Long-term view key, Lynch says  - (interview)

---
Free Bullion Investment Guide
Thanks You for Visiting!


---

---

---




My name is Steven Warrenfeltz, I created this guide to give you an honest place, on the web, that provides reliable bullion market information.

This guide is a little unusual to other guides because it not only offers bullion market information, it also advocates for Gold Nanoparticle Cancer Research, and supports individuals who are Battling cancer

A few decades ago, I made a graveside promise to a childhood friend who died of cancer that I would help those who are battling cancer.

I created this guide to help people understand how precious metals help them preserve the value of their savings and or investments while trying to fulfill a promise.




See this guide's Mission page for more information.



---
---

Affiliate Ad
---
---
Investment Guru - Peter Lynch page 
and go back to the
OR
For the Best Bullion Market News...
---
---
---
---
---
Free Bullion Investment Guide