Heraeus Bullion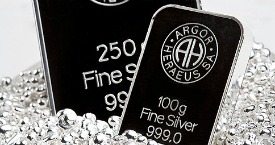 Silver Bullion Photo courtesy of Heraeus
Heraeus bullion bars are a great way for investors to buy precious metals.
Their bullion bars are available in gold, silver, platinum and palladium. 
Precious Metals Industry
Heraeus has been in the field of precious metals for more than 160 years.
Since the 1800's, the company had contracts with Russian suppliers in the platinum group of precious metals (PMGs).
At Heraeus, modern precious metals trading dates back to 1971, when for the first time, the Heraeus Holding Company conducted trading under a single legal entity.
In 1980, when trading was reorganized, the name Heraeus Metallhandelsgesellschaft mbH (HMG) was introduced and it is still used to this day.
Heraeus precious metals has trading employees in four locations, Hanau, New York, Hong Kong and Shanghai. 
They support the product divisions and assist customers with all inquiries concerning precious metals. 
They include physical preparation, hedging risks and the financing of precious metals inventories.
Heraeus covers the entire precious metals cycle, from the mine to the finished product and the company offers large scale recycling.
Heraeus Precious Metals Bullion
As stated earlier, Heraeus offers bullion bars in gold, silver, platinum and palladium.
Their gold bars are available in stamped and cast bullion bars.
Stamped gold bars are available in sizes from 1gram to 100grams.
Their Cast gold bars come in sizes from 100grams to 1,000 grams.
Heraeus silver bars are offered in sizes of 1 oz. to 5,000gram bullion and their platinum and palladium bars come in sizes of 100grams to 1,000grams.
Availability
Bullion cannot be bought directly through Heraeus, instead the company provides bullion for private and institutional investors through banks, savings banks and leading precious metal dealers in Germany, Austria, and Switzerland.
Bars can also be bought on the secondary market through online dealers, eBay and other auction sites.
Visit Heraeus precious metals website to learn more about their industry.
---
Return from the Heraeus Bullion Page and go back to the Home Page
---