Vault Bullion Storage

**This page is currently under maintenance and is being re-written and at times it maybe scattered and illegible.

The page will remain online during this process. When the maintenance is done, this notice is removed, and the page will be added to the "Recent Guide Updates" which is found on the right side column of every page.**
Vault Storage of Bullion is for the individual who wants to own physical bullion, in an allocated account, but are only interested in it for monetary reasons.

In other words, this individual isn't interested in owning coins or bars that have intrinsic designs on them or has a collector's premium attached to it, they just want to own the ultimate form of decentralized money; precious metals.
Vault Storage of Bullion
involves employing the services of a third party to store precious metals you own, in a fortified foreign or domestic vault storage facility.

There are many reasons why an individual may want to choose this form of bullion storage that include: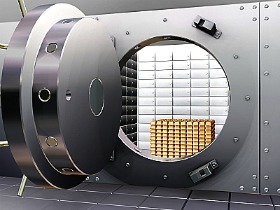 Hesitant towards storing Bullion at Home due to Natural Disasters, Crime, etc.

Diversification of Saving, and Investments
High Security Storage Facilities - Foreign & Domestic
Less Hassle, more Liquid Asset

Buy and Sell Bullion like an online stock brokerage
Audited Individual Allocated Accounts
The Vault Storage companies this guide affiliated with:
---
---
---
Hesitant towards
Storing Bullion at Home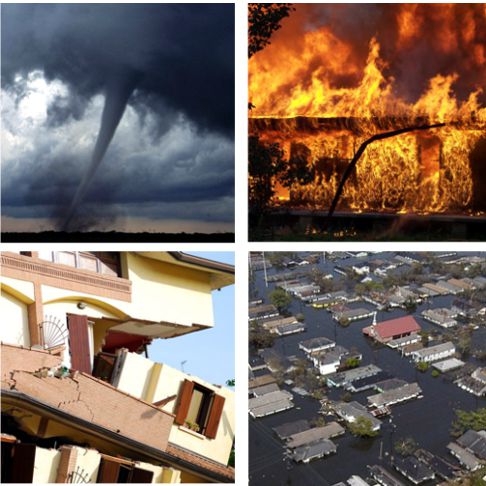 Anyone who has lived through a flood, fire, tornado or an earthquake, would undoubtedly be hesitant to store a large amount of bullion at home.
Several forms of natural disasters happen with little to no notice, and they can change in severity without any warning.
For those living in an area that has a history of one or more of these disasters, storing a small amount of bullion on your premises is their choice and would not be out of the ordinary.

But, it would be ill advised to store a large quantity of bullion in a place that could not be moved out of quickly.
So, for those who live in an area that is prone to natural disasters, and are interested in owning bullion, perhaps vault storage may be for you.
There are other reasons why an individual may be hesitant to store bullion at home, for instance, an individual could think twice about storing a bullion at their home if they think it could be stolen.
Anyone can be a victim of a robbery, no one is immune to crime, it can happen anywhere.

There are several other reasons why an individual may not want to store bullion at home, the factors mentioned above are just a few of them.
This page was created to inform you about vault storage of bullion and to help you decide if it works for you.

---
---
---
Diversification
For anyone who wants to diversify some of their investments or savings into precious metals they may ask the following question:
How should I invest in Precious Metals?

It is often stated by financial advisors that 10% of your savings or investments portfolio should be allocated into precious metals, while others will quote a percentages up to 20 or 30 percent.

Regardless of how much you own in precious metals in comparison to your total investment or savings portfolio, the question that many ask is how should I own my precious metals investments.
There are a some choices:
Mining/Royalty Stocks - ex: WMP, NEM, RGLD, AG

ETFs - ex: GLD, SLV

Owning Physical Bullion at Home - ex: Coins, Bars

Owning Physical Bullion through a Vault Storage Bullion Company
The chart below is just a sample portfolio of how an individual may diversify their precious metals.
Ultimately it is up to you as to how and where you want to put your assets.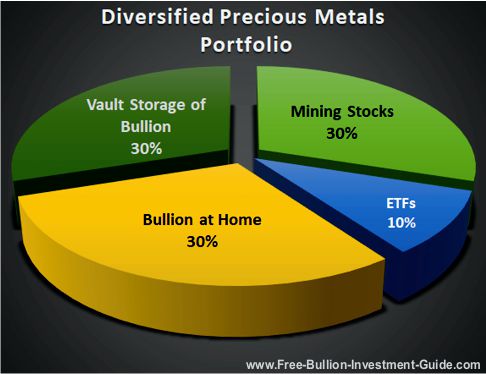 The biggest thing that every investor should remember is never hold all your eggs in one basket: Diversify.

---
---
---
High Security Storage Facilities
Foreign & Domestic
Eric Sprott, founder of Sprott Money Ltd. has stated the following about owning precious metals in more than one location.

"I firmly believe people should have various storage sources as I do and storing offshore is one of the most prudent decisions that a smart investor can make."

The vault storage companies that this guide is affiliated with provide security in the following locations:
Canada - Langley, B.C., Toronto
United States - New York, Delaware
Cayman Islands
Switzerland - Zurich, Geneva
Singapore

Brinks and Delaware Depository

Many of the Bullion Storage Services employ third party storage companies to store the precious metals.
Most use the respected VIA MAT INTERNATIONAL, part of Mat Securitas Express AG, of Switzerland, one of Europe's largest and oldest armored transport and storage companies.
Storage Services of the 5 Vault Storage/Bullion Brokers
Bullion Vault - VIA MAT
GoldMoney - VIA MAT
Gold Core - VIA MAT
Gold Silver - VIA MAT
---
---
---
Less Hassle, More Liquid Assets
One of the most convenient reasons why people choose this form of owning bullion is because it is very easy to buy and sell, without the hassles of taking the bullion down to the local coin/pawn shop.

Two of the companies that this website is affiliate with, the Real Asset Co. and Bullion Vault have trading platforms that resemble trading platforms on an online stock brokerage.
These trading platforms are very easy to use and the trades are done immediately.   Sprott Money is more of a bullion storage broker than a bullion storage broker and trading service like Bullion Vault and the Real Asset Co.

Another obvious realization with owning physical bullion is that it can start to take up a lot of storage space in a safe, especially when we are talking about owning silver.
For instance: if you owned $100,000 of gold bullion in 2017 a person would need enough space to hold about 80 one ounce gold coins.
Not a whole lot of space.
But, $100,000 in silver bullion at the average price of $17.00 in 2017 would require you to have the space to store more than 5,800 one once silver coins.
A lot of space.
Plus, no one can predict a personal financial crisis, it could be from a few thousand dollar to tens of thousands of dollars.
How ever it happens or what the cause of this issue is doesn't matter, what matters is that you

---
---
---
As a bullion investor, the best way to store your bullion is to diversify your storage locations.

To protect your wealth with maximum security, storing your bullion should have both domestic and offshore components.

Holding physical bullion outside your home country helps in the protection of your savings from any government entity that may choose to look into your finances.

Furthermore, trust and confidence in the banking system where most people once had secured their bullion in a safe deposit box have been greatly eroded.

Considering that all banks are plugged into the global financial system, means banks are subject to arbitrary government controls and regulations.

The safety you get from precious metals bullion comes from its total independence from the financial system and using a bank's safe deposit box compromises that safety.

In addition, home Storage involves owning a safe, hiding it safely from prying eyes and having it secured to the floor. Not to mention many other safety precautions one should take when holding bullion in one's home.

Unfortunately as mentioned on the Home Safes page, no safe is impenetrable, and neither are most homes, there's always the risk of being robbed.

This is why privately held, Bullion Vault Storage companies make so much sense and should not be over-looked as a viable option for Diversifying your storage options with your precious metal physical bullion investments.


Questions one may ask a Vault Storage company before they trust them to store their wealth.


Who does the Bullion Really belong to?
Quick answer - You.
Bullion Vault storage companies act as custodians of your bullion. When a person opens an account with a company that trades and stores bullion they are participating in a "Bailment" Agreement.
A Bailment is a legal relationship between two entities, involving tangible assets, in this case the person who buys and owns the bullion and the vault storage company.
The storage company is considered the custodian or "bailee", and you, are the owner or "bailor" of the physical precious metals bullion.
Bullion Vault Storage companies give you a platform from which you can buy and sell physical bullion through their website.
After you have bought the amount of bullion you wish to purchase the Custodian will hold the bullion for the Owner (you) in their allocated accounting system with the physical bullion you purchased registered only to you.
The bullion is not part of the companies balance sheet because it is not their property, it is registered in your name, it is part of your nest egg, the company is only storing it for you.
Even in the case of the bankruptcy of the Custodian, creditors cannot claim your bullion as theirs because of the Bailment Agreement.

Bullion Savers & Bullion Brokers
In addition to helping you save and store your precious metals, many Online Vault Storage companies act much like online stock brokerages.
Just like a brokerage gives you an entry into the stock market to buy and sell stocks, Vault storage companies allow you to do the same, in the physical precious metals bullion market.
However unlike stock brokerage firms that hold electronic forms of your stocks in your name, these bullion brokerages hold the real physical bullion allocated and registered to you and you only.


Who stores the physical bullion?
Is there only one storage facility?
Why should I trust your company over storing bullion myself?
Everyone is allowed to store their bullion however they feel is the safest. When storing it at home there are a few things one may want to take into consideration before doing so.
Your location: Do you rent or own, are you in the city or suburbs? FBI statistics say that if you live in a large metropolitan area and rent you are more likely to have a burglary than if you own your home and live in the suburbs.
Your budget: Keeping a small amount of bullion in your home for emergencies is expected. However, if you plan to store large amounts of bullion inside your home, one should consider additional security costs (ie: insurance, size of safe, security alarm, etc.)
Bullion Vault Storage Companies have outside auditors that come into their vaults and audit each account. These audits range from everyday to once every quarter, depending on the company.


Is physical delivery available?

Yes, Listed below are the names of Vault Storage Services, all of them provide physical delivery of the bullion you buy.
However, it is recommended to read each websites rules and regulations carefully before choosing one company over the other if you want physical delivery.
Not all have the same rules for physical bullion delivery.


Can I supply my account with Bullion I already own?
Yes and No, Some companies allow you to supply your account with your own bullion others do not.
How close to the spot price of bullion can one expect to get from a Vault Storage Company?
Pretty close, Surprisingly, many of these services charge as low as >1% above spot price to 8% above spot price. The commissions range from company to company.
What are the Fees?
They range from company to company of course, and every company offers different incentives for you to use them. However to get an idea of what these companies charge to provide their services are as follows from lowest to highest:
Storage Fees - (.10% to >6% per annum. / depending on the precious metal being stored and the location of storage facility)
Buying Fees or Commissions (.02% to 8%)
Selling Fees or Commissions (free - to 5%)
Bullion Vault Storage Companies also charge other small fees that usually do not exceed 1% of the total cost per order, these include administration fees and clearing fees among others.
Vault Storage company

*When you buy gold or silver from the BullionVault, you are buying a allocated portion of a standard London Good Delivery Bar. These bars consist of 400 ounces of either gold or silver. In addition, if you choose to take sole possession of the bar and either want it stored in there vaults or have it delivered to you some of the Fees do rise.
Consult the Bullion Vault for more information.
Bullion Vault Storage Fees are paid monthly

Bullion Vault


---
---
---
---