Chinese Gold Coin Corporation & Chinese Bullion

CGCI, China Gold Coin Incorporation was established in 1987. It is under the direct supervision of the People's Bank of China (pictured right).
CGCI is the sole body dealing in gold and silver Chinese Bullion Coins.
It is obligated with the issuance of precious metal coins, and for the assessment of national reserves of precious metals for the Central Bank.
China Gold Coin Inc., functions include; coin development, design, mintage and distribution of CGSCC (Chinese Gold Silver Commemorative Coins).
China Gold Coin Incorporation is actively developing and is expanding the Chinese bullion market and the Chinese precious metal commemorative coin market at home and abroad.
It has established large distribution centers throughout Asia, in addition to Europe and the Americas. China Gold Coin Corporation has also established extensive cooperative relationships with major coin dealers and banks world wide.
Chinese Gold Coin Incorporated Subsidiaries
The first of many of the Chinese Gold Coin Incorporated subsidiaries is the China Great Wall Coins & Investments Ltd., it was founded in 1988 and is located in Hong Kong.
Through its vast links of coin distribution institutions and dealers in Asia, America and Europe, The China Great Wall Coins & Investments Ltd. deals in the distribution of Chinese Gold Silver Commemorative Coins (CGSCC)
This subsidiary also distributes Chinese ancient gold and silver medallions, circulated bank notes and other commemorative coins.
The following is a list of China Gold Coin Incorporation branch subsidiaries:
China Great Wall Coins & Investment Ltd.
Shenzhen China Gold Coin Distribution Center
Beijing Kaiyuan China Gold Coin Distribution Center
Shenzhen Guobao Gold Coin Mint
Shenzhen Gold Coin & Jewelry Ltd.
China Great Wall (U.S.) Coins Ltd.
China Great Wall (Europe) Coins GMBH
Wuxi Jinteng Jewelry Ltd. (Joint Venture)
Source: China Gold Coin Corporation 
Note: This site is entirely in the Chinese language, check your internet browser for a language translation option.

Bullion Coin Values
The "Face Value" of a bullion coin, does not represent the "Real Value" of the different precious metal bullion coins.
Chinese Bullion Coins are bought and sold based on the current market spot price of gold or silver, plus a small premium to cover minting, handling, distribution, and marketing costs. 
Chinese Gold and Silver Bullion Coins often carry a higher premium than other bullion coins due to their low mintage and design.  
After 2011, the China Gold Coin Incorporation has been increasing the mintage figures of their bullion coins, this may affect the bullion value of these coins.

Most often, to find Chinese Bullion Coins closest to their Precious Metals Spot Price, is to buy the Gold or Silver Panda bullion coins in their current year. 
Furthermore, Chinese Bullion Coins have been coming under the increasing scrutiny, in recent years, due to forgeries.  To minimize this risk, it is best to buy these bullion coins from a reputable bullion dealer.

Gold and Silver Spot Price Charts are located on every one of the bullion coin pages below.
Chinese Panda Bullion Coins
Gold Bullion Coins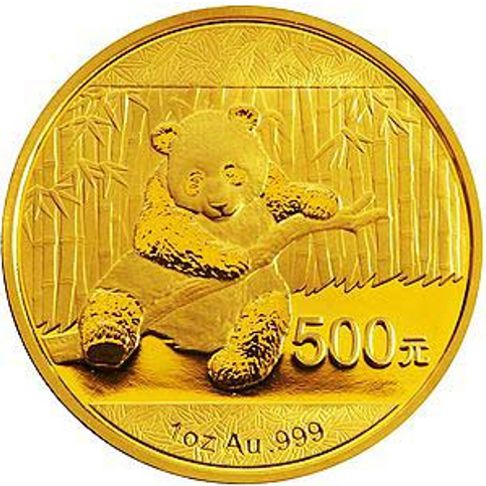 1 oz. Chinese Gold Panda Bullion Coin - 500元 Face Value
1/2 oz. Chinese Gold Panda Bullion Coin - 200元 Face Value

1/4 oz. Chinese Gold Panda Bullion Coin - 100元 Face Value

1/10th oz. Chinese Gold Panda Bullion Coin - 50元 Face Value

1/20th oz. Chinese Gold Panda Bullion Coin - 20元 Face Value
---
Silver Bullion Coins

1 oz. Chinese Silver Panda Bullion Coin - 10元 Face Value
---
Return from the Chinese Bullion page and go back to the Home Page