Welcome to the
Free Bullion Investment Guide
The Free Bullion Investment Guide is for anyone interested in the
Physical Bullion Market.
The Guide is a Free & Independent
Precious Metals Bullion Information Center and Link Portal.
---
---
Bullion Market News & Commentary
10/20: TECHNICAL ANALYSIS : Kitco - Gold Bulls Run Into Sticky Fibonacci Resistance
10/20: The Globe and Mail - How much does it really cost to mine an ounce of gold?
10/20: CHART : King One Eye - Gold Silver Ratio Chart
10/20: VIDEO : CNBC - Goldman Sachs Sees the Stock Market's Salvation through the End of the Year and It's all about the BuyBacks
10/20: VIDEO : Zero Hedge - Rick Santelli & Peter Schiff: QE Consequences...
10/20: MineWeb - A year of hard-wrought lessons for platinum
10/20: CoinWorld - World mints are catering to big buyers with half-ounce silver coins
10/20: EconomicPolicyJournal - Price Inflation for the Masses: McDonald's Gets More Expensive
10/20: Bloomberg - Gold Rises for First Time in Three Days on Rate Outlook
10/20: BullionStar - The Chinese Precious Metals Market Is On Fire
10/20: NDTV - Indian Government May Reimpose Curbs on Gold Imports
10/20: CHART : GoldBroker - Russian Gold Reserves Rise Sharply
10/20: The Bullion Desk - Autilla breaks away from the LME for gold fix submission
10/20: Business Insider - Here's The Career Advice Investing Legend Jim Rogers Gives Everyone
---
---
10/19: Investing - Inflation Already Happened
10/19: The Telegraph - World economy so damaged it may need permanent QE
10/19: PDF : Wizzen Trading - Technical Analysis : Chop For Metals And Blood For Markets
10/19: AUDIO : Peak Prosperity - Fuzzy Numbers - Crash Course Chapter 18
10/19: Got Gold Report - Frank Holmes : What the Strong Dollar Does to Yellow and Black Gold and Why We're Seeing Green
10/19: Times of India - Pushya Nakshatra sees gold sale soar in city - The sale of gold jewellery in particular was up by 20%-30% in comparison to the festive period last year.
10/19: Bloomberg - Gold Bulls Lured Back for First Time in Two Months: Commodities
10/19: AUDIO : TF Metals Report - Interview with Eric Sprott
10/19: AUDIO : Physical Gold Fund - Interview with Jim Rickards
10/19: The New York Times - Seeking an Explanation After a Benchmark Bond's Unnerving Move
10/19: Casey Research - What If Deflation Wins?
10/19: AUDIO : Chris Martenson - Dan Amerman: Will Our Private Savings Be Sacrificed To Pay Down The Public Debt?
10/19: NewsObserver - Apartments pushed up US homebuilding in September
---
---
10/17: The Short Side of Long - Federal Reserve Has The Market Addicted
10/17: Money Morning - Of All Safe Haven Investments, Gold Reigns Supreme
10/17: VIDEO : FXStreet - Technical Analysis : DOLLAR INDEX chart screaming be careful
10/17: CATO Institute - Accuracy of Macroeconomic Forecasts
10/17: TECHNCIAL ANALYSIS : SOLARCYCLES - Comparing Stock Market Peaks
10/17: Sovereign Man - Russians and Chinese are ditching the dollar as Europeans start using renminbi in their reserves
10/17: Hard Assets Investor - Marc Faber : Gold Buffers Stock Market Correction
10/17: CEO.CA - A Major Turning Point?
10/17: The Corner - US companies: When having too much money is a bad sign
10/17: McAlvany Weekly Commentary - Russell Napier: A Dearth of Dollars
10/17: MedicalPhysicsWeb - Nanoparticles Target Tumour Vasculature
10/17: Kitco - LBMA Receives Eight Proposals For New Gold-Fixing Mechanism!
10/17: Money and Markets - Central Banking's "Fatal Flaws" Dooming the Economy!
10/17: Bloomberg View - Just Try to Refinance. I Dare You
---
---
---
Recent Bullion News & Commentary Headlines
---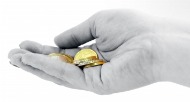 "When coins of equal face value, but different intrinsic value are put into circulation side by side, the coin with the higher intrinsic value will be hoarded and only the coin of lower intrinsic value will remain in circulation." (Gresham's Law)


- Sir Thomas Gresham
---
---
The Free Bullion Investment Guide offers you:
Charts of the Latest spot prices of all Precious Metals
Up to Date News about Bullion Coins, Precious Metals Investing and Financial News influencing the Bullion Markets
The basics of understanding physical bullion investing.
A glossary of bullion and market related terms
Information about Junk Silver Coins
Silver Coin Price Calculators for both Junk Silver US Coins and Junk Silver Canadian Coins
Information and Links to Government Mints including Coin Information & Mintage Figures
Information and Links to Online Private Mints and Online Bullion Dealers
Information about physical bullion Refiners and Links to them.
Information and Links about grading bullion and third party graders and the practices that they use to grade bullion
Information about Precious Metal bullion in IRAs
Information and Links to Precious Metals information sites
Introductions to Leading Voices (Gurus) in the Precious Metals & Investment Industry and Links to find them.
Information and Links to Wire Services
Information for Physical Bullion Storage through Bullion Vault Storage Companies and Links to them (ex: GoldMoney / Bullion Vault)
Information and Links about Home Safes and Links to Manufacturers and Suppliers
Information, Tips and Links to buy precious metals at online Bullion Auctions.
---
Free-Bullion-Investment-Guide "Search"
---
---
The Free Bullion Investment Guide Supports
The Kanzius Cancer Research Foundation

Click the "Spread the Wave" logo above to learn about the Kanzius Cancer Research Foundation or go to the Cancer & Gold page to learn about John Kanzius's invention and how this guide intends to help them in their research.
---
---
---
---
COINSHEET Numismatic Directory is a comprehensive worldwide resource for coin and currency related websites, which includes over 3000 listings.
The Precious Metals Directory - Everything Precious Metals
Submit your site to a web directory. This site is listed under Guides Directory
You can submit Url to the best of the internet directory. This site is submitted under Guides Directory
---
---