Welcome to the
Free Bullion Investment Guide
The Free Bullion Investment Guide is for anyone interested in the
Physical Bullion Market.
The Guide is a Free & Independent
Precious Metals Bullion Information Center and Link Portal.
---
The Guide Supports the Kanzius Cancer Research Foundation,
to bring more attention to its research to find a
"Better Way" to Treat and Hopefully Cure Cancer, using
Gold, Silver & Carbon Nano-Particles.
---
---
Bullion Market News & Commentary
04/24: Financial Post - Barrick Gold Corp. Chairman Peter Munk says gold prices impossible to predict
04/24: VIDEO : FXStreet - Technical Analysis : XAUUSD jumps $20 from the lows on escalating tensions
04/24: TECHNICAL ANALYSIS : Market Anthropology - What's Up With Silver & Gold?
04/24: Market Watch - A currency war is coming - Opinion: The race to the bottom could have disastrous effects
04/24: BullionVault - Only the Sane Fear Hyperinflation
04/24: King One Eye - 2 Charts Showing Inflation Is Heating Up
04/24: CoinNews - Gold Gains on Safe-Haven Demand, US Mint Gold Coins Up
04/24: TECHNICAL ANALYSIS : TheGoldandOilGuy - Silver Forecast and Prediction of Silver Stocks
04/24: SRSrocco Report - U.S. Exports A Record Amount Of Gold To Hong Kong In January
04/24: Reuters - Swiss platinum imports from South Africa slump in March
04/24: MetalMiner - Platinum, Palladium Inch Up as South African Strike Settlement Drags
04/24: AUDIO : BullionVault - Inside Good Delivery Gold Refining
04/24: News4 (Jacksonville, FL) - The end of chemo: Safer ways to fight cancer
04/24: AUDIO : Market Sanity - Chris Martenson's most important advice
---

---
04/23: Market Watch - What's that fishy smell? The Fed's corrupt policies - Opinion: Central bank costs savers more than $100 billion a year
04/23: Gains, Pains & Capital - The Central Banks Have Realized Their Worst Nightmares Are Approaching
04/23: iol - Gold flat, holds above key support
04/23: VIDEO : FXStreet - Technical Analysis : XAUUSD holding 100 day SMA support but no turn in sight just yet
04/23: In Gold We Trust - Chinese Gold Demand Dropping
04/23: Daily Reckoning - How Gold Will Respond to Declining Discovery
04/23: AUDIO : McAlvany Weekly Commentary - Dr. Goodhart: Central Banks Can't Fix the System
04/23: Reuters - Barclays joins retreat from commodities as new rules bite
04/23: The Citizen - Platinum talks still underway
04/23: AUDIO : Howe Street - David Smith : Sometimes The Best Action Is No Action
04/23: BullionVault - SILVER PRICES hit $50 three years ago this week
04/23: Phys.org - Gold nanoparticles help target, quantify breast cancer gene segments in a living cell
04/23: Zen Trader - Markets Have Bearish Bias In My View
---
---
04/22: VIDEO : Sovereign Man - Ex-Morgan Stanley Chief Economist: Fed is distorting markets
04/22: Advisor Perspectives - The End of the Gold Standard
04/22: International Man - When in Rome
04/22: The Daily Bell - Reuters Analysis: Printing Money Is More Important Than Ever for Yellen
04/22: VIDEO : FXStreet - Technical Analysis : XAUUSD short term MA's not turning yet
04/22: BullionVault - Knowing when to Trade Silver
04/22: CNBC - Einhorn: Tech bubble brewing, shorting momentums
04/22: Contra Corner - Chronicling The Fed's Follies: America's Housing Fiasco Is On You, Alan Greenspan
04/22: AUDIO : Sprott Money - Ask the Expert - Koos Jansen founder of the website "In Gold We Trust"
04/22: Deviant Investor - Silver Up & S&P Down
04/22: Trader Dan's Market Views - Goldman Sachs Saves Gold from Falling Apart
04/22: Moneyweb - Palladium falls most in nine months
04/22: miningmx - Platinum offer 'won't break strike'
---
---
Recent Bullion News & Commentary Headlines
---
---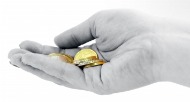 "I do not think it is an exaggeration to say history is largely a history of inflation, usually inflations engineered by governments for the gain of governments."
- Friedrich August von Hayek
---
---
The Free Bullion Investment Guide offers you:
Charts of the Latest spot prices of all Precious Metals
Up to Date News about Bullion Coins, Precious Metals Investing and Financial News influencing the Bullion Markets
The basics of understanding physical bullion investing.
A glossary of bullion and market related terms
Information about Junk Silver Coins
Silver Coin Price Calculators for both Junk Silver US Coins and Junk Silver Canadian Coins
Information and Links to Government Mints including Coin Information & Mintage Figures
Information and Links to Online Private Mints and Online Bullion Dealers
Information about physical bullion Refiners and Links to them.
Information and Links about grading bullion and third party graders and the practices that they use to grade bullion
Information about Precious Metal bullion in IRAs
Information and Links to Precious Metals information sites
Introductions to Leading Voices (Gurus) in the Precious Metals & Investment Industry and Links to find them.
Information and Links to Wire Services
Information for Physical Bullion Storage through Bullion Vault Storage Companies and Links to them (ex: GoldMoney / Bullion Vault)
Information and Links about Home Safes and Links to Manufacturers and Suppliers
Information, Tips and Links to buy precious metals at online Bullion Auctions.
---
Free-Bullion-Investment-Guide "Search"
---
The Value of the US Dollar
The chart below is an example of how gold and silver prices have outperformed the value of the US dollar from 2001 thru 2011.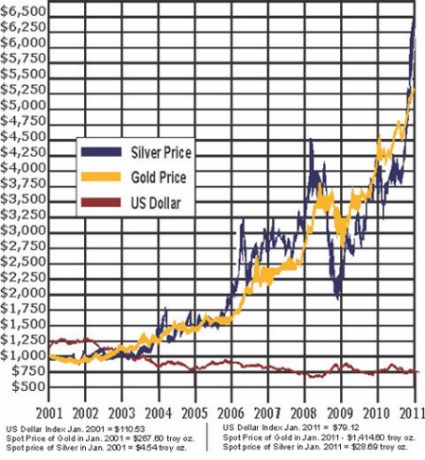 The chart displays what would have happened if someone saved a $1,000 as cash in 2001 or invested the $1,000 in physical gold or silver.
Clearly, investing $1,000 in either gold bullion or silver bullion would have been the better choice to take. The U.S. Dollar has lost more than a quarter of its value in the time period.
A $1,000 invested in gold bullion in 2001, would be worth today over $5,300.
Moreover, a $1,000 investment in silver bullion back in 2001, would be worth over $6,300 today!
While the $1,000 saved in cash in 2001, today would have the purchasing power of less than $800.
Precious metals bullion would have been the clear choice to take in 2001, to invest your money to protect your wealth and savings from the falling dollar.
The Free Bullion Investment Guide is here to help you do your own homework, so you can take charge of your savings and protect your dollars from losing more purchasing power.
This investment guide will help you make your own informed choices in your physical bullion investments.


---
---
The Free Bullion Investment Guide Supports
The Kanzius Cancer Research Foundation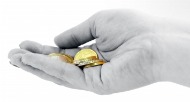 Click the "Spread the Wave" logo above to learn about the Kanzius Cancer Research Foundation or go to the Cancer & Gold page to learn about John Kanzius's invention and how this guide intends to help them in their research.
---
---
---
---
COINSHEET Numismatic Directory is a comprehensive worldwide resource for coin and currency related websites, which includes over 3000 listings.
Submit your site to a web directory. This site is listed under Guides Directory
You can submit Url to the best of the internet directory. This site is submitted under Guides Directory
---
---