Welcome to the
Free Bullion Investment Guide
The Free Bullion Investment Guide is for anyone interested in the
Physical Bullion Market.
The Guide is a Free & Independent
Precious Metals Bullion Information Center and Link Portal.
---
The Guide Supports the Kanzius Cancer Research Foundation,
to bring more attention to its research to find a
"Better Way" to Treat and Hopefully Cure Cancer, using
Gold, Silver & Carbon Nano-Particles.
---
---
Bullion Market News & Commentary
03/07: The Real Asset Co. - Five years of daylight robbery
03/07: Sovereign Man - "No inflation" Friday: the dollar has lost 83.3% against...
03/07: Wealth Daily - Should You Worry About Hyperinflation?
03/07: GoldMoney - Elevating markets: A signal of reviving bank lending?
03/07: TECHNICAL ANALYSIS : Nifty Charts - Silver's Bearish Price Action
03/07: About.Ag - Tulving Post Mortem
03/07: In Gold We Trust - China's Road To Secret Gold Accumulation
03/07: The Economist - In a fix, Mr Bond
03/07: Mail & Guardian (S. Africa) - Banks bear brunt of gold-fix blame - If guilty, the five major institutions could be sued in SA for deals done locally
03/07: GoldSilverWorlds - Why Increased Western Gold Demand Could Lead To A Gold Supply Shortage
03/07: World Mint News - 2014 Silver Britannia/ Year of the Horse Mule Error Coins
---
---
03/06: SRSrocco Report - Silver Eagle Sales Steal The Show While Top Silver Miners Lose Money
03/06: GoldSeek - Gold Scams Revisited
03/06: Gold Chat - US deep storage gold - weights
03/06: Financial Sense - The Dollar's Long Term Decline
03/06: AUDIO : McAlvany Weekly Commentary - Money Printing & Your Personal Gold Standard
03/06: CHARTS : Advisor Perspectives - The Q Ratio and Market Valuation: Monthly Update
03/06: AUDIO : HoweStreet - Interview with Danielle Park - How To Survive Major Market Sell-Off
03/06: Money Forever - Learn to Trust Your Own Financial Judgment
03/06: TECHNICAL ANALYSIS : Market Anthropology - Euro has Broken out of its Consolidating Range... includes Charts for Precious Metals
03/06: BullionVault - UK QE and 0.5% Interest Rates, 5 Years On
03/06: AUDIO : Silver-Investor - Precious Metals & The Restoration of Liberty Interview with David Morgan
03/06: CoinWorld - 'Mule' Britannia: error versions of silver £2 coins surface
03/06: Gold Made Simple - India is experiencing an 'acute shortage' of gold – prices are 21% HIGHER than spot gold
03/06: VIDEO : Bloomberg - A Rare Look Into a Copper Warehouse
---
---
03/05: iol - Futures point to $1 400 for gold
03/05: CoinNews - 2014 American Platinum Eagle Bullion Coins on Sale March 10
03/05: AUDIO : MineWeb - The effects of gold market manipulation and the opportunities for equities - Eric Sprott
03/05: VIDEO : FXStreet - Technical Analysis : GOLD- Potential Bearish Hook Reversal and Harami Pattern
03/05: TECHNICAL ANALYSIS : Gold & Oil Guy - How Much Will a 15% Hair Cut Cost Your ETF Portfolio?
03/05: TECHNICAL ANALYSIS : Advisor Perspectives - A Technical Look At Margin Debt
03/05: TECHNICAL ANALYSIS : Market Anthropology - The 46' Parallel
03/05: VIDEO : Ron Paul Channel - Ron talks to Jan Skoyles of The Real Asset Company
03/05: In Gold We Trust - Interview Fabrice Drouin Ristori From Goldbroker.com
03/05: Kitco - Palladium Hits 11-Month High On Russia, South Africa Supply Concerns
03/05: Reuters - Australia's Perth Mint gold sales rise in Feb, silver falls
03/05: Bloomberg - Barclays, Deutsche Bank Accused of Gold Fix Manipulation
03/05: BullionVault - India Gold Curbs Tighten Even as Minister Says "Need to Ease"
03/05: Arizona Daily Star - Man melted stolen jewelry, made gold bars, Tucson police say
03/05: Birmingham Mail - Pics and video: The REAL Goldfinger's house goes up for sale for £1m
---
---
Recent Bullion News & Commentary Headlines
---
---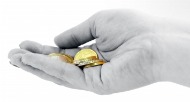 "Since the State necessarily lives by the compulsory confiscation of private capital, and since its expansion necessarily involves ever-greater incursions on private individuals and private enterprise…the state is profoundly and inherently anti-capitalist."
- Murray Rothbard
---
---
The Free Bullion Investment Guide offers you:
Charts of the Latest spot prices of all Precious Metals
Up to Date News about Bullion Coins, Precious Metals Investing and Financial News influencing the Bullion Markets
The basics of understanding physical bullion investing.
A glossary of bullion and market related terms
Information about Junk Silver Coins
Silver Coin Price Calculators for both Junk Silver US Coins and Junk Silver Canadian Coins
Information and Links to Government Mints including Coin Information & Mintage Figures
Information and Links to Online Private Mints and Online Bullion Dealers
Information about physical bullion Refiners and Links to them.
Information and Links about grading bullion and third party graders and the practices that they use to grade bullion
Information about Precious Metal bullion in IRAs
Information and Links to Precious Metals information sites
Introductions to Leading Voices (Gurus) in the Precious Metals & Investment Industry and Links to find them.
Information and Links to Wire Services
Information for Physical Bullion Storage through Bullion Vault Storage Companies and Links to them (ex: GoldMoney / Bullion Vault)
Information and Links about Home Safes and Links to Manufacturers and Suppliers
Information, Tips and Links to buy precious metals at online Bullion Auctions.
---
Free-Bullion-Investment-Guide "Search"
---
The Value of the US Dollar
The chart below is an example of how gold and silver prices have outperformed the value of the US dollar from 2001 thru 2011.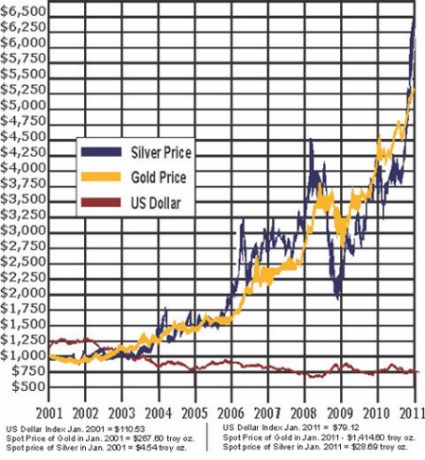 The chart displays what would have happened if someone saved a $1,000 as cash in 2001 or invested the $1,000 in physical gold or silver.
Clearly, investing $1,000 in either gold bullion or silver bullion would have been the better choice to take. The U.S. Dollar has lost more than a quarter of its value in the time period.
A $1,000 invested in gold bullion in 2001, would be worth today over $5,300.
Moreover, a $1,000 investment in silver bullion back in 2001, would be worth over $6,300 today!
While the $1,000 saved in cash in 2001, today would have the purchasing power of less than $800.
Precious metals bullion would have been the clear choice to take in 2001, to invest your money to protect your wealth and savings from the falling dollar.
The Free Bullion Investment Guide is here to help you do your own homework, so you can take charge of your savings and protect your dollars from losing more purchasing power.
This investment guide will help you make your own informed choices in your physical bullion investments.


---
---
The Free Bullion Investment Guide Supports
The Kanzius Cancer Research Foundation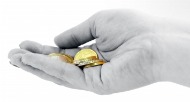 Click the "Spread the Wave" logo above to learn about the Kanzius Cancer Research Foundation or go to the Cancer & Gold page to learn about John Kanzius's invention and how this guide intends to help them in their research.
---
---
---
---
COINSHEET Numismatic Directory is a comprehensive worldwide resource for coin and currency related websites, which includes over 3000 listings.
Submit your site to a web directory. This site is listed under Guides Directory
You can submit Url to the best of the internet directory. This site is submitted under Guides Directory
---
---