Welcome to the
Free Bullion Investment Guide
The Free Bullion Investment Guide is for anyone interested in the
Physical Bullion Market.
The Guide is a Free & Independent
Precious Metals Bullion Information Center and Link Portal.
---
---
Bullion Market News & Commentary
07/31: Daily Reckoning - Why the Fed Has Declared War on Your Money
07/31: TECHNICAL ANALYSIS : Bullion Vault - Spot the Sheeple
07/31: Bullion Baron - How Safe Are Unallocated Bullion Accounts?
07/31: GoldMoney - James Turk, Founder and Director of GoldMoney is interviewed by Franklin Sanders and The Money Changer
07/31: Reuters - Chinese gold jewellery demand sees first quarterly drop in 8 years
07/31: TECHNICAL ANALYSIS : SOLARCYCLES - QE is mantra rather than driver
07/31: International Man - Peter Schiff and Doug Casey on the REAL State of the Economy
07/31: TECHNICAL ANALYSIS : Gold Scents - S&P 500 Breaks Important Trend Line
07/31: CHARTS : McClellan Oscillator - A Scary Valuation Indicator
07/31: GoldBroker - U.S. Authorities Starting to Worry about Deutsche Bank's Mountain of Derivatives
07/31: Kimble Charting - Triple Top in this"Value Index" take place?
07/31: Economic Policy Journal - The Worst Comment on Economics That'll You'll Read All Day
07/31: Reuters - London platinum, palladium fixing co seeks third-party administrator
---
---
07/30: Kimble Charting - Since 2000, the S&P 500 on an "Inflation-Adjusted" Basis is STILL BELOW where it was 14-years ago - Whereas exactly 14 years ago today, Gold was $273.00 & Silver was $4.90 a troy ounce
07/30: Forbes - The Government's Assault On Retirees
07/30: MineWeb - Hold some gold. Better safe than sorry
07/30: CoinNews - Gold Dips, Silver Eagle Bullion Coins Top 26 Million
07/30: Munknee - Gold Production to Drop By 50%; Few New Discoveries Will Exacerbate Problem
07/30: South China Morning Post - Stricter emissions control in China to drive palladium prices higher
07/30: GoldBroker - Shanghai Gold Exchange - Gold deliveries since December 2008
07/30: CHARTS : Zero Hedge - 3 WTF Charts
07/30: Casey Research - Why the Fed's Taper Hasn't Hurt the Stock Market… Yet
07/30: VIDEO : Mises Economics - Jim Grant: "The Federal Reserve Has So Little Self-Awareness…"
07/30: CHARTS : StreetTalkLive - Misunderstandings Of The End Of Q.E.
07/30: VIDEO : Bloomberg - Greenspan: Significant Correction Likely in Stocks
07/30: Profit Confidential - The Era of Financial Insanity
07/30: Mish's Blog - Whopping 35% Have Debt in Collection! Delinquent Debt in America: By Region and Metro Area, Where Is It?
---
---
07/29: AUDIO : Howe Street - The Morgan Report's David Smith - Following the Trading Herd Will Get you Slaughtered
07/29: GoldSilverWorlds - US Dollar Facing Competition From Other Currencies, Gold Will Also Benefit
07/29: VIDEO : Bloomberg - James Grant - The Fed is Manipulating the Interest Rates and the Markets
07/29: Hussman Funds - Yes, This Is An Equity Bubble
07/29: The Bullion Desk - Gold fix race to open in 'late August', close in September – LBMA
07/29: VIDEO : CNBC - Ron Paul: Why I still believe in gold
07/29: AsianScientist - Gold Nanoparticles are Killing Tissue-Deep Tumors With Light
07/29: Zero Hedge - Is Hong Kong-US Dollar Link About To End? HKMA Buys $715 Million To Support Peg
07/29: Gold-Eagle - Fed Exit a Blue Pill?
07/29: MINING - China's war on pollution to push palladium higher still
07/29: AUDIO : Bullion Star - Interview with BullionStar's CEO on the development of the Asian gold market - Mr. Persson touches specifically on the development of the Chinese and Singaporean gold markets
07/29: TECHNICAL ANALYSIS : Market Anthropology - The Miners Lead a Rising Tide
---
---
Recent Bullion News & Commentary Headlines
---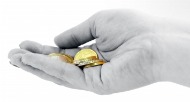 A prudent man foresees the difficulties ahead and prepares for them; the simpleton goes blindly on and suffers the consequences.
- Proverbs 22:3
---
---
The Free Bullion Investment Guide offers you:
Charts of the Latest spot prices of all Precious Metals
Up to Date News about Bullion Coins, Precious Metals Investing and Financial News influencing the Bullion Markets
The basics of understanding physical bullion investing.
A glossary of bullion and market related terms
Information about Junk Silver Coins
Silver Coin Price Calculators for both Junk Silver US Coins and Junk Silver Canadian Coins
Information and Links to Government Mints including Coin Information & Mintage Figures
Information and Links to Online Private Mints and Online Bullion Dealers
Information about physical bullion Refiners and Links to them.
Information and Links about grading bullion and third party graders and the practices that they use to grade bullion
Information about Precious Metal bullion in IRAs
Information and Links to Precious Metals information sites
Introductions to Leading Voices (Gurus) in the Precious Metals & Investment Industry and Links to find them.
Information and Links to Wire Services
Information for Physical Bullion Storage through Bullion Vault Storage Companies and Links to them (ex: GoldMoney / Bullion Vault)
Information and Links about Home Safes and Links to Manufacturers and Suppliers
Information, Tips and Links to buy precious metals at online Bullion Auctions.
---
Free-Bullion-Investment-Guide "Search"
---
---
The Free Bullion Investment Guide Supports
The Kanzius Cancer Research Foundation

Click the "Spread the Wave" logo above to learn about the Kanzius Cancer Research Foundation or go to the Cancer & Gold page to learn about John Kanzius's invention and how this guide intends to help them in their research.
---
---
---
---
COINSHEET Numismatic Directory is a comprehensive worldwide resource for coin and currency related websites, which includes over 3000 listings.
Submit your site to a web directory. This site is listed under Guides Directory
You can submit Url to the best of the internet directory. This site is submitted under Guides Directory
---
---