Homepage / Buying Guides: Graded Bullion Guide

Graded Bullion Coins
Buying Guide

with a list of Reputable


Graded Coin Dealers
The Sheldon Scale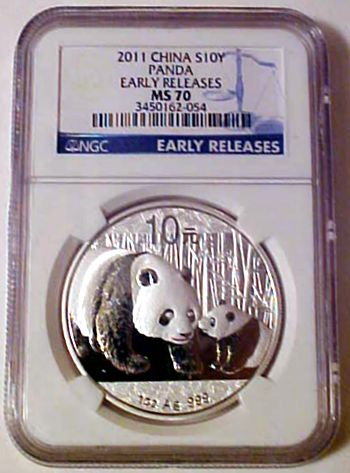 One of the most important things to know about graded bullion coins is the scale that determines their value. 
The Sheldon Scale is the scale that numismatic grading services uses to determine a coin's quality.
Only the higher grades of the Sheldon Scale are relevant for grading bullion coins because any bullion coin with a grade lower than MS-68 isn't worth much more than the collector's premium value of the coin.

(Note: MS = Mint State)
Perfect Uncirculated (MS-70) - Perfect condition, showing no marks, blemishes or wear.  Bullion coins with this grading are of the finest quality and have the highest prices.
Choice Uncirculated (MS-69) - An above average Uncirculated coin which may have a few light marks.
Brilliant Uncirculated (BU) - Original state from a Mint, although the coin may have some slight imperfections or blemishes.
---
---
---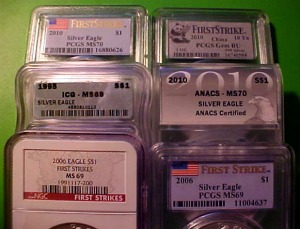 Third Party Grading

There are four well known and respected coin grading services that collectors look for when they want to purchase a graded coin.

The Top Four Grading Services are:
PCGS - Professional Coin Grading Service

NGC - Numismatic Guaranty Corporation

ANACS - American Numismatic Association Certification Service
ICG - Independent Coin Graders

Coins graded/certified by PCGS and NGC are the two top grading services, and their graded coins hold the highest value in the industry.

To learn more about graded bullion and the grading practices of the four leading third-party grading services, go to the Graded Bullion page.
---
---
---
Premiums on Graded Bullion

Graded bullion coins that hold high premiums are bullion coins with low mintage figures, toned bullion coins, error bullion coins, and bullion coins with a perfect grading - MS-70.

All of these factors make a coin rarer and gives it a numismatic value with a higher premium.   In addition, the coin will carry the same high premium when it is resold.
American Eagle silver graded bullion coins, often carry lower premiums than other graded bullion coins because US silver eagle bullion coins are mass-produced.  
The American Silver Eagle proof and un-circulated graded coins are more sought after graded coins, than the bullion version.
This is why grading services specify "First Strike" on the graded American Silver Eagles to bring rarity to the bullion coin.

Graded Gold and Platinum American Eagle bullion coins, are often found with premiums closer to their collector's edition counterparts.
Graded "Silver" Bullion Coins that possess higher premiums than the coin's silver content are associated with coins that are made from countries.
For instance, China's Silver Panda, Australia's Silver Lunar, Mexico's Silver Libertad and the UK's Silver Britannia bullion coins are minted in limited production and a lot less of them are graded, giving them a higher premium than the American Silver Eagle.
Affiliate Ad
---
Note: Graded American Eagle Silver bullion coins and Graded American Eagle Silver "Un-Circulated" coins look very similar to one another.  
The one difference is the "Un-Circulated" version has the "W" Mint Mark on the reverse side, where the bullion version of the coin has no Mint Mark.

---
---
List of Reputable


Graded Bullion Dealers

---
---
Each one of the Dealers below is an Affiliated Dealer of this Guide, meaning that we receive a commission for every purchase that we refer to them. 

Half of every commission helps this guide pay its bills, and the other half goes to someone battling cancer.
All the Dealers affiliated with this guide have been vetted to ensure their business is reputable. 
Furthermore, you will find a Customer Review section for each Dealer below, to help you determine whether or not you wish to do business with them.

Note: the Cookies on your computer must be Enabled for this Guide to receive a commission from our affiliates.

Cookies only indicate, to the merchant, that you linked to the merchant's website from this guide. No Personal Information is Obtained in this process.
---
---
Note: As a suggestion to anyone interested in buying bullion from any one of the sites listed below, Please Read each company's ordering instructions and shipping rules carefully.
---
---
---
---
---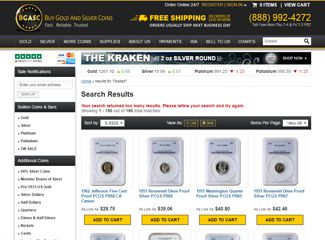 Graded Coins page
(Graded / Certified Coins page)
"BGASC" is a acronym for "Buy Gold And Silver Coins" they are a Precious Metals Dealer based in California.

They offer a wide selection of world gold, silver, platinum and palladium bullion coin.  
Every single package BGASC ships is sent fully privately insured for its time in transit.
---
---
---
---
(Graded / Certified Coins page)
GMRgold is a leading precious metals investment firm specializing in rare and exceptional bars, rounds, coins and other forms of bullion.
They are dedicated to ethical business practices in guiding their clients towards long-term financial security.
GMRgold's corporate headquarters is in The Woodlands, Texas.
---
---
---
---
(PCGS Graded / Certified Coins page)
SD Bullion is a Precious Metals Dealer located in Michigan and is part of the Silver Doctor's network.

In 2011, two doctors started the website SilverDoctors.com with one dream: To educate the masses on the value of hard assets and preparation.

The rapid success of this website gave way to the launch of SDBullion.com in March of 2012. SD Bullion now is one of the most trusted, lowest cost online retailers of bullion.
---
(NGC Graded / Certified Coins page)
Since 2012, SD Bullion has shipped more than 300,000 orders and hit Inc. Magazines list of 500 Fastest Growing Companies in the United States twice.

They did all this while staying true to their original mission of offering the absolute lowest prices on gold bullion and silver bullion in the industry, guaranteed.
---
---
Other pages you may like...
---

---
---
---
SD Bullion - Trust Pilot - Customer Reviews

Affiliate Ad
---
---
---
Graded Bullion Coins Buying Guide

OR
For the Best Bullion Market News...
---
---
---
Free Bullion Investment Guide