Homepage / Bullion Investment Basics: Inflation

---
Find Bullion Market News here

Inflation...Explained

What is Inflation?
"The increase in the quantity of money" which results in a devaluation of the currency and the eventual rise in the price of goods.
---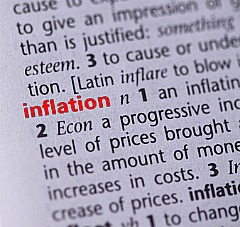 How is Inflation Calculated?  As inflation rises, every dollar decreases in value.

For example, if the inflation rate is 10% a year, then a $100.00 item bought at the beginning of the year will cost $110.00 by the end of the year.
The results of Inflation are always the same, the value of goods and services increase as the value of money decreases.
Click this link to see how a 2% rate of inflation can rob the value of money over 20-years.

---
"Printing more money means inflation - and inflation is a quiet lie, by which a government can keep its promises on paper, but with money worth much less than when the promises were made."
Inflation Quotes

---
---
---
Major Influences of Inflation
Currency - a Unit of exchange; ex: US dollar, Yen, Pound, Peso, Ruble, Yuan or Renminbi, Gold, etc.

Central Bank - The entity responsible for overseeing the monetary system for a nation or a group of nations. Central banks issue currency, they function as the bank of the government, regulate the credit system, oversee commercial banks and manage exchange reserves.
Commodities - A transportable article of commerce or trade; ex: iron, oil, lumber, beef, corn, sugar, coffee, wheat, cotton, etc.
Stocks - a certificate of ownership; a contract between a corporation and the owner of the stock, which gives the owner an interest in the management of the corporation; ex: When you own a share of stock, you own a share of the business.
Bonds - A certificate of debt; or an IOU issued by a government or corporation; ex: a bond is the form of a loan to a government to pay for infrastructure to be paid back in a set period of time with interest.
Real Interest Rate - An interest rate that has been adjusted to remove the effects of inflation to reflect the real cost of funds to the borrower, and the real yield to the lender. The real interest rate of an investment is calculated as the amount by which the nominal interest rate is higher than the rate of inflation.

How do these Market Factors interact together in a Low Inflationary market compared to a High Inflationary Market?
---
---
---
Low Inflation Market
Stable or Rising Value of a Currency, Lower Commodity Prices, Normal Interest Rates
Good for Consumers
When a currency's value goes up, interest rates on bonds fall which lead to higher bond prices.

When a government's bonds are selling at a higher price, it's a sign of confidence in the markets because it tells investors that the government will pay the bond off when it expires.

Bonds from a government like this would be in high demand, and they would also be called a safe-haven investment.

A stable currency or one that is rising in value produces lower commodity prices because it takes less money to buy the commodity.

Lower commodity prices help to make the manufactured goods we buy in stores, less expensive, giving the citizens of a government in this scenario a low inflationary environment.

---
SilverGoldBull - Customer Reviews link
---
---
---
High Inflation Market
Falling Currency Value, Higher Commodity Prices, Higher Interest Rates
Bad for Consumers
When a government prints and spends excessive amounts of money, the value of its currency falls due to the increase in the money supply and debt.

When you have inflated dollars in circulation, it costs more to buy goods because commodities can't just be printed out of thin air, like dollars.

Commodities have to be mined, grown, or manufactured in one way or another, which takes time and money.

Meanwhile, the government continues to printing and spending more money, continually reducing the value of the currency.

When the manufactured goods finally come to the market, everyone needs or wants them, and their prices rise as the product sells, causing supply shortages.

This is how the stock market first starts to go up in an inflationary environment because prices in the stores are higher so when a company sells these inflated goods they earn more money, raising their earnings.

However, when the constant higher prices finally start to creep into consumer savings, it causes the consumer to retract and stop buying some goods to pay for others.

This is how inflation hurts the stock market. Companies who buy commodities to manufacture products, for the consumer, will have to pass on the higher costs to the consumer to stay in business.

But, unless the product in question is a consumer staple, the customer won't buy it, or they may try to save their money to buy the item another day.

This is why economists will recommend investors to buy consumer staples (i.e.: household items, energy) when a market is in trouble.

Furthermore, interest rates on bonds rise, in this scenario, a government that is selling these bonds to fund their spending activities will be unable to sell their bonds at face value.  
This is because their currency is no longer sought after by investors because of the excessive debt on the government's books.

Which causes the bond's interest rate to rise because nobody wants to buy them.

Higher interest rates, attached to government bonds, say to a possible investor, this is a High-Risk Bond a.k.a "Junk Bond" and they'd be taking on a big risk if they bought the bond.

The bond will not sell without a high reward namely through higher interest rates, and unless the government pays off its debts, its currency will continue to lose value and inflation will increase.
(Ex: Venezuela, Argentina)

This is why governments should try to keep their debt low, because not only do they have to pay back the debt, but they also have to pay back the interest.

---
---
---
A Few Videos about

Inflation



A Good way to understand inflation is to understand the Gold Standard and how inflation is inevitable without a Gold Standard






---
When a business or an individual spends more than it makes, it goes bankrupt. When government does it, it sends you the bill. And when a government does it for 40 years, the bill comes in two ways: higher taxes and inflation. Make no mistake about it, inflation is a tax and not by accident.                

   - Ronald Reagan
---
This is a short speech given by President Ronald Reagan, in it he explains how "Inflation is a Tax."
---
---
---
---
---
---
---
For the Best Bullion Market News...

Return from the Inflation page
and
---
---
Free Bullion Investment Guide