Homepage / Precious Metals Charts: Palladium Price Charts
---
Find Bullion Market News here

Palladium Price Charts
Palladium Price Charts


1) Palladium Spot Price - Candlestick Chart


2) Palladium Spot Price - Foreign Currency Charts




Scroll Down to see the charts
---
Palladium Spot Price
- Candlestick Chart -

---
Palladium Spot Price - Interactive Candlestick Chart. 
On this chart, you can do your own Technical Analysis by selecting one of the buttons located above and on the left side of the chart.
If you wish to change the symbol, "Click" your Mouse over the Symbol Name "XPDUSD" and click the "÷" to find the symbol you want. 
Choose "CFD" heading for a different commodity (ie: copper, oil, silver)
Click this "Link" for more information about TradingView Charts
Charts provided courtesy of this Guide's Affiliate - TradingView.com
Return to the Top of the Page
Palladium Spot Price
Foreign Currency Charts
---
Return to the Top of the Page
Brazilian Real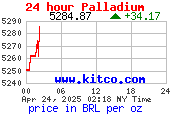 Precious Metals Price Charts

---
---
Other pages you may like...
| | | |
| --- | --- | --- |
| Bullion Refiner | | Refiner |

Return to the Top of the Page
---
For the Best Bullion Market News...
Transfer from the
Palladium Price Charts page
and

---
---
Free Bullion Investment Guide