Homepage / Popular Bullion Refiners: Pan American

Pan American Bullion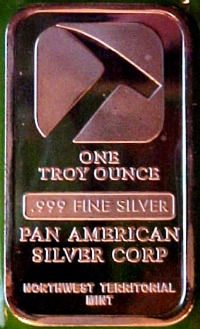 Pan American bullion is exclusively minted by the Northwest Territorial Mint.
Pan American Silver Corporation is the world's second-largest primary silver producer.
Founded in 1994, its mission is to be the world's largest, low-cost primary silver mining company.
In addition, after 14 consecutive years of production and growth, Pan American owns and operates seven silver mines in Peru, Mexico, Argentina and Bolivia.
Pan American has doubled it's production of silver in the last 10 years to an annual mining output of more than 25 million ounces of silver.

Their strategy for growth is based on a plan to increase its low cost silver mining, the expansion of its existing mines and the acquisition and development of new silver deposits.
Silver Rounds and Bars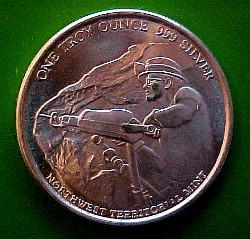 Pan American silver bullion rounds are minted of fine .999 silver. Their logo is of a silver hammer on the obverse and a classic miner drilling for silver ore on the reverse.
Their rounds come in two sizes 1/2 troy oz. and 1 troy oz.
The silver bars are minted in 8 sizes from the same .999-fine silver as the rounds, the range of bullion bar sizes are:  5gram, 10gram, 1/4oz., 1/2oz., 1oz., 5oz., 10oz. and 100oz. troy bars.
Pan American Silver Bars and Rounds come in an array of sizes that offer flexibility for investors and the bullion is IRA acceptable.
______________________________

Pan American Silver Corporation <- company site link
---
Other pages you may like...
| | | |
| --- | --- | --- |
| Bullion Refiner | | |

---
---
Affiliate Ad
---
---
Free Bullion Investment Guide
Thanks You for Visiting!


---

---

---




My name is Steven Warrenfeltz, I created this guide to give you an honest place, on the web, that provides reliable bullion market information.

This guide is a little unusual to other guides because it not only offers bullion market information, it also advocates for Gold Nanoparticle Cancer Research, and supports individuals who are Battling cancer

A few decades ago, I made a graveside promise to a childhood friend who died of cancer that I would help those who are battling cancer.

I created this guide to help people understand how precious metals help them preserve the value of their savings and or investments while trying to fulfill a promise.

---

See this guide's Mission page for more information.



---
---
---
---
---
---
Free Bullion Investment Guide