Homepage / Bullion Investment Basics: Troy - Weight

The 'Troy'
System of Weight

---
---
To help you understand the differences between the Troy & Avoirdupois systems of weight

---
---
The Troy and the Avoirdupois (pronounced: a-ver-du-pois) weight measurement systems, have many differences.
The Troy measurement system is used to weigh precious metals bullion, gemstones, and gunpowder.
The Avoirdupois measurement system is most commonly used in the United States, and it is used to weighing one's self or for weighing produce.
The majority of the world's population uses the Metric system of weight measurement.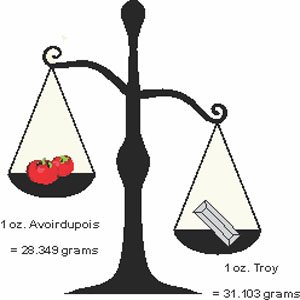 The place where people often get confused between the two systems of weight is when it comes to understanding their conversions between ounces and pounds.
A Troy ounce has 31.10 grams, unlike the Avoirdupois ounce which has 28.35 grams.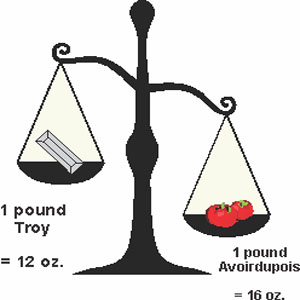 And there are 12 Troy ounces in every Troy pound, and 16 ounces in every Avoirdupois pound.
Furthermore, even though there are more grams in 1 Troy ounce, a Troy pound is lighter than 1 Avoirdupois pound (lb.):
Troy pound - 12ozt. x 31.10grams = 372.20 grams
Avoirdupois pound - 16oz. x 28.35grams = 453.60grams
It can get confusing if you try to weigh bullion in the Avoirdupois weight measurement system and it is not recommended.
There is a conversion chart below that can help you figure out the differences between the two systems of weight.
---
---
---
---
---
---
Troy / Avoirdupois Conversion Chart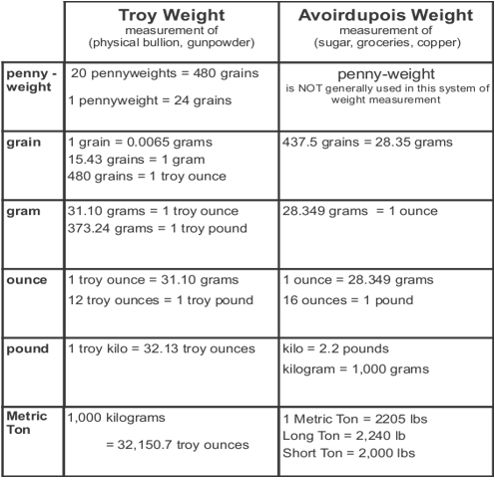 Other pages, on this Guide, that you
may like...
---
---
Free Bullion Investment Guide


---

---




The author of this guide created this guide to give you an honest place, on the web, that provides reliable bullion market information.

This guide is a little unusual to other guides because it also advocates for Gold Nanoparticle Cancer Research, and supports individuals who are Battling cancer.

This guide is here to assist you in preserving the value of your savings and or investments through precious metals bullion while helping researchers & patients battle cancer.

Thank you for visiting!


---

 Mission(s) of this Guide



---

Affiliate Ad
---
---
---
---
---
For the Best Bullion Market News...
Transfer from the Troy vs OZ. page
---
---
---
---
---
---
Free Bullion Investment Guide