Currently, this site is best viewed on a Desktop computer

Gold Price Charts
Gold Price Charts

1) Gold Spot Price - Candlestick Chart


2) Gold Spot Price - Foreign Currency Charts




Scroll Down to see the charts
---
---
---
---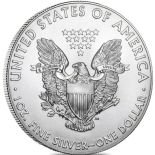 2018 1 oz Silver American Eagle $1 Coin BU

Find Low Prices & Excellent Service
@ Bullion Exchanges
Affiliate Ad
---
---
---
---
---
---
Gold Spot Price Chart
 - Candlestick -

---
---
Gold Price Chart - Interactive Candlestick Chart. 
On this chart, you can do your own Technical Analysis by selecting one of the buttons located above and on the left side of the chart.
If you wish to change the Investment Asset, "Click" your Mouse over the Symbol Name "XAUUSD" and click the "+" to find Investment asset chart you want. 
Choose "CFD" heading for a different commodity (ie: copper, oil, silver)

Click this "Link" to Learn the Features TradingView Charts
Interactive Charts

Return to the Top of the Page
---
---
Affiliate Ad
---
---
---
---
Gold Spot Price Charts
- Foreign Currency -

---
---
Return to the Top of the Page
Gold Price
Brazilian Real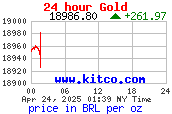 ---
---
Affiliate Ad
---
---
---
---
---
Thank You for Visiting
the Free Bullion Investment Guide
This Guide currently gives 50% or more of what it earns to Gold Nanoparticle Cancer Research through The Angel of Healing Cancer Research Fund.

Please Help Us Give by Supporting our Affiliates.

(Every Advertisement on the Guide is from one of our Affiliates)
---
---
---
Return from the
Gold Price Charts page
and go back to
the Commodity Charts Over-View page
OR

For the Best Bullion Market News...
---
---
---
---
Free Bullion Investment Guide