The Australian Silver Kookaburra bullion coin was first produced in 1990 and is minted at Australia's Perth Mint.
The kookaburra has a very loud call and it is known for sounding like echoing human laughter.
You can hear the Kookaburra's unique call in the video below.

---
---
Design of the
1oz. Australian Silver Kookaburra Bullion Coin
---
---
Obverse
The obverse side of the Australian Silver Kookaburra displays the profile of Queen Elizabeth II struck in proof-like quality.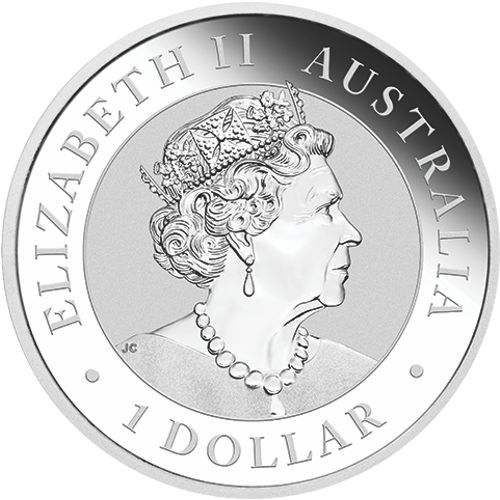 The 2019 Silver Kookaburra portrays a new profile of her majesty Queen Elizabeth II, by designer Jody Clark, her initials "JC" can be found on the Queen's shoulder.
The Queen's name "ELIZABETH II" and "AUSTRALIA" are inscribed along the upper perimeter of the silver bullion coin.
Inscribed along the bottom of the 1 oz. Silver Kookaburra is its 'Face Value' of "1 DOLLAR."

________

Note: The first two years the 1 oz. Australian Kookaburra silver bullion coin was minted, it had a face value of "5 DOLLARS." From 1992 to the present day, the face value of the coin has been "1 DOLLAR."
Obverse side photo provided courtesy of The Perth Mint
---
---
---
Reverse
The reverse side of the Silver Kookaburra bullion coin unveils a new design of the Kookaburra each year, 2019's reverse side portrays a  kookaburra sitting on a branch, above the water, in front of the setting sun.
The coin's name, "AUSTRALIAN KOOKABURRA" is inscribed along the top of the Silver coin.
Inscribed along the bottom of the bullion coin is its Year of Issue, weight of "1oz" and the purity of the coin "9999 SILVER."

The Edge on the silver bullion coin is Reeded, and it has The Perth Mint's 'Mint Mark' of "P."
Lastly, seen just above the waterline on the branch the Kookaburra is sitting on, are the initials for Aleysha Howarth 'AH' the designer the 2019 Silver Kookaburra's reverse side.

________

Note: From 1990 - 2007 the Silver Kookaburra bullion coin did not have a Mint Mark.
Reverse side photo provided courtesy of The Perth Mint
---
---
1oz. Australian Silver Kookaburra
Coin Information:

---
---
Introduction:.......1990
IRA Approved:......Yes
Grade:.................Uncirculated
Face Value:.........$5 AUD - 1990 - 1991

Face Value:.........$1 AUD - 1992 to Present Day

Silver Content:....1 Troy oz. (ozt.)

Total Weight:......31.10 grams
Purity:................99.90% / .999 (1990 - 2017)
Purity:................99.99% / .9999 (2018 - Present)

Diameter:...........40.60 mm
Thickness:..........3.21 mm
Designer:...........Jody Clark (obverse)
Mint Mark:..........No - 1990 - 2007

Mint Mark:..........Yes - 2008 to Present Day

Edge:.................Reeded
---
---
---