---
---
Design of the
1 kilo. Australian Silver Kookaburra Bullion Coin
---
---
Obverse

The Silver Kookaburra is Australia's Perth Mint longest-running silver bullion coin series, and in 2020 it turned 30 years old.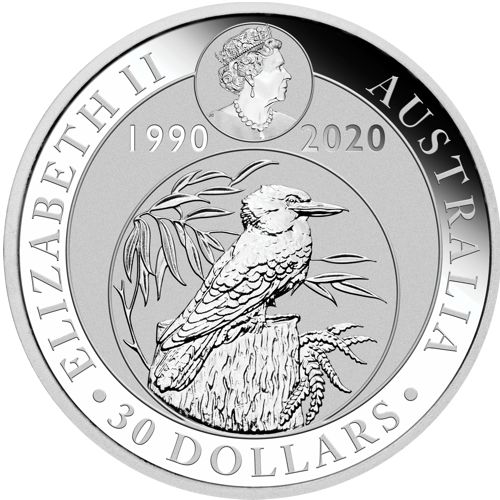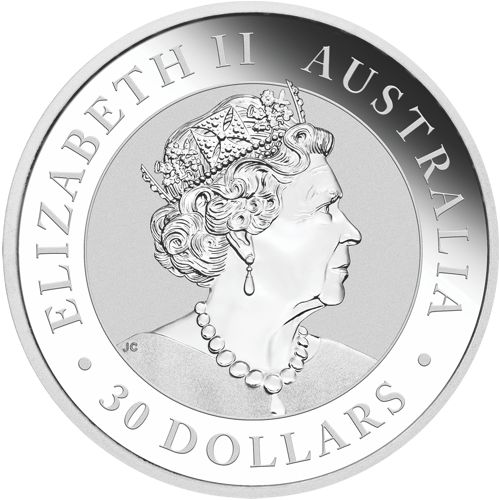 2019 Kookaburra
Obverse
To commemorate its landmark release, each coin features a special obverse bearing a representation of Stuart Devlin's depiction of a kookaburra on a tree stump surrounded by native foliage as it appeared on the reverse side of the 1990 Australian Kookaburra Silver Bullion Coin.

Above the inaugural (reverse) image of the Kookaburra bullion coin is the portrait of Queen Elizabeth II, with the dates that mark the coin's 30th Anniversary 1990 - 2020.

Around the perimeter of the obverse side are the words "AUSTRALIA," "ELIZABETH II" and the silver bullion coin's face value of "30 DOLLARS."
The Edge of the silver bullion coin is Reeded.
Obverse side photo provided courtesy of The Perth Mint
---
---
---
Reverse

The reverse side of the One Kilo Australian Silver Kookaburra bullion coin unveils a new design of the Kookaburra, each year.
The 2020 Silver Kookaburra depicts the bird sitting near the edge of a roof, as the sun's raise streak across the sky, in the background.

The words "AUSTRALIAN KOOKABURRA" is inscribed across the top of the 1 kilo silver bullion coin.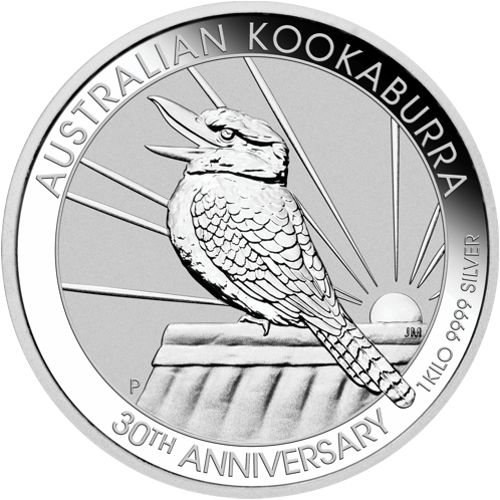 '30TH ANNIVERSARY' is inscribed at the bottom of the silver bullion coin to commemorate its anniversary.

Also inscribed along the perimeter of the silver bullion coin is its "Year of Issue," the coins weight of "1 KILO," and its purity of "9999 SILVER."
The silver bullion coin has The Perth Mint's 'Mint Mark' of "P."

Lastly, the reverse was designed by Jennifer McKenna, her initials 'JM' can be seen behind the kookaburra, under the sun.

Reverse side photo provided courtesy of The Perth Mint
---
---
1 kilo. Australian Silver Kookaburra
Bullion Coin Information:

---
---
Introduction:........1992
IRA Approved:......Yes
Grade:..................Uncirculated
Face Value:..........$30 AUD
Silver Content:.....1 Troy kilo.
Total Weight:........2.2 lbs / 32.15 Troy oz. / 1,000.100 grams

Purity:.................99.90% / .999 (1992 - 2017)
Purity:.................99.99% / .9999 (2018 - Present)

Diameter:............100.60 mm
Thickness:...........14.60 mm
Mint Mark:............No - 1990 - 2007

Mint Mark:............Yes - 2008 to Present Day ("P"=  The Perth Mint)

Designer:.............Jody Clark (obverse)
Edge:...................Reeded
---
---
Affiliate Ad
---
---
---
---