2 oz. Mexican Silver
Libertad

In 1996, the Mexican Mint added two coin sizes to already popular silver Libertad series, they were 2 oz. and 5 oz.
The Libertad's design and its limited mintage makes it one of the most highly sought after physical bullion silver investments.
---
---
Bullion Guide &
Cancer Research Awareness


This bullion guide serves to help anyone interested in physical precious metals bullion, and it is one of the largest sources of online information about Gold Nanoparticle Cancer Research

Gold Nanoparticle Cancer Research offers a better way to treat Cancer by killing cancer without harming the rest of the body.

Please Help Keep this Guide Online by Supporting our Affiliated Merchants or by giving a Donation.

(Every Advertising LINK on this Guide is from one of our Affiliates)
---
---
Page Navigation

---
---
Where You Can Buy
Silver Libertads
'Click' back to return to this navigation section
---
---
---
---
Mexican Independence

---
---
Libertad translated in English means 'Freedom'
The Libertad is a symbol of Mexico's Independence, Mexico won its independence from Spain on August 24th, 1821.
However, this is not the date of its celebrated 'Independence Day,' that date is September 16th.

On September 16th, 1810, Miguel Hidalgo y Costilla, a Catholic priest, started the Mexican War of Independence when he gave his famous speech "Grito de Dolores" or "Cry of Delores," named after the town in Guanajuato where it took place.

He rang the bell of his church to get the town's attention, and he called on the people to rise against their brutal Spanish-European occupiers.

Miguel Hidalgo y Costilla is often referred as 'The Father of Mexico.'
Note:
In the United States, 'Cinco de Mayo' is often misinterpreted as Mexico's Independence Day.  Although 'Cinco de Mayo' or the '5th of May' does celebrate an important victory in  Mexico's history, it's not the county's Independence Day.
---
---
Affiliate Ad
---
---
---
---
---
---
Design of the

5 oz. Mexican Silver Libertad
---
All of the coins on the guide are narrated in the first person point of view; 
click this link for an explanation.
---
Obverse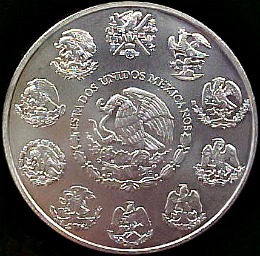 The center of the obverse side of the 2 oz. Mexican Silver Libertad features, the National Coat of Arms of Mexico.
The coat of arms depicts a Mexican Golden Eagle perched upon a cactus, with a snake in its beak.
Below the Golden Eagle is a wreath, half of oak leaves the other half of laurel leaves.
Surrounding the Coat of Arms are the words "ESTADOS UNIDOS MEXICANOS," Mexico's Official Name in Spanish.
Encircling the Outside of the Mexican Coat of Arms are reproductions of various Mexican Coat of Arms used throughout history.
The edge is Reeded on the two oz. Silver Libertad.
---
---
---
Reverse
The reverse side of the 2 oz. Mexican Silver Libertad features the "Winged Victory" Angel design.
The "Winged Victory" Angel is shown towering above the volcanoes Popocatépetl and Iztaccihuatl.
Inscribed along the top of the 2 oz. Mexican Silver Libertad is "2 ONZAS" (2 ounces), "PLATA PURA" (pure silver).
The year of issue is also inscribed along the top of the Libertad, along with the word "Ley" (pure) ".999" representing its silver purity.
The Mint Mark of the Mexican Mint is inscribed to the left of the Winged Angel with the symbol of the "M" under an "O."
The 2 oz. Mexican Silver Libertad has no Face Value.
---
---
Coins & Rounds
Defined
---
---
The Mexican Libertad is considered to be a 'Round,' not a 'Coin,' the difference is slight but important to know.

A private mint or privately held entity manufacture bullion rounds.

Whereas the term for a 'coin' refers to a legal tender coin with a 'Face Value.'

Bullion Rounds are not legal tender, and no government backs them.

There are some exceptions to this rule, one example being the Mexican Libertad.

The Mexican Mint produces Gold and Silver Libertads, under the authority of the Central Bank of Mexico (Banco de Mexico) and the Mexican Government.

However, silver and gold Libertads DO NOT have a face value, for this reason, they are often referenced to be Rounds and not Coins.
---
---
2 oz. Mexican Silver Libertad
Coin Information:
---
---
Introduction:.......1996
IRA approved:......Yes
Grade:.................Uncirculated
Face Value:..........No
Silver Content:.....2 Troy oz. (ozt.)
Total Weight:.......62.20 grams
Purity:.................99.90% / .999
Diameter:............48.05mm
Mint Mark:...........Yes
Edge:..................Reeded
---
---
---
Buy
Silver Libertads

(from one of the links below)
The Bullion Dealers below are Not Listed in Any Specific Order
| | | |
| --- | --- | --- |
| | "Click Here" for Trust Pilot, Better Business Reviews & other Customer Reviews on the Dealers below. | |




SilverGoldBull
Mexico Silver Libertads page
(Multiple Sizes & Years)



Golden Eagle Coins
Silver Libertad page
(Multiple Sizes & Years)



SD Bullion
Silver Libertad page

(Multiple Sizes & Years)



Bullion Exchanges
Silver Libertad page
(Multiple Sizes & Years)
Notice
Half of this Guide's Earnings from our Retail Affiliates goes to St. Jude Children's Hospital.
_____
(Time-line of Who this Guide has Sponsored)
2012 - 2017
The Cookies on

your computer

must be Enabled

for the Guide to receive a commission.

Cookies only indicate, to the merchant, that you linked to the merchant's website from the Free Bullion Investment Guide.com

No Personal Information is Obtained during this process

The only time more information is obtained

is when you make a purchase, but that information is between you and the merchant Only! (See this guide's Affiliate page for more information; here)

---
---
Affiliate Ad
---
---
---
---
---
2 oz. Mexican Silver Libertad 
  Mintage Figures
---
---
Year     Mintage
1996....50,000
1997....15,000
1998....7,000
1999....5,000
2000....7,500
2001....6,700
2002....8,700
2003....9,500
2004....8,000
2005....3,549
2006....5,800
2007....8,000
2008....17,000
2009....46,000
2010....14,000
2011....14,000
2012....18,600
2013....17,400
2014....9,000
2015....20,100
2016....17,600
Mexican Libertad

---
---
---
2 oz. Mexican Silver Libertad page
OR
For the Best Bullion Market News...
---

Written Permission Must Be Received to Reproduce
For Source of Information Purposes: Please Give a Return Link


---
---
Free Bullion Investment Guide