Homepage / Bullion Coins: Mexican Bullion / Any Silver or Gold Mexican Libertad page

Find more "Deals on Bullion" here

The Legend of
Popocatepetl and Iztaccihuatl
Two of Mexico's volcanic mountains named Popocatepetl and Iztaccihuatl are inscribed behind the "Winged Victory" Angel, on the Mexican Silver & Gold Libertads.
The satellite photo above gives you another glimpse of the two volcanoes.
Popocatepetl is an active volcano and is the second highest volcano in Mexico.
Iztaccihuatl has been inactive for thousands of years and is the third highest volcano in Mexico.
---
---
---
---
---
Popocatepetl and Iztaccihuatl
---
---
There are many versions of the legend of the two Aztec lovers, the most common one goes as follows...

In Aztec mythology, the volcanoes were once an Aztec Princess (Iztaccihuatl) and a Great Warrior (Popocatepetl), who fell deeply in love with one another.

When Popocatepetl first met the beautiful princess Iztaccihuatl, the two immediately fell in love.
Overwhelmed with a true love for one another, the two knew they were meant for each other and could not live without being in each others arms.

So, Popocatepetl went to Iztaccihuatl's father, a mighty Aztec chief, and told him that he would do whatever it would take to have Iztaccihuatl's hand in marriage. 
Iztaccihuatl's father was very skeptical of Popocatepetl's love for his daughter and ordered him to engage in battle with a rival tribe.

The chief informed Popocatepetl that he could not marry his daughter unless he returned victorious.

Popocatepetl agreed, but the chief added another stipulation to his agreement, he ordered Popocatepetl to return with the rival tribe ruler's head to prove his success and victory.
---
---
Popocatepetl goes off to Battle
for his True Love

---
---
The two agreed and the chief sent Popocatepetl to war in Oaxaca, promising him Iztaccihuatl as his bride, if he returned triumphant.

Shortly after Popocatepetl left for battle, a rival of Popocatepetl, jealous with envy, sent back a false message to the Chief that Popocatepetl had been killed in battle.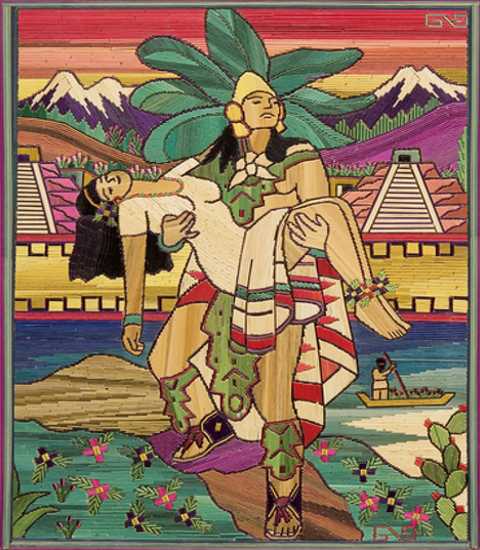 When actually, Popocatepetl had won the battle and was returning with the rival tribe leader's head.

When princess Iztaccihuatl heard the false news, she fell ill due to sadness and grief. 
Overwhelmed with the loss of her true love, she died of a broken heart.
When Popocatepetl returned victorious from his battle, he heard of the news his beloved's death, the heartbreak he felt was unbearable.
The brave warrior gently picked up Iztaccihuatl's lifeless body into his arms and carried her far out into the countryside.

Popacatepetl laid Iztaccihuatl's body down on a funeral table, overflowing with flowers, and kissed Iztaccihuatl's soft, cold lips.

He then grabbed a smoking torch, knelt beside her and stayed with her to watch over her in eternal sleep.

The Gods, touched by the lover's plight, turn the two lovers into mountains so that they may be together, forever.

They remain so to this day, with Popocatepetl, (the smoking mountain) residing over his princess Iztaccihuatl, (the sleeping woman) while she lay in eternal sleep.

On occasion, Popocatepetl will spew ash, reminding those watching that he is always in attendance and that he will always protect his true love, Iztaccihuatl.
'Click here' for a Live-Cam of the active volcano, Popocatepetl.
Other pages you may like...

SD Bullion - 4.8 star Customer Reviews
---
---
---
---
---
Legend of Popocatepetl and Iztaccihuatl page
OR
For the Best Bullion Market News...
---
---
| | | |
| --- | --- | --- |
| | Free-Bullion-Investment-Guide "Search" | |
Free Bullion Investment Guide