Sunshine Mint Bullion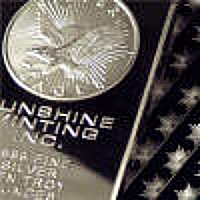 Sunshine Minting Inc. (SMI) is a supplier of precious metal products in North America.
They are the primary supplier of silver blanks to the United States Mint. In addition, Sunshine Mint bullion products supplies rounds and bars to many other international mints and global financial institutions.
The Sunshine Minting Corp. is located in the silver rich area of Coeur d'Alene, Idaho, this area of North America is known for its abundant silver deposits.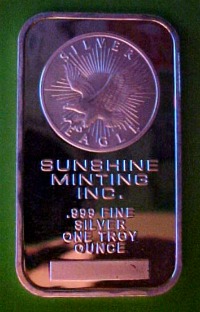 The Mint is a full service precious metals minting facility capable of producing large volumes of high quality bullion blanks, rounds and bars.
Sunshine Minting Inc. brand name symbolizes purity and quality in the production of silver and gold bullion to investors world wide.
Sunshine Minting operation is geared to manufacture products to industry standards in brilliant uncirculated, proof-like and proof quality bullion.

Bullion Products
Sunshine Minting bullion products come in both rounds and bars made of silver and gold.
The purity of their silver bullion ranges from .990 to.999, depending on the customer's manufacturing requirements. They offer silver rounds in sizes from 1 troy oz. to 10 troy oz., and silver bars from 1 troy oz. to 100oz.
Their gold rounds range from a 10th of a troy oz. in size (.10), up to 1 troy oz. in size. The mint's gold bars range from 1gram in size to a 10 troy oz. gold bullion bar. The purity of the mint's gold bullion, depending on manufacturing requirements, range from .750 (18 karat) to .9999 (24 karat) gold.

Sunshine Minting Inc.