Sunshine Mint Bullion
Sunshine Minting Inc. (SMI) was founded in 1979 and is a world-wide supplier of precious metal products.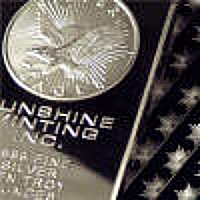 The Sunshine Minting Corp. is located in the silver rich area of Coeur d'Alene, Idaho.
This area of North America is known for its abundant silver deposits.
The company is one of the primary suppliers of Precious Metal blanks to the United States Mint.
In addition, the Sunshine Mint supplies rounds and bars to many other global financial institutions.

---
---
Bullion Guide




&




Gold Nanoparticle Cancer Research Awareness Website




This bullion guide serves to help anyone interested in physical precious metals bullion, and it is one of the largest sources of online information about Gold Nanoparticle Cancer Research

Gold Nanoparticle Cancer Research offers a better way to treat Cancer by killing cancer without harming the rest of the body.

Please Help Keep this Guide Online by Supporting our Affiliated Merchants or by giving a Donation.

(Every Advertising LINK on this Guide is from one of our Affiliates)
---
---
---
---
SMI Anti-Counterfeit Mint Mark
---
---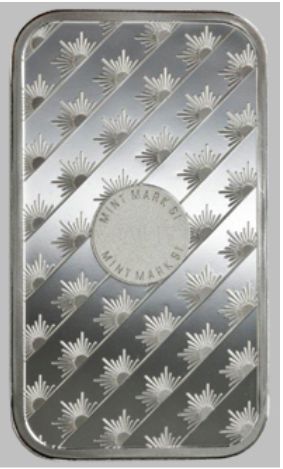 The Sunshine Mint recently started placing on all of it's bullion products the Mint Mark SI™.
Whether the bullion item is a round or a bar, on the reverse side of the bullion product you will find a circular area located in the middle of the item with the "Mint Mark SI™ label. (as seen on the bar to the right)
Mint Mark SI™ is an Scrambled Indication security feature that is Micro-Engraved.
The Micro Engraving can only be visible with the Mint Mark SI™ decoding lens placed over the security feature.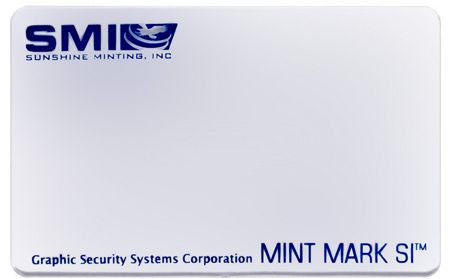 Sunshine Mint Decoder Lens
Depending on whether the lens is held vertically or horizontally over the "Mint Mark SI™ security feature, will determine what you will see.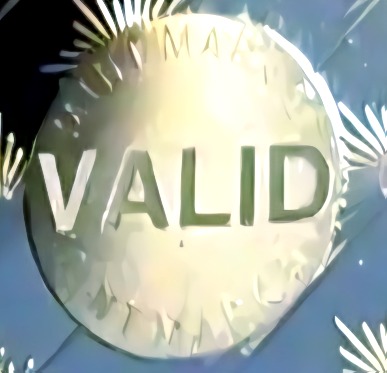 When the decoder lens is placed Horizontally over the security feature, you will see the word "VALID" in the lens (shown right).
However, when the decoder lens is placed vertically over the security feature, you will see the Sunshine Mint's, sunshine design. (seen in the reverse side of the silver round below.)
---
---
Sunshine Mint




Quality and Products



---
---
The Sunshine Mint is a full service precious metals minting facility capable of producing large volumes of high quality bullion blanks, rounds and bars.
They use Optical Emission Spectrometry in the assaying process of  silver and gold to guarantee purity.
A Optical Emissions Spectrometer analyzer can produce qualitative and quantitative metal analysis of the material composition with uncompromising accuracy.

Sunshine Minting operation is geared to manufacture products to industry standards in brilliant un-circulated, proof-like and proof quality bullion.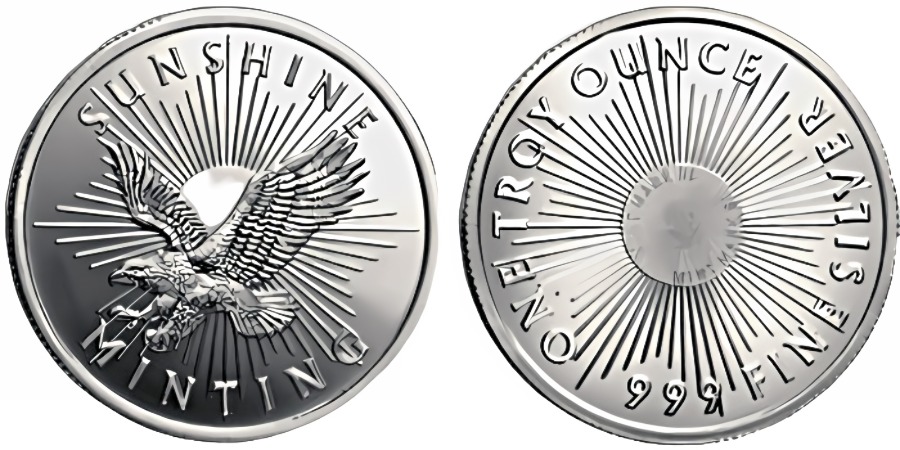 Sunshine Mint Round
Bullion Products
Sunshine Minting bullion products come in both rounds and bars made of silver and gold.
The purity of their gold and silver bullion ranges from .999 to.9999, depending on the customer's manufacturing requirements.
They offer silver rounds in sizes from 1 troy oz. to 10 troy oz., and silver bars from 1 troy oz. to 100 ozt.
Their gold rounds range from a 10th of a troy oz. in size (.10), up to 1 troy oz. in size.
The Sunshine Mint's gold bars range in size from 1gram in size, to a 10 troy oz. gold bullion bar.
The purity of the mint's gold bullion, depends on the customers requirements.
Source: Sunshine Mint
Buy 
Sunshine Mint Bullion

(from one of the links below)

Bullion Dealers are Not Listed in Any Specific Order
| | | |
| --- | --- | --- |
| | "Click Here" for Trust Pilot, Better Business Reviews & other Customer Reviews on the Dealers below. | |
BGASC
Sunshine Mint Bullion Product page
Sunshine Mint - Decoder Lens
SilverGoldBull
Sunshine Mint Bullion Product page
Bullion Exchanges
Sunshine Mint Bullion Product page
SDBullion.com
Sunshine Mint Bullion Products
Notice
Half of this Guide's Earnings from our Retail Affiliates goes to St. Jude Children's Hospital.
_____
(Time-line of Who this Guide has Sponsored)
2012 - 2017
The Cookies on

your computer

must be Enabled

for the Guide to receive a commission.

Cookies only indicate, to the merchant, that you linked to the merchant's website from the Free Bullion Investment Guide.com

No Personal Information is Obtained during this process

The only time more information is obtained

is when you make a purchase, but that information is between you and the merchant Only! (See this guide's Affiliate page for more information; here)

---
---
---
The following Videos show the Sunshine Mints product development process and their bullion operations
---
For the Best Bullion Market News...
Return from the Sunshine Mint Bullion page
---

Written Permission Must Be Received to Reproduce
For Source of Information Purposes: Please Give a Return Link


---
---
Free Bullion Investment Guide