Bullion Dealers
Bullion Dealers are much like any other business community, and that is even though they are all in the same business sector, they all also have many differences between them.
Some only deal in bullion, and as you will find out, many also deal in numismatic coins and jewelry. Some dealers buy and sell, while others, may call themselves dealers but are simply a place to buy bullion.
Listed below are categories of dealers separated in their own bullion business specialties.
Note: This page is as an overview of bullion dealer practices you should be aware of before you invest and things to be aware of in the bullion market. It also is a page introducing you to links to bullion dealers.
There are a few things one should consider before choosing to buy from a dealer.
Comparison Shopping Different Dealers don't all have the same prices. Comparison shopping is the best way to find the greatest investment for your dollar in any market.
Surcharges Not every Dealer has a surcharge, meaning an additional cost is added to the shipping cost and the cost of the bullion itself.
The dealers that do not call it a "Surcharge," tend to call them extra fees, handling fees or simply commission fees. Either way, you want to read all the fine print of every bullion dealers website before you buy.
Why? Because sometimes you won't see these fees until it's time to commit to the purchase of your bullion and with any investment you don't want unwanted surprises.


Shipping Fees : Every Dealer has different fees for shipping. Some simply charge a flat fee based on the total price of your order.
While others will calculate the weight and shipping location of the customer, and there are also those who offer free shipping.
This is another area where you want to know the facts before you commit to buy precious metals bullion.
Spot Prices & Comparison Shopping
In the ever-changing prices of the bullion market, the Spot Price is the price of the precious metal, quoted for the immediate delivery for cash.
Prices of bullion for the retail investor are based upon the spot price of the precious metal. Many dealers, have their systems set up to reflect the spot price of the metal to change by the minute to charge for the bullion.
Expect to see a small charge or premium above the spot price to help dealers pay for overhead and run their businesses.
For silver, premiums generally average between $0.25 to $10.00 per ounce, and for gold, platinum or palladium the premium can be as low as $10 per ounce or as high as $150 per ounce above the spot price.
If prices for physical bullion are below or above these premiums its your decision as to whether or not you are getting a good deal.
Note: If the item you are looking at has a numismatic value this may not apply to you. Collector coins have much higher premiums attached to them.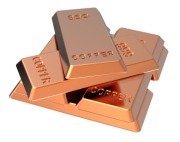 Buying Copper Bullion
Copper bullion is becoming more numerous on dealers websites. Many buyers see it as an easier way to buy bullion than to pay for some other more expensive precious metals.
What many prospective investors might be unaware of is that copper prices are based in the Avoirdupois (pronounced; a-vo-du-pwa) system of weight, and not Troy Ounces like most other precious metals.
Copper is much more abundant in the earth than other precious metals, plus the metal is seen more as an Industrial Metal than a precious metal. Currently the price of copper is selling around $3.50. This spot price reflects copper's price per pound (lb.), not per troy ounce.


Keep Your Guard Up
I've used many of the bullion dealers listed below, but not all. However, you won't see any dealers listed on this guide that does not have good business standards or participates in fraudulent business practices.
In addition, one rule of thumb that I use to be on the safe side when I buy bullion from a dealer for the first time is; to play it safe.
I keep my first purchase under $200 or place an order just above the dealer's minimum. This will show you how much the dealer values their customers. Based upon how quickly they get the order to you and based upon them getting your order correct. In addition to you getting quality service.
Furthermore, it gives you an idea of how long shipping may take and their shipping standards. Do they insure the shipment or do they require a signature at the time of delivery. This is in addition to any of your own personal preferences you want from a bullion dealer.
Investing Your Money
When you decide to buy, and you know who you want to buy from, you may want consider budgeting your investment dollars. You may want to split your investment money, decide at what price you want to get in. Say for instance you want to buy silver bullion.
And let's go back in time a little and say it's late April of 2011, when the price of silver was at $45.00. Do you want to get in at that price? or Do you want to see if the price will dip to a lower level? You hear the pundits saying the price is going higher. But this is your money, it is up to you when you want to start buying; not them.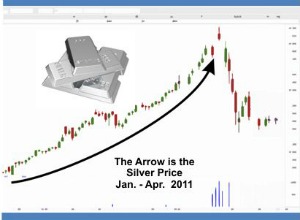 Continuing with the scenario, you want to get in the market or your already are in the market and you want to accumulate more precious metals.
But, you look at the chart and the price has gone straight up over the last several months, this is a sign of a correction happening at anytime. It's lookin' like the price should correct itself sometime in the near future.
So you only invest a half, a quarter or less of your money, or you stay out of the market completely and wait. Then you watch the markets and Read the News . Depending on what the silver price did, you make your decision from there and either continue to hold, sell or buy more.
Many investors can get caught up in the hype when a market is going through the roof. It's hard for any investor to decide when is the right time or price to buy and sell.
The lesson from the silver market of April 2011, is that if the price has moved more than 20% in a short period of time, there's a good chance a correction is around the corner.
Ultimately, it's your choice for when you get into any market and you have your own comfort zone.
You make the choices of how and why you are investing in the market and when is the right time to get in or out.
However, budgeting for any investment may be a good choice to take.
---
As a bullion investor there are many choices offered on the web, they just seem to be scattered all over the place.
This Bullion Dealer page was created to bring reputable bullion dealers together (at one place) to help you find and make the best choice for your investment dollar.
The categories below are tailored to each Bullion Dealers own specialties.



Bullion Dealers
Junk Silver Coins Bullion - Dealers
Dealers who sell junk silver coins, in addition to many other forms of precious metals bullion.
Includes dealers such as: APMEX, Golden Eagle Coins, Provident Metals, etc.


Coin Dealers of Bullion Coins and Rounds
Includes dealers; Black Mountain Coins, Silver Gold Bull.com, Lynn Coins, etc...


World Bullion - Dealers
Bullion Dealers who offer the largest varieties of government issued bullion on the web.
(GovMint, Gainesville Coins, Talisman Coins, etc.)

Graded Bullion Dealers
Coin Bullion Dealers who mostly sell graded bullion and other numismatic graded coins.
(Paradise Mint, Modern Coin Mart & Smyrna Coin)


Gold Bullion - Dealers
Dealers who sell gold bullion coins & raw gold nuggets
(Tax Free Gold.com & Gold Nugget Sales.com)


Silver Bullion - Dealers
Dealers of Silver bullion bars, rounds and coins
(Silver Towne.com, Quality Silver.com, Straight Silver.com, etc.)


Pamp Suisse Dealers
Pamp Suisse Precious Metals Dealers
(Provident Metals, Scottdale Silver & CNI.com)