Homepage / Bullion Investment Basics: IRAs & Bullion

Find more "Deals on Bullion" here

Paper assets are not the only assets you can put into a Roth, Traditional or Self-Directed IRAs (Individual Retirement Accounts).
Physical bullion can be part of your retirement account under the tax-advantaged umbrella of your IRA.
Capital gains are just one of the many reasons for getting into precious metals bullion.
You are allowed to buy and sell for gain inside the IRA with no tax consequence. Taxes only take effect until you remove money from the account.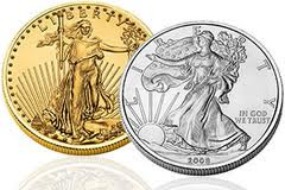 Up until 1997, the law governing acceptable precious metals bullion investments for IRAs only mentioned American Gold Eagles and American Silver Eagles.
The change in 1997 made it possible for other precious metals besides American bullion coins to be allowed in your IRA.
Investors are now permitted to purchase a larger variety of physical bullion for their investment retirement account.
---
---
---
---
Minimum Fineness of
Precious Metals Bullion for IRAs

---
---
To qualify as an IRA-approved product, precious metals must meet minimum fineness (purity) levels. 
.995 Gold Minimum Fineness
.999 Silver Minimum Fineness
.9995 Platinum Minimum Fineness
.9995 Palladium Minimum Fineness
Examples of Non-approved Bullion are Gold Krugerrands, British Sovereigns, and 90% US Silver Coins (a.k.a: Junk Silver Coins).
---
---
Acceptable IRA Physical Bullion
Coins & Bars

---
---
The following are examples of the precious metals bullion coins, bars and rounds that are allowed in Investment Retirement Accounts.
---
---
Precious Metals IRAs
Have Some Limits
---
---
Things you CANNOT DO when setting up an IRA Account with Physical Precious Metals Bullion:
You CANNOT put bullion you already own into an IRA account, IRS regulations concerning IRAs prohibit it.
You CANNOT hold the physical bullion yourself; the IRS regulations require that the metals be held by an approved depository or an IRA Trustee.

A 'Trust Company' also known as "Custodians" are companies that the IRS allows you to maintain and hold the bullion for Precious Metals IRA Investors.   
---
---
What do Trust Companies Do?
---
---
They handle all funds, once your account is established and funded through direct deposit or from rolling over another 401K or existing IRA, they pay the Bullion Dealer from which you are buying.
All bullion bought for the IRA must meet the requirements listed above. Trust companies provide monthly account statements with all of your account information.
The depository has two forms of storage.
Fungible, meaning your coins are grouped in with other people's coins.
Segregated, where your coins are separate from others within the storage facility, ensuring that the exact coins you purchased are yours and yours only.
Depositories charge a small annual account fee plus a storage fee based upon the total value of the account, segregated storage costs slightly more.
Note: Not all Trustee companies have their own depositories. Your Trust company will assist you in finding one if they do not have one for themselves.
---
---
---
IRA Sources:
Internal Revenue Service - IRA Online Resource Guide
---
| | |
| --- | --- |
| If you are interested in including physical bullion into a IRA account, you should consider consulting with a good financial advisor about the specific ways you can introduce physical bullion into a Roth or Traditional IRA account. | |
---
---
---
For the Best Bullion Market News...

---
---
| | | |
| --- | --- | --- |
| | Free-Bullion-Investment-Guide "Search" | |
Free Bullion Investment Guide