---
Find Bullion Market News here


April 2021
Monthly Newsletter
Hello,

I hope you and your family had a Happy Easter.

February's Donation Revisited...

As you may or may not know, this guide donates half of its earnings to the Angel of Healing Cancer Fund, a fund I started.  When that fund earns more than $100.00, most of which comes from the Free Bullion Investment Guide, the fund makes a donation to someone who's battling cancer.

In February, the fund collected more than $100.00 and a donation was made on the 15th to a man who's battling Gallbladder cancer, his name is Todd Bruce, you can see the process of picking him for the donation, here.
A few days ago, I realized that Mr. Bruce is owed more money, a recent donation for $45.00 was made today (04/05/2021) to correct this issue, you can see this donation, if you click the screenshot of his GoFundMe.com page - above.

So, what happened? 

Last week, while I was going over all of the guide's Affiliate Commissions, for the past month, to see how much it had earned in March, I found on GoldenState Mint some February sales that I missed last month, they were all still pending and had not yet been approved. 

I have since contacted the GoldenState Mint, by email, and they have approved three of the sales, two are still pending.  See the following two screenshots (below) from my GoldenState Mint Affiliate Dashboard.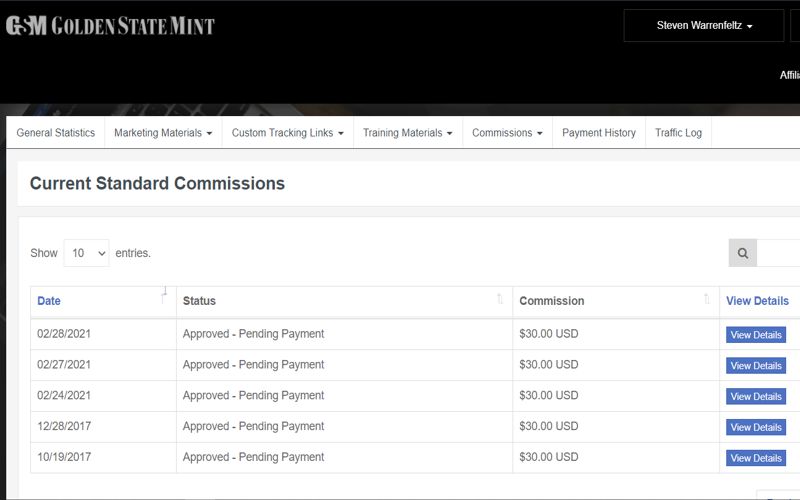 Note: Payments by the GoldenState Mint are only made when an affiliate's balance is over $75.00, the guide's previous balance was $60.00, which are from two approved sales in 2017.

Below are the two pending sales, waiting for approval.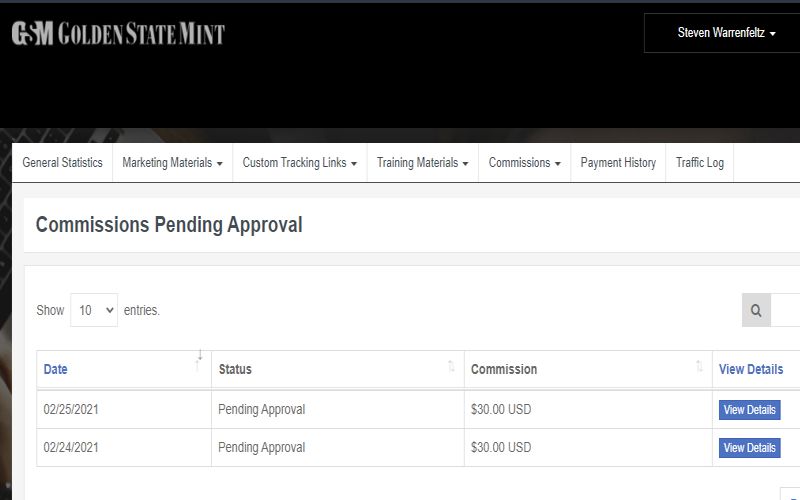 The $30.00 commission is what they are posting for each commission per sale, however, they changed their commission payments about a year ago to just $10.00 per sale as seen in the next screenshot, under 'Commission Details.'
To my knowledge, the Free Bullion Investment Guide is a Level 1 affiliate of GoldenState Mint, and I have asked them in several emails to correct the amount of each commission paid simply because I do not want to be overpaid.   However, I could be overlooking something, I'll let you know in future newsletters.

Whether or not they pay $30.00 per sale or $10.00 per sale for commissions, I donated Todd Bruce another $45.00, which is half of the $90.00 in approved commissions for February sales, if the other two orders are approved.  I will pay him half of what they credit my account for those two other sales in February 2021, as well.   

Note: The Goldenstate Mint has not returned any of my emails, or inquiries.  They've only approved 3 of the sales without a response. So, until this issue is fully corrected and the correct commissions are paid in full, the Free-Bullion-Investment-Guide's affiliation with the Golden State Mint is suspended, and as a result of this, all GoldenState Mint links have been removed from the guide.
April Donation

The Free Bullion Investment Guide donates at least half of its monthly earnings to the Angel of Healing Cancer Fund, once the fund collects more than $100, it donates that money to an individual who is battling a type of cancer that coincides with that month's Cancer Awareness. 

In March, this guide earned $120.12, of which $60.06 goes to the Angel of Healing Cancer Fund.

Thanks to all those who make purchases through the Free Bullion Investment Guide, the commissions from your purchases have made every donation possible, I thank Jesus Christ for all your help.

On April15th, a breakdown of the Donations, Commissions from Affiliates, or any Advertisers who generated the money earned for this donation will be noted on the guide's Ledger/Journal page.

Important Note:  SD Bullion recently changed affiliate service,  they used to pay commission on every sale, however, as of now, they pay commission on sales from only "new" customers.  Last month we had five sales from SD Bullion, but received commission on three sales because the other two were from returning customers..
Bullion pages

U.S. Bullion 
The U.S. bullion coin mintages were all updated for the end of the year (2020), and they've been updated through April 2nd, 2021. 

Australian Bullion
In a previous newsletter, I told you that the Perth Mint had only given me new 2021 images for every type of bullion coin they offer in only the 1oz size, and I told you that if they would give me all the images I would update every size bullion coin with the new 2021 images.   They came through for me and sent me images of all the different sized 2021 coins and those images have been updated on the guide.

Affiliate Specials
Please be-aware that Supplies are low with many bullion dealers and other retailers below.

Deals & Specials from 
BGASC
SD Bullion
SilverGoldBull
Armor Concepts 
KellyCo Metal Detectors

See the 'Recent Guide Updates' on the right column on every page of the Free Bullion Investment Guide.com, for on-going updates.

I hope you, your family, and friends stay healthy and safe.
Thank you for your time and for your support.
Take Care & God Bless,
Steven Warrenfeltz
www.free-bullion-investment-guide.com

But the angel answered and said to the women, "Do not be afraid, for I know that you seek Jesus who was crucified. He is not here; for He is risen, as He said. Come, see the place where the Lord lay. And go quickly and tell His disciples that He is risen from the dead, and indeed He is going before you into Galilee; there you will see Him. Behold, I have told you." 
---
---
---
---
Free Bullion Investment Guide