Find more "Deals on Bullion" here

Gold Leads Silver
Precious Metals Market Analysis




02/13 thru 02/24/2017
---
Originally Posted on 02/20/2017 @12:04am
---
Subscribe to this Weekly RSS Feed
---
Hello,
I hope that you and your family had a great week.
Under, "Last Week's Best News" taken from the home page, is this week's post 'Gold Leads Silver.'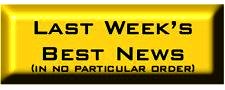 Hussman Funds -

Time-Stamp of Speculative Euphoria
Casey Research -

If This Trend Continues, a Full-Fledged Credit Crisis Is Inevitable
Advancing Time -

Revisiting the Derivatives Time Bomb
Coin Update -

Milk Spots on Modern Silver Coins: How Big of an Issue?
The Corner -

Dodd-Frank deregulation could turn banks into massive sellers of treasuries
Bullion Vault -

Gold: The Fear of the Deal
The Best of the Week for Gold NanoParticle Cancer Research
GOLD NANOTECHNOLOGY : CANCER RESEARCH :

IFLScience -

Copying Rabies Could Provide A New Way To Treat Brain Cancer
---
If you've followed this blog, you'd know that I often state the following:
"Silver and Gold generally move together in their daily trading, but silver leads gold in its long-term trade."
However, according to my charts, for the last few weeks, this 'Norm' has changed.
In last week's blog post, titled 'Recurring Themes,' I posted the charts below.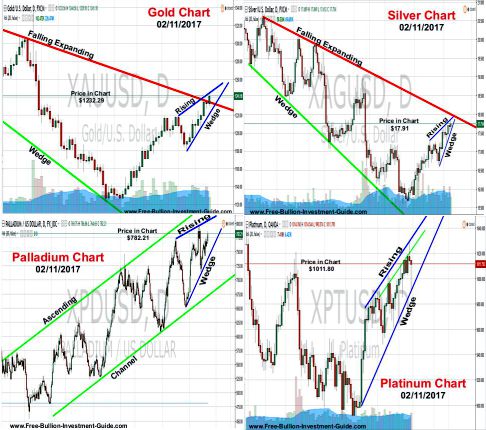 Charts provided courtesy of TradingView.com
The obvious 'Recurring Theme' is the 'Rising Wedge' found in each chart.
This week, all the precious metals, except for Gold, are still climbing in price inside their rising wedges.
Note: Last week's, 'Rising Wedge' - Silver Chart was wrong because it was missing Friday's (02/11/2017) candlestick, the rising wedge in this week's Silver chart has been corrected. 
As seen in the chart below, gold broke out of its 'Rising Wedge' early last week; Gold's price has since corrected and has since moved sideways with a slight move to the upside.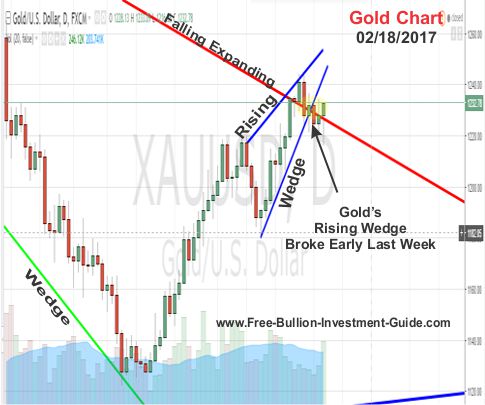 Gold is leading silver, it is also leading platinum and palladium, but those precious metals often follow their own leader because they are traded and used more for industrial purposes than for investment purposes.
So as we can see in the revised Silver Chart below, silver is about to move slightly above the upper trend-line of the 'falling expanding wedge,' but as it follows gold's tracks, it is expected to consolidate before it continues to follow gold's movement.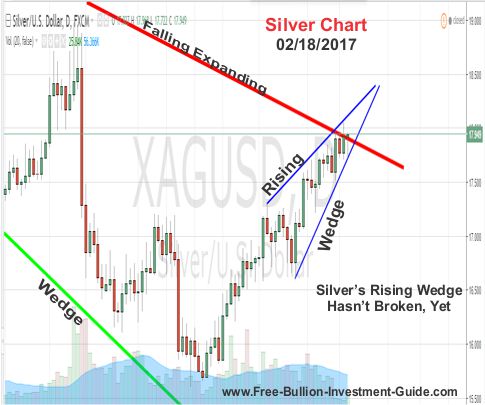 ---
The Week Ahead...

As for the week ahead, look for gold to lead silver as to which way we can expect it to move once it breaks its rising wedge.
This week silver will either continue to move up its 'rising wedge' or break below it, once it does break it, we can expect it to take a similar path to that of gold.
Platinum looks like it too could break its rising wedge this week or it could continue to trade inside it, time will tell.
Lastly, Palladium has plenty of room to move inside its 'rising wedge' so it is expected to continue to test the trend-lines of its 'rising wedge, ' but it probably won't break it this week.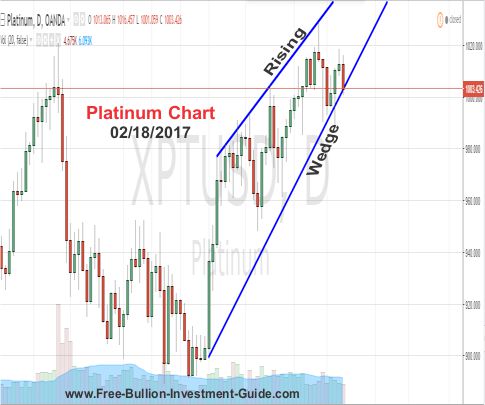 Charts provided courtesy of TradingView.com
---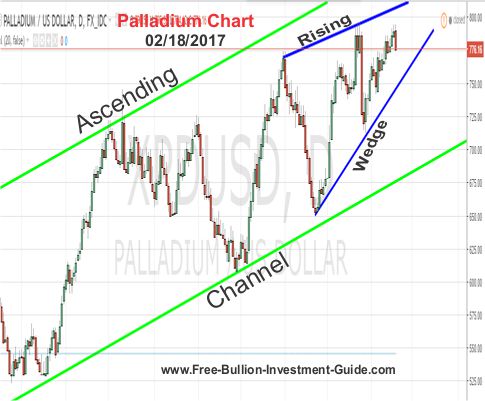 ---
Have a Great Week.
Thank you for your time & God Bless,
Steve
---
---
Thank You for Visiting the Free Bullion Investment Guide

This Guide gives 50% or more of what it earns to those who are Battling Cancer. 

Please Help Us Give by Supporting our Affiliates.

(Every Advertisement on the Guide is from one of our Affiliates)
---
'Click Here' see all of the prior Blog posts,
---
Thank You for Your Time!
---
---
| | | |
| --- | --- | --- |
| | Free-Bullion-Investment-Guide "Search" | |
Free Bullion Investment Guide