---
Find Bullion Market News here

Is Janet Yellen Bluffing?

Is Janet Yellen Bluffing on a March 2017 Rate Hike?  - The Answer may Surprise You - Plus Gold & Silver Market Review
---
Originally Posted on 03/13/2017 @2:40am
Re-Posted 3/14/2017 @6:34pm - No Changes Except Sub-Title

---
Subscribe to this Weekly Blog post

Subscribe by RSS Feed
---
Hello,
Thank you for visiting the Free-Bullion-Investment-Guide's latest blog post, I hope that you and your family had a great week.
Before we get to this week's post; here are a few of Last Week's Best News Articles that were taken from this guide's homepage.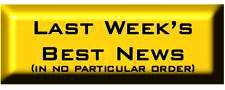 King One Eye -

Gold Gods Will Get the Last Laugh
Bloomberg -

Cash Dwindles to Two-Decade Low in Global Investor Portfolio
Guillermo Barba -

The Bank of Mexico reveals its gold bar list
Business Standard -

Gold jewellery demand likely to rebound after note ban
Wolf Street -

Costco Gets Whacked by Inflation
Benzinga -

Bank Of America Sees Gold Rising By $200 Despite Tightening Monetary Policy
03/10:
Janus -

Monthly Investment Outlook from Bill Gross
VIDEO :

Kitco -

Why Jeff Christian Thinks Silver Will Start To Rise 'More Forcefully'
---
Is Janet Yellen Bluffing?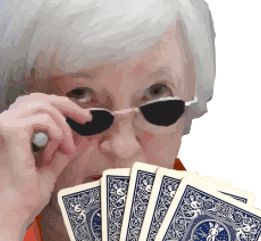 Near the end of last week's post, I stated that I thought that all the calls for rate hikes by Federal Reserve officials sounded like a bluff.
After the review of past rate hikes, I think I may have been wrong.
Since the Federal Reserve ended its last round of Quantitative Easing on October 29th of 2014, we've had only two rate hikes of 0.25% each.
In the past, every time I doubted a rate hike I would read an article about a Fed official talking about raising rates, then, within a day or two, I'd read an article about another Fed Official saying the opposite.
There have been only two times, that I can recall, when most or all of the talk coming from Fed Officials has been totally for rate hikes, before a Federal Reserve Meeting; those times were December 2015 and December 2016, before the Fed Raised rates.

The same has happened this time, below are links to articles that show this:
ABC News -

Fed board member Powell says March rate hike possible
Reuters -

Fed officials jolt market with talk of pending rate hike
Reuters -

Yellen points to March rate hike as Fed signals end of easy money
CNBC -

Fed's Lacker, citing mistakes of '60s, plugs pre-emptive rate hike
Market Watch -

Fed's Fischer signals he is content with market expectations of a rate hike in March
Market Watch -

Fed's Fischer signals he is content with market expectations of a rate hike in March
This is the only article I've read that had a dovish tone about March rate hikes.
Market Watch -

Fed's Bullard sounds cool to idea of March interest rate hike
However, Bullard is a non-voting member of the FOMC, so his comments don't hold a lot of weight, plus his comments were made before the others gave their thoughts on the issue of a rate hike.
---
Here are a few more reasons to expect a rate hike on Wednesday, March 15th, in every press conference that Janet Yellen has had, she's repeatedly stated that they will only raise rates if the data supports it.  
According to the Fed's stated goals for the U.S. economy, the data supports a rate hike:
Unemployment is below 5%  (Click the chart for more information)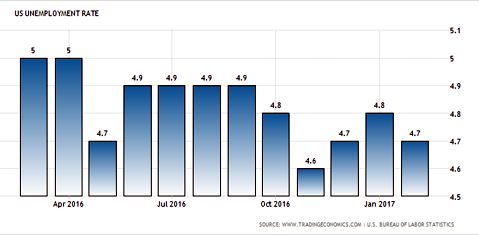 And the Inflation Rate is above 2% - (Click the chart for more information)
If the Fed doesn't raise rates on March 15th, it would be one of the biggest bluffs that Janet Yellen has made, and for those on Wall Street it would definitely hurt the Federal Reserve's credibility.
---
'YELLEN'S BLUFF'

But, this bluff isn't the one that I really want to bring to your attention.

The Bluff that I want to bring to your attention is the Interest Rate Bluff that Janet Yellen is currently creating.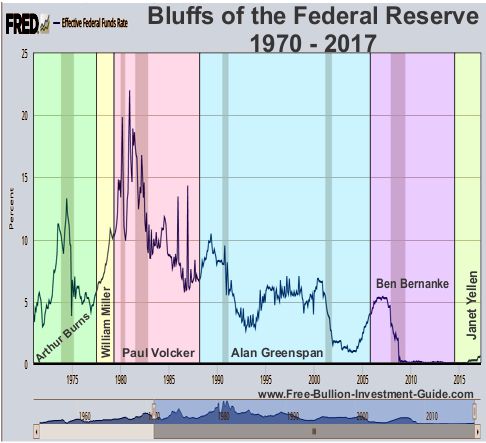 'Click here' for a timeline of each rate hike and reduction in the chart above.

Although I think 'Yellen's Bluff' will be much smaller, you can certainly expect that it will look a lot like the ones that her Federal Reserve Chairman colleagues have made in the past.
Why?
Because even though the market might look like 'OK' on the outside, there are critical markets within the broader market that are not doing so good.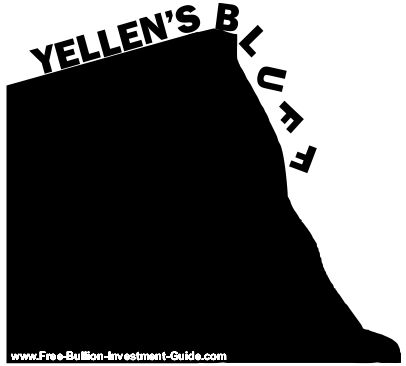 This post is an introduction to a several 'part' series of posts (over the next several weeks and months) that will be titled 'Yellen's Bluff,' to give you some deeper insight into what could be the unforeseen market that makes her bluff fall.
The first part in the series, will be focused on the oil industry, and to give you a little information about how much this industry is hurting; here is a few points to think about:

As of this date, Oil's price is currently trading $48 to $49 a barrel

Most shale oil companies need oil to be at least $55 to $60 a barrel, for their business to be economically viable.

From January 2015 – December 2016 there have been 114 bankruptcies among the oil industry, totaling about $75 billion in debt.
On March 10th, Tom McClellan of McClellan Financial posted the following article about the massive short position in the oil market:
Huge Imbalance in Crude Oil Positions
Does the Oil Industry look good to you? Because it doesn't to me.

I will post the Oil Industry part of 'Yellen's Bluff' in the next week or two.
Now to the Charts

---
GOLD
This week, I'm only going to review of last week's charts because this week technical analysis isn't going to help much, it all depends on what the Federal Reserve does as to which way gold and silver will go.
In last week's post, gold fell below the upper trend-line of its Falling Expanding Wedge, destroying the bullish pattern.
This week look for gold to hold above these Support Levels at $1200 & $1180.
Charts provided courtesy of this Guide's Affiliate: TradingView.com

---
SILVER
Like gold, silver broke through its expanding falling wedge last week too, and like gold, we will need to look to the Fed this week to get an idea of which way the precious metal will move.
Support Levels for silver $17.00, $16.75, and $15.70.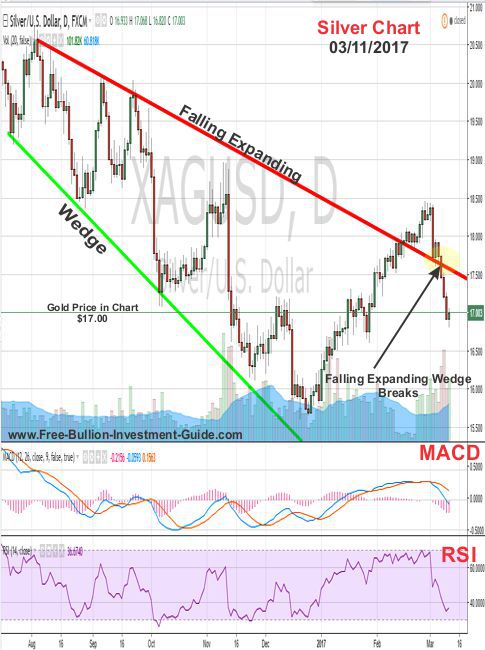 Next week I intend to post these Charts: Gold, Silver, Platinum, Palladium and the US Dollar.

---
MUSIC
Chet Faker - Gold
(Great Artist, Cool Song & Video) Enjoy!

Thank you for your time and I hope you have a Great Week.

Take Care & God Bless,
Steve
---
---
Thank You for Visiting the Free Bullion Investment Guide

This Guide gives 50% or more of what it earns to those who are Battling Cancer. 

Please Help Us Give by Supporting our Affiliates.

(Every Advertisement on the Guide is from one of our Affiliates)
---
'Click Here' see all of the prior Blog posts,
---
Thank You for Your Time!
---
---
Free Bullion Investment Guide