Find more "Deals on Bullion" here

A Look into the Separate Ways of
Gold and Silver's Short-term trade

Gold, Silver and U.S. Dollar Review & Outlook


04/17/2017 thru 04/28/2017
---
Originally Posted on 04/23/2017 @3:04pm
---
Subscribe to this Weekly Blog post

Subscribe by RSS Feed
---
Hello,
Thank you for visiting the Free-Bullion-Investment-Guide's latest blog post, I hope that you and your family have had a good week.
Before we get to this week's post; here are a few of Last Week's Best News Articles that were taken from this guide's homepage.
Note: Last week, I missed a few days of posting the news on the homepage because I have the 'flu.'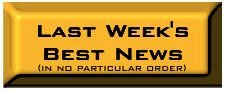 GOLDSEITEN.de -

The Euro - an Uncertain Currency
- google translation link
Econimica -

Federal Reserve Is Communicating A Recession is Imminent
Value Walk -

Gold And Lumber Surge
TECHNICAL ANALYSIS :

MINING -

Gold price on verge of breaking 6-year downtrend
Financial Sense -

Rising Rates and Shrinking Balance Sheets Pose Risks Ahead
Best of the Week for Gold NanoParticle Cancer Research
GOLD NANOTECHNOLOGY : CANCER RESEARCH :

AZO NANO -

The Biological Mechanisms of Gold Nanoparticle Radiosensitization
GOLD NANOTECHNOLOGY : CANCER RESEARCH :

Vox -

Science is why my cancer diagnosis isn't a death sentence. It's why I'm marching tomorrow.
---
---
Update Will be Posted Soon
'Missing' 13,531,000 - 2014 American Silver Eagles
In a day or two, I intend to write an update to the 2014: Missing American Silver Eagle post.  The update will include Coin World's response to my email.  In addition, I am working with an individual who is a annual collaborator with the World Coin books, he is helping me find the answers to the questions in the post.
---
---
'Separate Ways'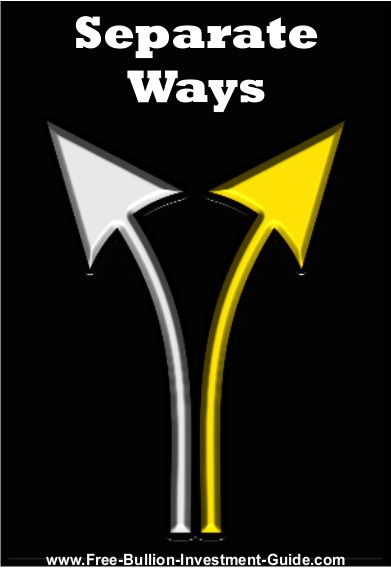 In the middle of last week, as I was watching gold and silver trade the phrase 'Separate Ways' entered into my mind, the second thing that popped into my head was the song by Journey of the same name.
'Separate Ways' is a great song, but the video to it is probably one of the cheesiest and worst music videos ever made. 
I couldn't bring myself to post the video because it's that bad, but if you wanna see it you can click here, and decide for yourself. 
However, the phrase 'Separate Ways' entered my mind by looking at the ways silver and gold were trading.
Silver's support levels broke and the price fell, while gold's support held and the price stayed up and traded sideways.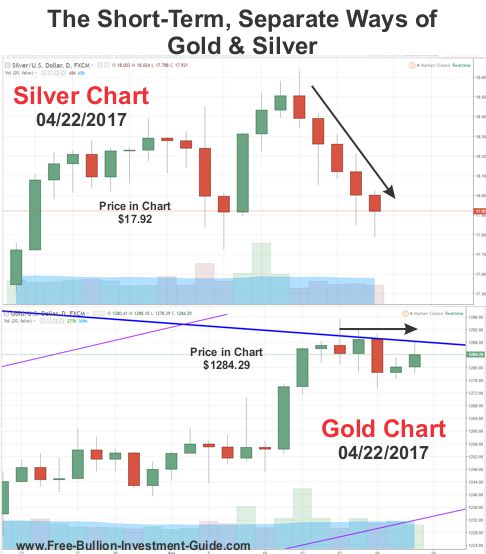 The question that some may ask is; Why has silver and gold traded this way?
Silver and gold are both safe haven assets, meaning that when times get uncertain investors look to these assets as a way to protect their wealth.
Silver is an industrial metal as well as a safe haven, so even though tensions are still high between North Korea and the United States, and the Syrian conflict is still in the news, these current events didn't get worse, so they weren't enough to keep the support under silver's price.
Gold, on the other hand, has some industrial purposes, but it much more of a safe haven asset than silver, therefore gold's price was able to stay above its support level of $1270; plus the anticipation of the French Presidential Elections has also helped support the price of gold.
In reference to the French Elections, the financial media and many traders believe that if Marine LePen wins or has a good showing by the electorate in this 1st round of voting, it will cause the markets to freak out and the price of gold to move higher.
The best source that I've found to get an honest view without media hype has been from Wikipedia. 
The polling chart below is from this Wikipedia link.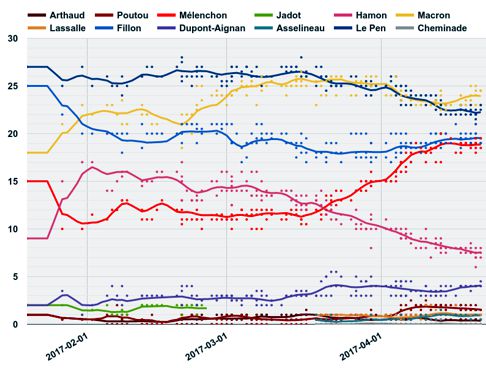 If you click the wiki link and scroll down the wiki page, you will see the one variable that you rarely hear about in the news, which is the amount of 'abstention' in the polls. 
The Abstentions or Undecideds have been running consistently at 20% to 30% in the polls, which could tip the election in any direction. 
Therefore, the fact is that nobody really knows what is going to happen in the French Election, but if LePen receives a strong showing from the French electorate, then we may see a strong move up for gold and silver.
---
SILVER
In last weekend's chart (below), I showed you the multiple negative patterns in silver's charts and stated the following about the Rising Expanding Wedge and Rising Wedge.
"Both patterns are negative (bear) indicators that will continue to loom over the price of silver until either the fundamentals push the price higher, destroying the negative technical patterns or the price pulls back confirming them."
(continued....)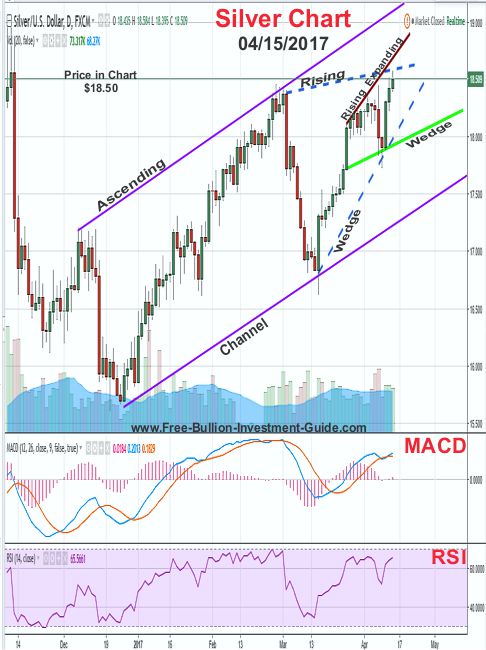 charts provided courtesy of TradingView.com

Last week, as the Fundamentals that helped push silver up in price eased, we can see, in the chart below, that both 'Rising Wedge patterns' in silver's chart were confirmed when silver broke below the bottoms of each wedge.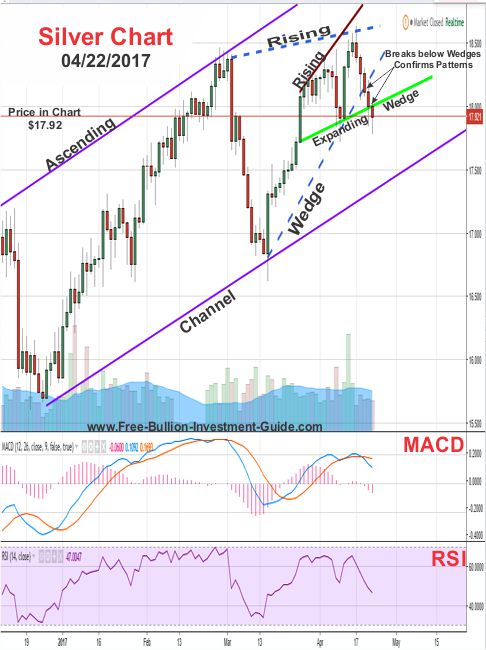 In the coming week for silver, a new 'Falling Wedge' bull pattern has formed on silver's chart (below), but silver's MACD & RSI (lower Indicators) are both showing the price of silver may still have a little more room to fall before it finds support.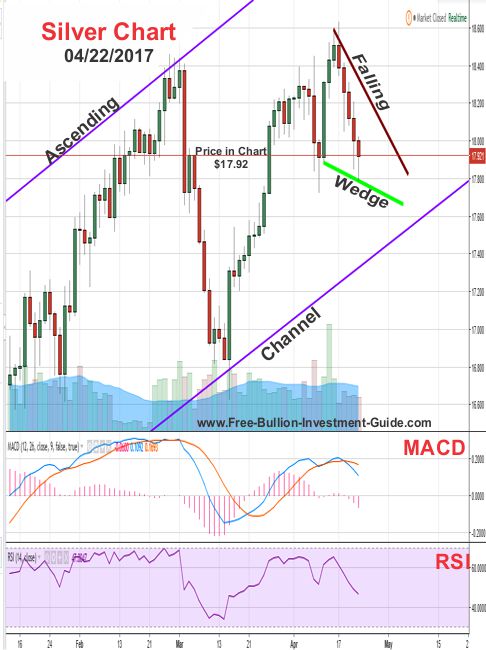 ---
Silver's Price Resistance &
Support Levels
Silver's Resistance Levels

$18.75
$18.30
$18.00

Silver's Support Levels
$17.90
$17.70
$17.50
---
GOLD
Last week I posted the chart below, that indicated the multiple negative (bear) patterns that had formed in gold's chart.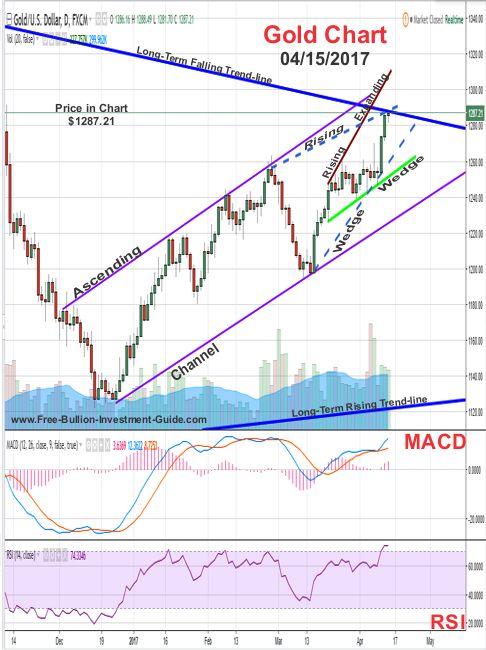 Charts provided courtesy of TradingView.com
The price of gold over the last week has traded sideways.
One reason it did not fall in price like silver is because the price has found support as the outcome of the French election has continued to be on the back of trader's minds. 

In the chart below, we can see that gold is trading inside both of the rising wedges indicated in this guide's chart analysis.
The ultimate direction for gold this week will be a good example of when 'Fundamentals trump Technical Analysis' because once the outcome of the election is known and we see how traders judge it, gold will either rise or fall in price. 
Time will tell.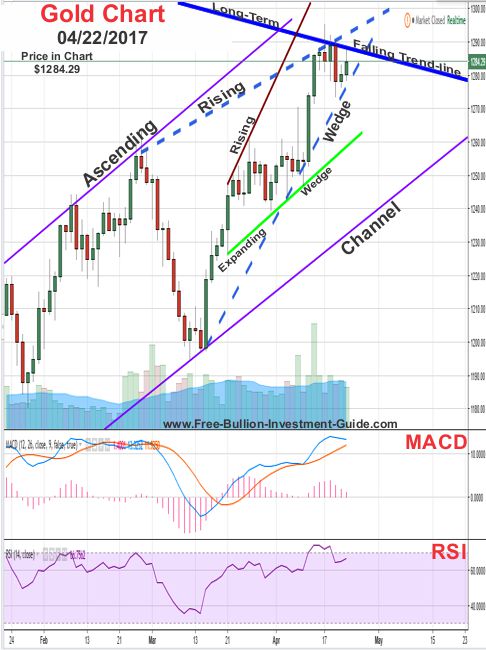 Gold's Price Resistance and
Support Levels
Gold's Resistance Levels
$1305.00
$1300.00
$1290.00

Gold's Support Levels

$1270.00
$1250.00

$1225.00

---
US DOLLAR
In last week's blog, I didn't say much about the U.S. dollar chart because there wasn't much happening in it.

However, this week, a 'Falling (bull) Wedge' has formed inside the dollar's descending channel.

So, although a reversal in the dollar's price is expected sometime in the near future, the price is also expected to continue to trade inside the negative patterns of the Rising  Expanding Wedge' and the 'Descending Channel.'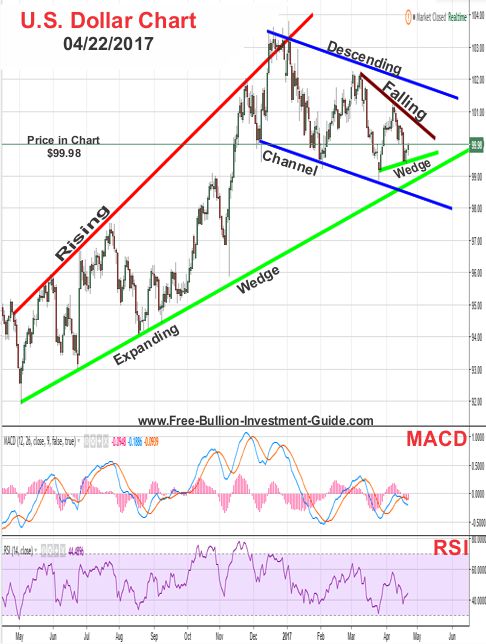 ---
U.S. Dollar's Price Resistance and Support Levels
U.S. Dollar's Resistance Levels

$101.00
$100.50
$100.10
U.S. Dollar's Support Levels
$99.75
$99.50

$99.20
---
Have a Great Week.
Thank you for your time & God Bless,
Steve
---
---
---
---
'Click Here' see all of the prior Blog posts,
---
Thank You for Your Time!
---
---
| | | |
| --- | --- | --- |
| | Free-Bullion-Investment-Guide "Search" | |
Free Bullion Investment Guide