---
Find Bullion Market News here

Silver Went Up

(last week)


Now, Where's it Going?

 Review and Outlook for
Silver.

---
Originally Posted on 4/22/2018 @ 4:03 pm EDT

Re-posted on 4/23/2018 @ 9:53 am EDT

by Steven Warrenfeltz

---
Subscribe to this Blog

Subscribe by RSS Feed
---
Hello,
Thank you for visiting the Free-Bullion-Investment-Guide every visit you make is greatly appreciated.
Before we get to this Review & Outlook, below are some of the Best Bullion Market-Related News articles that were taken from this guide's home page, over the last week.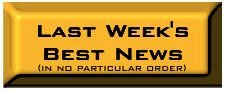 The Fed Has Forgotten The Lessons Of 2008
- Real Investment Advice
Feds Taxed and Borrowed $4.47 Trillion Since Last Tax Day; $13,737 for Every Man, Woman, Child in USA
- cnsnews
Can Morgan silver dollar prices only go up?
- Numismatic News
MINING:

Mexico still No. 1 for silver production
- Mexico News Daily
Silver Trading 'Oversold' on Record High Short Position
- Bullion Vault
Best of the Week for

Gold NanoParticle Cancer Research
Remote-control shoots laser at nano-gold to turn on cancer-killing immune cells
- Science Daily
New cancer monitoring technology worth its weight in gold
- PHYS.org
---
---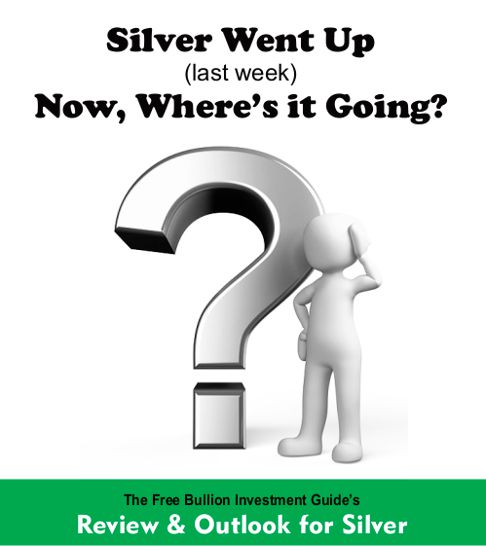 ---
---
---
Normally, this guide posts a Review and Outlook for the U.S. Dollar, Silver, and Gold.

But, last week Silver was the only one of the three assets that moved out of its identified pattern.

The U.S. Dollar is still trading inside a negative 'Rising Wedge' and Gold is still trading inside a very large and positive Bull Flag, to view these patterns please go to this guide's last blog post:  A Large Bull Flag is in Gold's Chart - Update.

So because of these factors, this week's Review and Outlook is only for silver, which you'll find below.
---
---
---
Review & Outlook
Layout





The order of the asset analysis below:




Each asset below has three sections.

In the 'review' section, a copy of the previous outlook for that asset is posted.
Next, you'll find a 'review - continued' section where there is a brief review of how accurate the previous outlook was.
Finally, you will find an 'outlook for the week ahead' for each of the assets below.
---
---
All the charts on this blog are Daily Charts unless noted otherwise.

---
---
---
SILVER
In Review

Last week, the chart and commentary below was posted for silver's outlook.

In the outlook chart below, you can see that nothing much has changed from last week.
Even though the 'Falling Wedge' was confirmed in silver's chart, it could still be drawn, so it was kept in the chart below.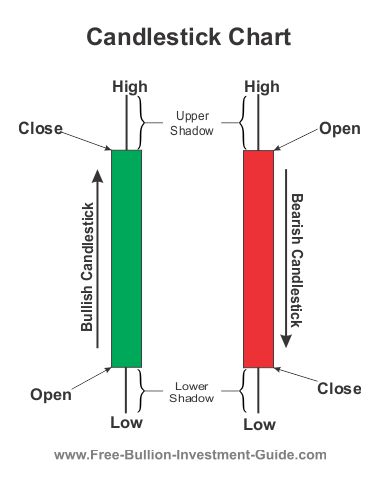 Furthermore, the 'Rising Expanding Wedge' has also been redrawn.
Two weeks ago, silver made a new low under the bottom of the wedge, but it did not close the day below the wedge, which is why the pattern was not confirmed or denied.
I explained as to why I didn't call ' confirmed in the 'Silver Review - Chart' section of last week's blog.
Just so you know, I don't confirm patterns on 'highs and lows' only on when the price has closed above or below an identified pattern's trend-lines is the pattern confirmed or denied on the charts found in this blog.
As for the week ahead, there are too many fundamental variables to consider when trying to determine silver's future. 
From the Syrian airstrikes to the continued issues of trade between the United States and China, anything could literally rattle the markets and silver for that matter.
Because silver is an industrial metal, as well as a safe haven asset, it is prone to drop when the stock market drops, much more-so than gold, so I'll be keeping a close watch on the news to see how silver moves this week.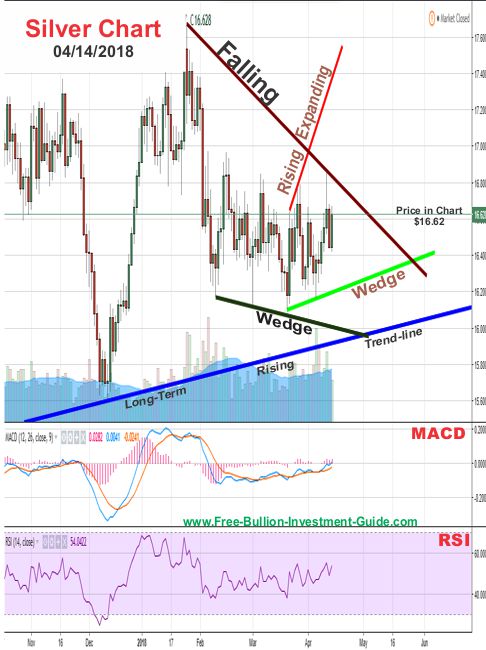 Silver - In Review -
continued
The Syrian airstrikes nor any trade war rumors between the United States and China affected silver's movement last week.

In the chart below, you can see that silver mostly moved up last week  (except on Friday) and in doing so it confirmed the re-drawn positive 'Falling Wedge' pattern.

See the outlook below to get an idea of where silver is expected to go in the next week or two.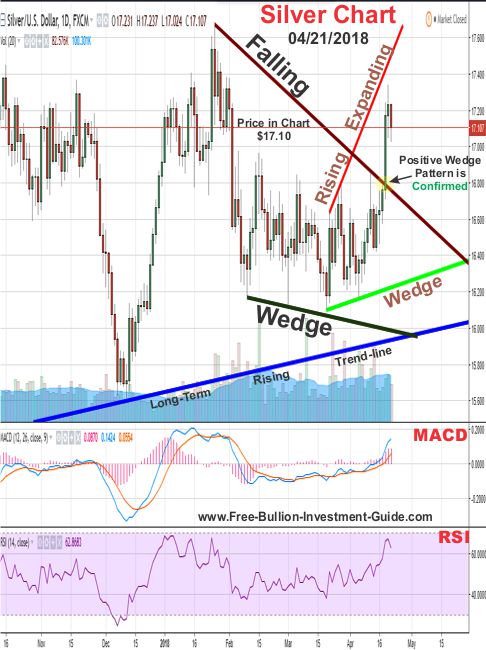 Silver - Outlook
Silver's has now formed two negative 'Rising Expanding Wedge' patterns in its outlook chart below.
I've dotted the trend-lines of the larger (and older) of the two patterns because it may be denied sometime in the coming days and weeks.

In all honesty, I'd like to see silver deny it and trade higher above its long-term rising trend-line because the higher it trades above it the brighter its future is.

But, whether that pattern is denied or not is up to silver traders, so time will tell whether the larger of the two patterns is confirmed or not.

In the immediate future, silver has formed another, but more narrow negative 'Rising Expanding Wedge' pattern.

The new, more narrow, negative 'Rising Expanding Wedge' pattern is expected to be confirmed sometime in the near future, when that is exactly is unknown, but because there are now two negative wedge patterns in silver's chart, the precious metal is expected to move down sometime in the near future.
Charts provided courtesy of this Guide's Affiliate - TradingView.com
---
Silver's Price Resistance &
Support Levels
Silver's Resistance Levels

$17.50

Silver's Support Levels
$16.50
$16.25
$16.00
---
---
---
Thank You for Your Time.
Have a Great Week and God Bless,
Steve
---
---
---
---
'Click Here' see all of the prior Blog posts,
---
Thank You for Your Time!
Investment/Information Disclaimer:

All content provided by the Free-Bullion-Investment-Guide.com is for informational purposes only.  The comments on this blog should not be construed in any manner whatsoever as recommendations to buy or sell any asset(s) or any other financial instrument at any time.  The Free-Bullion-Investment-Guide.com is not liable for any losses, injuries, or damages from the display or use of this information. These terms and conditions of use are subject to change at anytime and without notice.
---
---
Return from this Guide's Latest Blog Post
---
---
---
Free Bullion Investment Guide