1 oz. Canadian Silver Grizzly
Bullion Coin

In 2011, the Canadian Silver Grizzly Bullion coin was released by the Royal Canadian Mint.
The Canadian Grizzly bullion coin is the second coin released of a six bullion coin series that will last for three years. Every six months, a new silver bullion coin will be released.
The six coin series is known as The Canadian Wildlife Silver Bullion Coin Series.
---
Design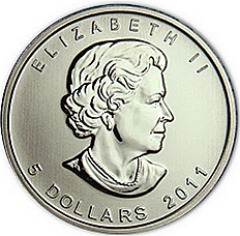 Obverse
The obverse side of the silver bullion coin, displays the profile of Queen Elizabeth II, designed by Canadian portrait artist Susanna Blunt.
The designer's initials, "SB" although hard to see, are on the Queen's right shoulder, just outside her collar, (narrated in the first person point of view).
At the top of the silver coin is her name "ELIZABETH II."
Across the bottom of each of the silver bullion coins, is the coin's Face Value of "5 DOLLARS" and the coin's Year of Issue
The edge of the Canadian silver bullion coin is Reeded.

---
Reverse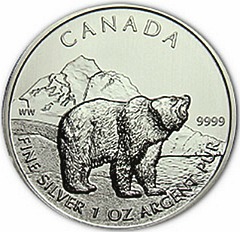 The reverse side of the 2011 Grizzly bullion coin depicts a roaring grizzly bear, standing at the edge of a lake, in a mountainous setting.
Inscriptions include "CANADA" across the top of the coin, on the left side of the silver grizzly is the purity of the bullion coin "9999".  (Narrated in the first person point of view)
The "WW" on right side of the silver bullion coin, represents the initials of the designer and Senior Royal Canadian Mint Engraver, William Woodruff.
"FINE SILVER, 1 OZ, ARGENT PUR", is inscribed across the bottom of the bullion coin.
---
Silver Gold Bull  - "Type" Grizzly in the Search Bar, located at the top of the homepage, to find 2011 1 ozt. Canadian Grizzly Silver bullion coin
GoldenEagle Coins - Silver Grizzly page

Amazon.com - 1 ozt. Silver Grizzly Bullion Coin page
---
Coin Information:

Introduction:..........2011
IRA approved:........Yes
Grade:....................Uncirculated
Face Value:............$5 CAD
Silver Content:.......1 Troy oz. (ozt.)

Total Weight:.........31.10 grams
Purity:...................99.99% / .9999
Diameter:..............38mm
Thickness:.............2.87mm
Mint Mark:.............No
Designers:............William Woodruff & Susanna Blunt
Edge:...................Reeded
Mintage: 2011......1,000,000
---
Return from the Canadian Silver Grizzly page and go back to the Canadian Bullion page
OR
For the Latest Bullion Market News...
---

Written Permission Must Be Received to Reproduce
For Source of Information Purposes: Please Give a Return Link


---
---
Free Bullion Investment Guide