The Canadian Silver Cougar Bullion coin was released by the Royal Canadian Mint, in 2012.
The Canadian Cougar silver bullion coin is the second coin released in the series of six bullion coins. Every six months, a new silver bullion coin will be released.
The silver bullion coin series is known as The Canadian Wildlife Silver Bullion Coin Series.
---
---
Design of the
1 oz. Canadian Silver Cougar
Bullion Coin
---
---
Obverse

The obverse side of the Silver Cougar bullion coin displays the effigy of Queen Elizabeth II, designed by Canadian Susanna Blunt.
Her initials "SB," although they are hard to see, are located at the top of the Queen's shoulder.
At the top of the coin is the Queen's name "ELIZABETH II."
Inscribed across the bottom of the silver bullion coin, is the face value of "5 DOLLARS" and the year the coin was issued "2012."
The edge of the silver coin is Reeded.

---
---
---
Reverse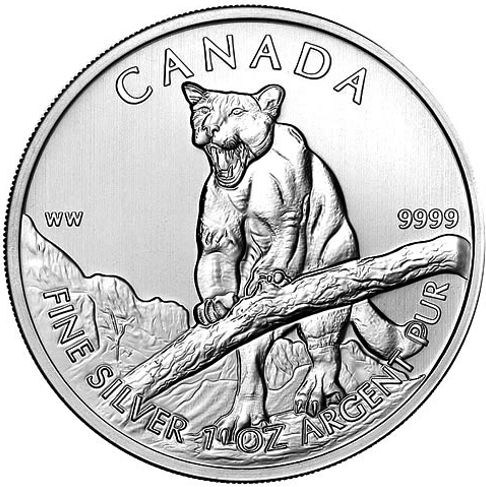 The reverse side of the 2012 Canadian Silver Cougar bullion coin depicts a cougar standing on-top a fallen tree, with its mouth open, showing its teeth.
Inscribed along the top of the silver coin is "CANADA."
On one side of the silver cougar is the purity of the bullion coin "9999," 

The "WW" on the other side of the cougar are the initials of the designer and Senior Royal Canadian Mint Engraver, William Woodruff.
Inscribed at the bottom of the silver bullion coin is the coin's weight and fineness, in English "FINE SILVER, 1 OZ, and French ARGENT PUR."
---
---
1 oz. Canadian Silver Cougar
Coin Information
---
---
Introduction:........2012
IRA approved:......Yes
Grade:.................Uncirculated
Face Value:..........$5 CAD
Silver Content:.....1 Troy oz. (ozt.)
Total Weight:.......31.10 grams
Purity:.................99.99% / .9999
Diameter:............38mm
Thickness:...........3.29mm
Mint Mark:...........No
Designers:..........William Woodruff & Susanna Blunt
Edge:..................Reeded
Mintage: 2012.....1,000,000
Canadian Wildlife Silver
Bullion Coin Series


2011 - 2013
---