Find more "Deals on Bullion" here

Gold Still Leads Silver

Precious Metals Weekly
Review & Outlook


02/20 thru 03/03/2017
---
Originally Posted on 02/27/2017 @1:11am
---
Subscribe to this Weekly Blog post

Subscribe by RSS Feed
---
Hello,
Thank you for visiting the Free-Bullion-Investment-Guide's latest blog post, I hope that you and your family had a great week.
Before we get to this week's post; here are a few of Last Week's Best News Articles that were taken from this guide's homepage.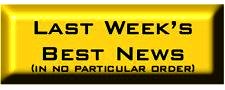 SAXO Group -

Why Gold and Silver have Broken Higher
King One Eye -

Real Negative Interest Rates Drive Gold Higher
tweet : CHART :

Real Vision -

The Last 7 Times This Happened Markets Fell
Financial Sense -

The Four Horsemen of the Retirement Apocalypse
Enterprising Investor -

Gauging Market Sentiment: Selling Greed Is Harder Than Buying Fear
Sprott Money -

Duesenberg in a Barn
tweet : CHART :

Real Vision -

The Last 7 Times This Happened Markets Fell
tweet : PHOTOS :

Robyn Urback -

Inflation : Today in Toronto real estate: what half a million dollars will buy you
VIDEO :

Peak Prosperity -

It's Bubble Time!
GOLD NANOTECHNOLOGY : CANCER RESEARCH :

SpringerLink -

Targeting Orthotopic Gliomas with Renal-Clearable Luminescent Gold Nanoparticles
---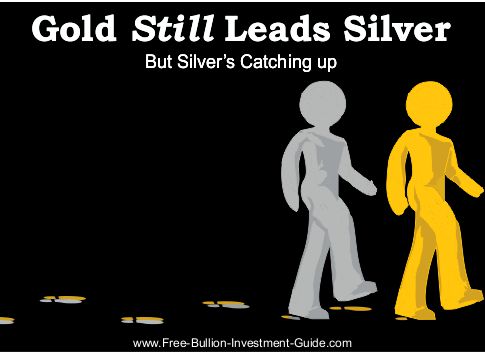 The week before last I posted the following charts for the 'Recurring Themes' post; the recurring theme being the rising wedge.
Charts provided courtesy of TradingView.com
Then last week I posted the charts below, showing that Gold was leading Silver, which is not normal.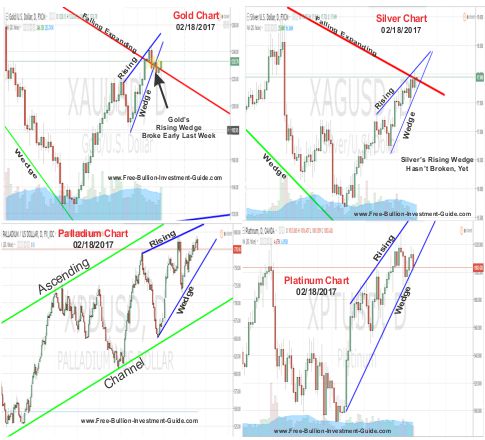 Silver is known for its volatile, erratically trade characteristics, while gold is known for trading with a lot less volatility.
This can be seen in the chart below, which was taken from the guide's 7/10/2016 blog post.

In last week's post, I posted the following statement that I have written in several of my blog posts:
"Silver and Gold generally move together in their daily trading, but silver leads gold in its long-term trade."
However, over the last few weeks, gold has moved into the lead position.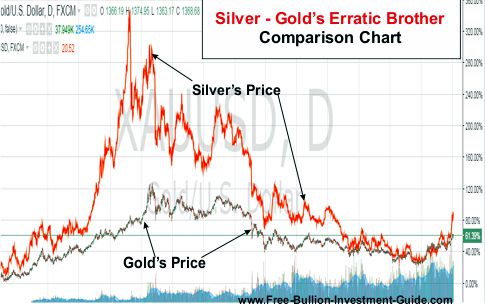 But, now that silver has broken below its rising wedge and consolidated, its price has regained its strength, and has moved up and is likely to continue to move up.
You can see this in this week's gold and silver charts posted below.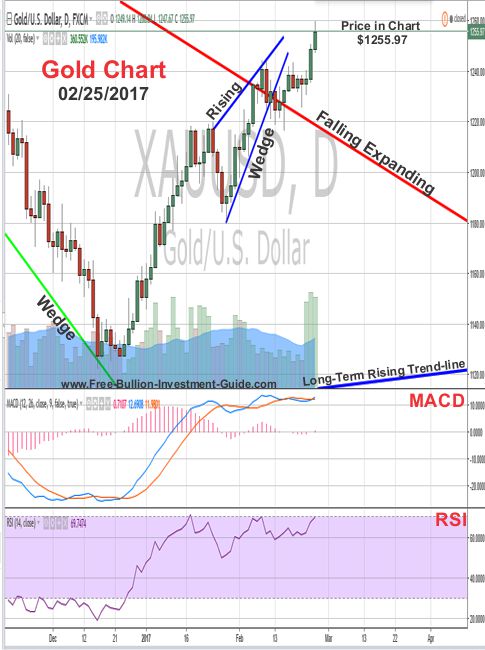 Silver's been catching up to Gold and by the end of this week, it looks like it will take the lead back from Gold; in their long-term trade.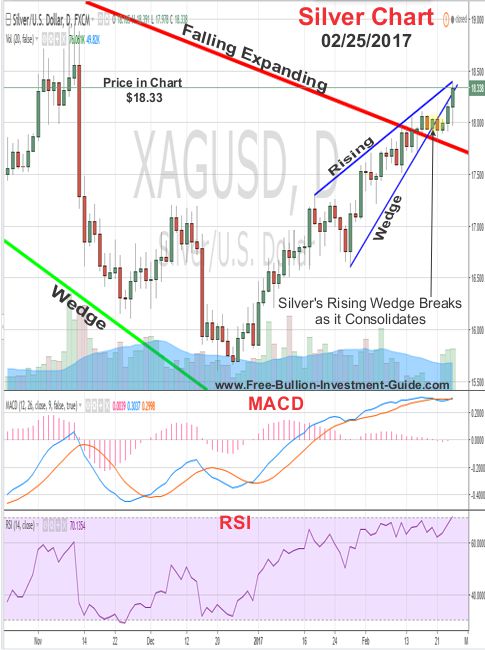 One last thing about Gold's Price Chart; its 'Long-Term Falling Trendline.'
This trend-line dates back to Gold's high in September 2011, and it will test this line when its price moves above the $1280 area. 
It's doubtful that gold will test this line next week, however, on March 14-15 the Federal Reserve has a meeting, if it fails to raise interest rates, as I expect it to do, we should see gold test this trend-line's resistance strength.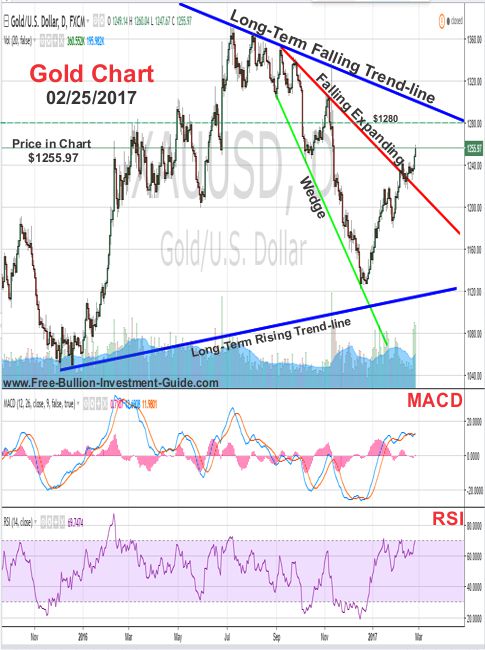 ---
Platinum & Palladium

As you can see in the chart below, Platinum's chart looks very similar to Silver's chart above, and like Silver, Platinum broke below its rising wedge, completing the pattern for a brief consolidation before it started to move up again.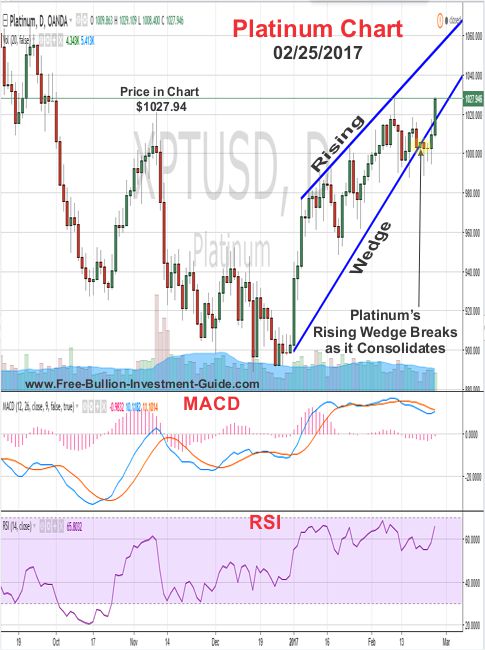 Charts provided courtesy of TradingView.com
Palladium is the only precious metals left trading inside its rising wedge, and although it has bounced around inside it for the last few weeks, it could easily continue to do so before it breaks below it in consolidation.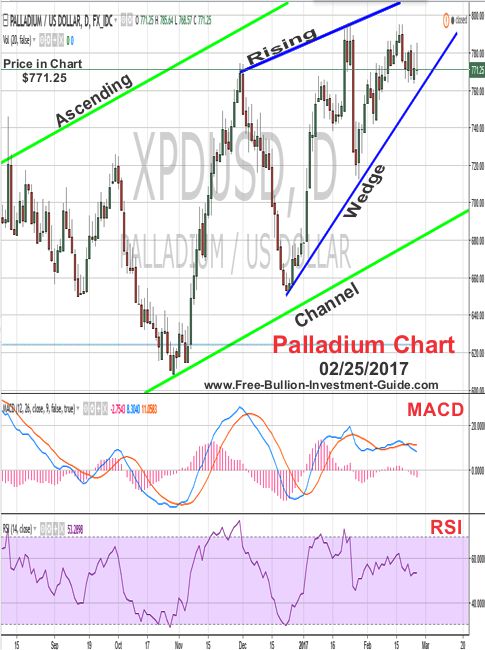 There isn't much more to say about Platinum or Palladium because their charts aren't giving off any signals as to how they may trade in the week to come.  Time will tell what they will do.

Lastly, if you're a regular visitor to this blog, you know that I've been playing around with the layout of my blog posts. 
I can tell you that I will often be changing the layout; I will make new ones and revert to old ones, I'm not a fan of repetition - if I can help it, plus it gets boring after a while.
---
Music
Great song, Cool video (not the official one)
Awolnation's "Sail"
Have a Great Week.
Thank you for your time & May God Bless You,
Steve
---
---
Thank You for Visiting the Free Bullion Investment Guide

This Guide gives 50% or more of what it earns to those who are Battling Cancer. 

Please Help Us Give by Supporting our Affiliates.

(Every Advertisement on the Guide is from one of our Affiliates)
---
'Click Here' see all of the prior Blog posts,
---
Thank You for Your Time!
---
---
| | | |
| --- | --- | --- |
| | Free-Bullion-Investment-Guide "Search" | |
Free Bullion Investment Guide