Homepage / Bullion Investment Basics: Gold S & D

Find more "Deals on Bullion" here

Gold
Supply and Demand
2010  -  2019
---
Last Updated 08/04/2020

---
Gold Facts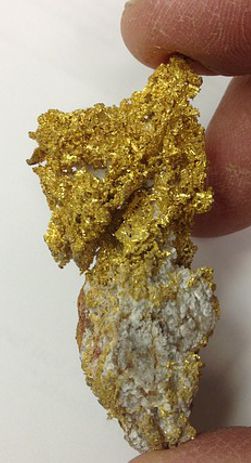 photo provided courtesy of pixabay
Gold is a chemical element with the symbol Au, the symbol comes from Latin word "Aurum" meaning "Gold."
Gold's atomic number is 79. Gold is a dense, soft, shiny metal, and is the most malleable and ductile metal known.
Pure gold has a bright yellow color, which it maintains without oxidizing in air or water.
Gold is a valuable and highly sought-after precious metal for coinage, jewelry, and other arts since long before the beginning of recorded history.
The metal occurs as nuggets or grains in rocks and in veins deposits.
---
---
---
---
Gold Supply and Demand

World Gold Mine Production

Gold Supply and Demand
Over the last 10 years, worldwide gold mine production has seen mixed results.
Worldwide gold mine production was estimated to be unchanged from that in 2018.
Increased mine production in Australia, China, and Indonesia offset decreased gold mine production in Peru, South Africa, the United States, and Zimbabwe.

China is the largest producer of gold, however, since hitting peak production between 2014-2016, their mining output over the last three years has been 1 million troy ounces lower.
The United States saw a 11% decrease in domestic mine production in 2019, which was attributed to decreases in production from the Bald Mountain, Carlin, and Cortez Mines in Nevada and the Fort Knox and Pogo Mines in Alaska.

South Africa, was at one time the world's largest producer of gold, but now due to lower ore grades, strikes, and mine closures, the country is expected to see continued mine production decreases.
---
KellyCo - Customer Reviews - 4.8 stars
---
Gold Supply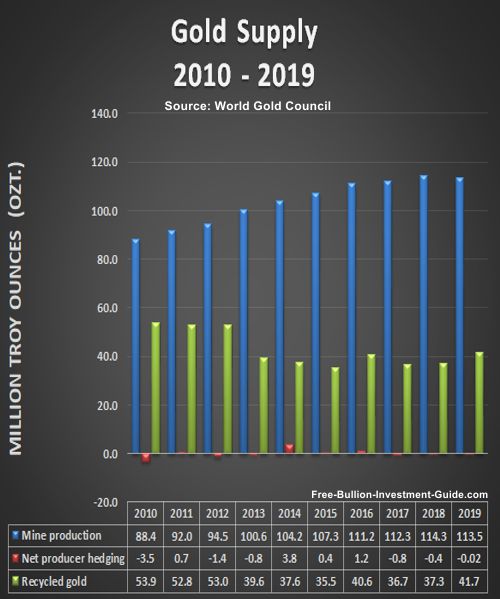 Gold Supply and Demand
Gold Mine Production
Gold mining is a global business with operations on every continent, except Antarctica, and gold is extracted from mines of widely varying types and scale.

Recycled Gold
Recycled or reclaimed gold is made from existing jewelry, industrial metals or electronic and is refined or re-refined to remove any impurities and the result is chemically identical material to newly mined metals.
24 karat gold is considered "pure" gold meaning that it is the finest gold available.
Gold - Net Hedging
"Net Hedging" is; the change in the physical market impact of mining companies' gold forward sales, loans and options positions.
Hedging accelerates the sale of gold, a transaction which releases gold (from existing stocks) to the market. 
Over time, hedging activity does not generate a net increase in the supply of gold. 
De-hedging, has the opposite impact and will reduce the amount of gold available to the market in any given quarter.
---
SD Bullion - 4.8 star Customer Reviews
---
Gold Demand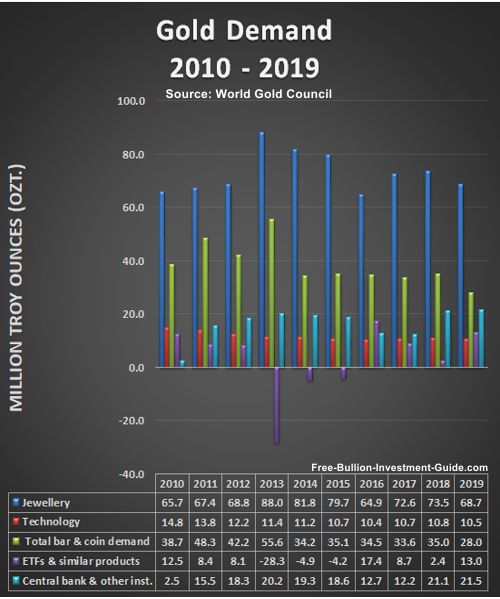 Gold Supply and Demand
Overall, the numbers and comparisons in the Gold Demand charts speak for themselves.
Jewellery demand has been consistent, and Technology has slowly used less and less gold over the last 8-years,
Investments into gold bars and coins are often driven by uncertainty in the markets.  Uncertainty is gold's best friend, and when it is high, individuals buy physical gold as a safe-haven from the broader market.

However, when uncertainty is low, as it was between 2013 - 2019, we saw the price of gold, as well as demand in bars and coins of the precious metal decrease.
ETFs are Exchange Traded Funds, products like them are bought and sold on the major indexes, examples of these are GLD or IAU. 
Like gold bars and coins, traders will often buy or sell ETFs as a way to hedge market uncertainty.   One way to get a good idea of the broader market mentality is to watch the in and outflows into these funds.
Central Banks have generally been net buyers of gold over the last 9-years, although they had some years of decreased purchases.
You can find more interpretation behind the numbers from the World Gold Council in the sources section below.
---
Gold Price Charts

Click the Links below to go to the Gold Price Charts page which offers you the following:
1) Gold Candlestick Chart - 14 month chart

2) Gold Foreign Currency Charts - 1 day charts

---
Sources: Gold Supply and Demand:

USGS.gov - Gold Statistics & Information 

World Gold Council
---
Other pages, on this guide, you may like...

| | | |
| --- | --- | --- |
| | | Refiner |
---
Gunsafes.com - 4.7 star Customer Reviews
---
Gold Supply and Demand
---
For the Best Bullion Market News...
---
---
| | | |
| --- | --- | --- |
| | Free-Bullion-Investment-Guide "Search" | |
Free Bullion Investment Guide