Homepage / Bullion Investment Basics: Gold S & D

Gold
Supply and Demand
2010  -  2018
---
Last Updated 03/15/2019

---
Gold Facts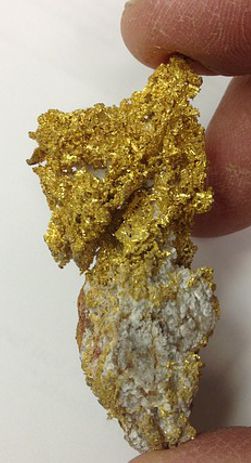 photo provided courtesy of pixabay
Gold is a chemical element with the symbol Au, the symbol comes from Latin word "Aurum" meaning "Gold."
Gold's atomic number is 79. Gold is a dense, soft, shiny metal, and is the most malleable and ductile metal known.
Pure gold has a bright yellow color, which it maintains without oxidizing in air or water.
Gold is a valuable and highly sought-after precious metal for coinage, jewelry, and other arts since long before the beginning of recorded history.
The metal occurs as nuggets or grains in rocks and in veins deposits.
---
---
Free Bullion Investment Guide
Thanks You for Visiting!


---

---

---




My name is Steven Warrenfeltz, I created this guide to give you an honest place, on the web, that provides reliable bullion market information.

This guide is a little unusual to other guides because it not only offers bullion market information, it also advocates for Gold Nanoparticle Cancer Research, and supports individuals who are Battling cancer

A few decades ago, I made a graveside promise to a childhood friend who died of cancer that I would help those who are battling cancer.

I created this guide to help people understand how precious metals help them preserve the value of their savings and or investments while trying to fulfill a promise.




See this guide's Mission page for more information.



---

Affiliate Ad
---
---
---
Gold Supply and Demand

World Gold Mine Production

Gold Supply and Demand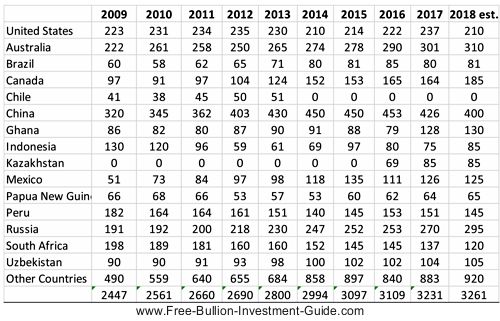 Over the last 9 years, worldwide gold mine production has climbed year-over-year in most countries, while only a few saw production reduce during the same time period.

China is the largest producer of gold, however, their production has reduced by a little more than 10% over the last few years.

Russia and Australia have consistently increased production, in addition, Mexico's production more than doubled (51 to 125 tones) and Canada's production of gold nearly doubled (97 to 185 tones), over the last 9 years.

A few years ago, gold mine production decreased in Indonesia due to union strikes and the government shutting mines down over safety, however, over the last few years, they have been slowly increasing production, but they still haven't come back up to pre-strike gold production.

South Africa, was at one time the world's largest producer of gold, but now due to lower ore grades and mine closings, the country is expected to see continued mine production decreases.
Gold Supply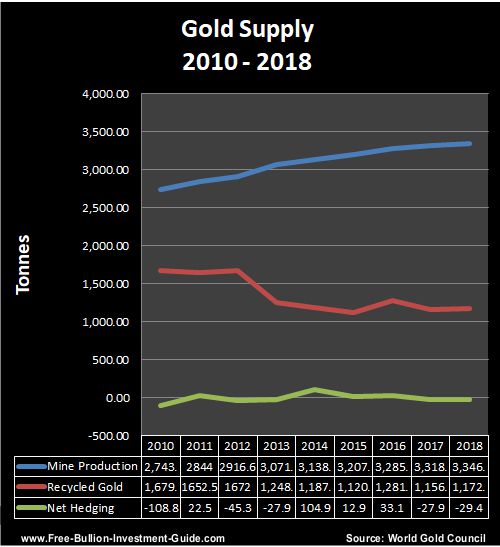 Gold Supply and Demand
---
---
---
Gold Price & Supply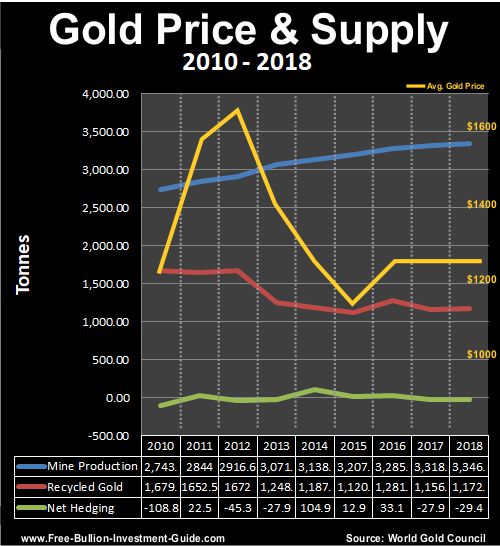 Gold Mine Production
Overall gold mine production has been on a constant rise over the last eight years.
Gold mining is a global business with operations on every continent, except Antarctica, and gold is extracted from mines of widely varying types and scale.

Recycled Gold
The decrease in Recycled Gold should not be surprising to anyone. 
Remember when gold was making its way up to $1900 a troy ounce, and just about everywhere you looked you saw advertisements or store fronts stating "WE BUY GOLD."
Well,  those signs have been slowly going away since the price of gold started to fall.
As the price of gold has decreased, so has recycled gold because people are no longer interested in selling their old jewelry and other items for extra cash.
Gold - Net Hedging
"Net Hedging" is; the change in the physical market impact of mining companies' gold forward sales, loans and options positions.
Hedging accelerates the sale of gold, a transaction which releases gold (from existing stocks) to the market. 
Over time, hedging activity does not generate a net increase in the supply of gold.  Dehedging, has the opposite impact and will reduce the amount of gold available to the market in any given quarter.
---
---
---
Gold Demand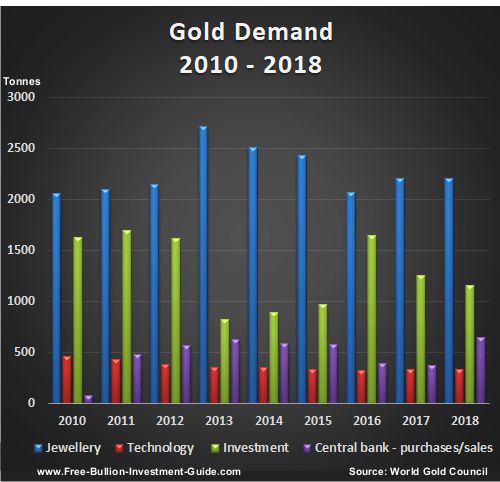 Gold Supply and Demand
Gold Demand Numbers


Source: World Gold Council

Overall, the numbers and comparisons in the Gold Demand charts speak for themselves.
Jewellery demand has been consistent, and Technology has slowly used less and less gold over the last 8-years,
Furthermore, Central Banks have been consistent buyers of gold since 2011.
Investments in gold on the other hand have mostly been driven by the price of gold as you can see in the Gold Price & Demand chart below.

You can find more interpretation behind the numbers from the World Gold Council in the sources section below.
Gold Price & Demand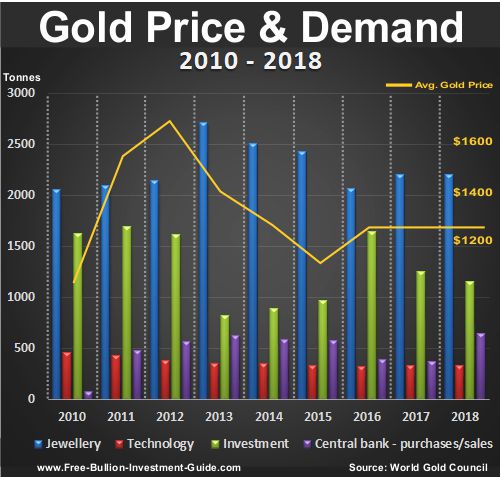 ---
Gold Price Charts

Click the Links below to go to the Gold Price Charts page which offers you the following:
1) Gold Candlestick Chart - 14 month chart

2) Gold Foreign Currency Charts - 1 day charts

---
Sources: Gold Supply and Demand:

USGS.gov - Gold Statistics & Information 

World Gold Council
Gold Supply and Demand
---
---
---
For the Best Bullion Market News...

---
---
---
---
---
Free Bullion Investment Guide