Find more "Deals on Bullion" here


November 2023
Monthly Newsletter
This Newsletter was originally sent on November 5th.
Blog Post made on November 12th

powered by
Hello,

I hope you and your family are staying healthy and keeping well.

Thank you for subscribing to receive this newsletter from the Free Bullion Investment Guide.

Updates to the Guide...


In last months newsletter, I mentioned in this section that I was going to update the Buying Guides on the Free Bullion Investment Guide, but in all honesty, I haven't touched a single one of them. 

However, for a while, I've been wanting to put them all on one page, so for this newsletter I quickly created a new page putting them together, and here it is: Precious Metals Guide, this page will also be updated in the months to come.   This new page found on the guide's "Navigation Bar" under the "Bullion Investment Basics" section.

Instead, what I've been doing this month is re-editing the coin pages and added some new affiliates, the newest being Walmart.   I was a little surprised to find out that they sell precious metals bullion; but they do it through major retailers like APMEX and other bullion dealers with reputable customer reviews.   
So far, I've added Walmart to the Affiliates sections for Mexican and Canadian bullion coin pages.  

Furthermore, two other affiliates were added last month; Express Gold Cash (a business that will give you top dollar for jewelry and other precious metals) and Royalty Precious Metals (a Veteran owned dealer).
A Note about Affiliates and
the New Direction of this Guide
A little under a year ago, I stopped donating to those who battle cancer because although it was tough to end, it never took off how I had hoped.

So, over the last several months, I've been removing all the pages on this guide that had anything to do about the donations it used to make.   I've done this because keeping these pages on the guide put  "Labels" on the guide, ones that has served it no-good.

First off, some advertisers, affiliates, and other merchants don't do business with sites like this guide used to be because they label as "Incentivizing Sites."

Ebay has denied us a few times from becoming an affiliate of theirs because this guide donated to those battling cancer; in 2012, Amazon accepted the guide to their affiliate program knowing what kind of site it was, then 8-years later they dropped the guide because of it, stating that the guide was an "Incentivizing Site" for the reason they terminated the contract.

The fact that some advertising affiliates labelled the guide as an Incentivizing Site is one of many reasons why the Free-Bullion-Investment-Guide halted making donations.

It also stopped making donations because of all unfulfilling repetitive maintenance behind it, plus the "virtue signaling" that it may have drawn (which was never my intention), in addition to some poor marketing and other issues that I failed at on selling the idea.

So now, the Free-Bullion-Investment-Guide's second mission is to advocate for better ways to treat cancer, and to be a place for those wanting information about all the different kinds of cancer and resources to help them fight it can be found thought the cancer awareness page.
My Take on the Markets

Last month, I posted that I expected the price of Gold and Silver to fall, I posted last month's newsletter on Oct. 7th, the day Hamas attacked Israel.

I based my prediction on interest rates rising across the bond markets, but instead we saw a flight to safety, and we'll likely continue to see that flight to safety as long as there is war in Israel.

If we see the price of gold go above $2080, it's likely we'll see it continue to reach new highs, but if gold stays below $2080, then we should see it bounce between $2080 and $1800 over the coming weeks unless we see a downturn in the market then what I stated in last month's newsletter (here) will likely happen. 

For gold's immediate future, we may see it pulling back; it is currently in a rising wedge pattern (a negative pattern - edit); however, if it breaks the wedge to the upside, we'll likely see it test $2080.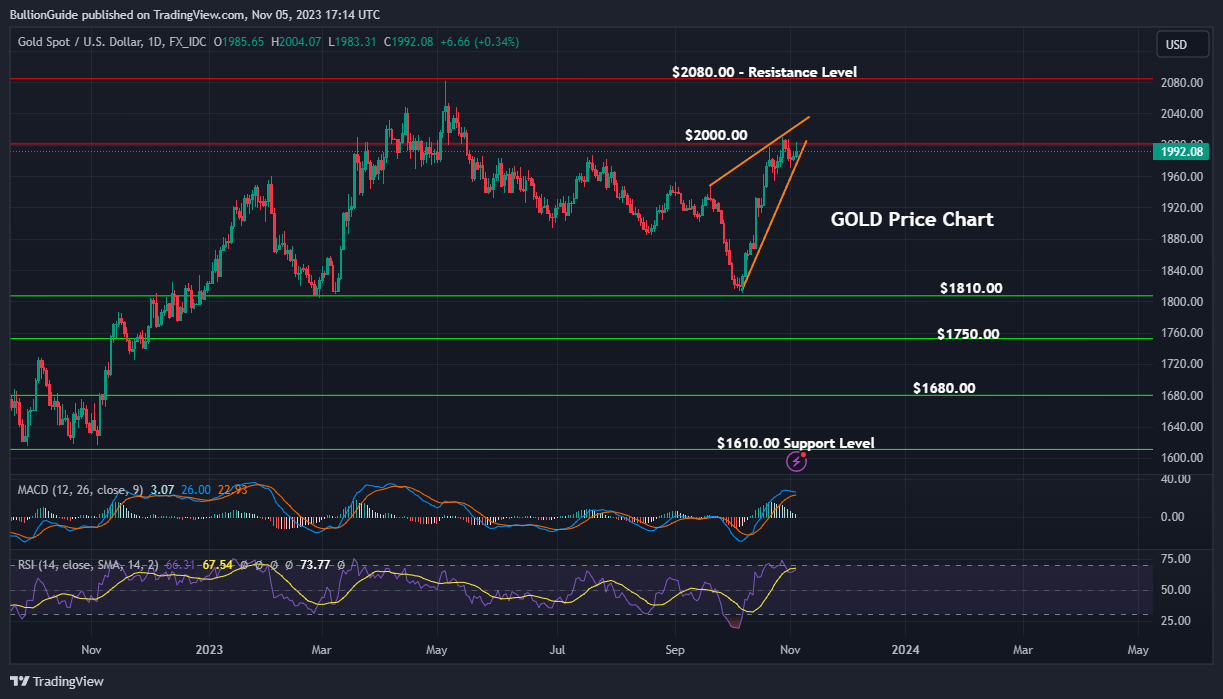 Note: click either chart to see it better
Silver's been more stubborn than gold mostly because it is more of an industrial metal than a safe haven metal like gold. 
Silver is 50% industrial metal and 50% safe-haven metal, whereas gold is 20% an industrial metal and 80% a safe-haven metal.

Silver's been basically moving sideways over the weeks, as the chart below shows. 

In the days and weeks ahead, if we see gold's price break above the wedge and test the $2080 resistance level, we'll likely see silver move higher, but if gold doesn't move to the upside, we'll likely continue to see it move sideways and bounce between $17.50 and $26.20.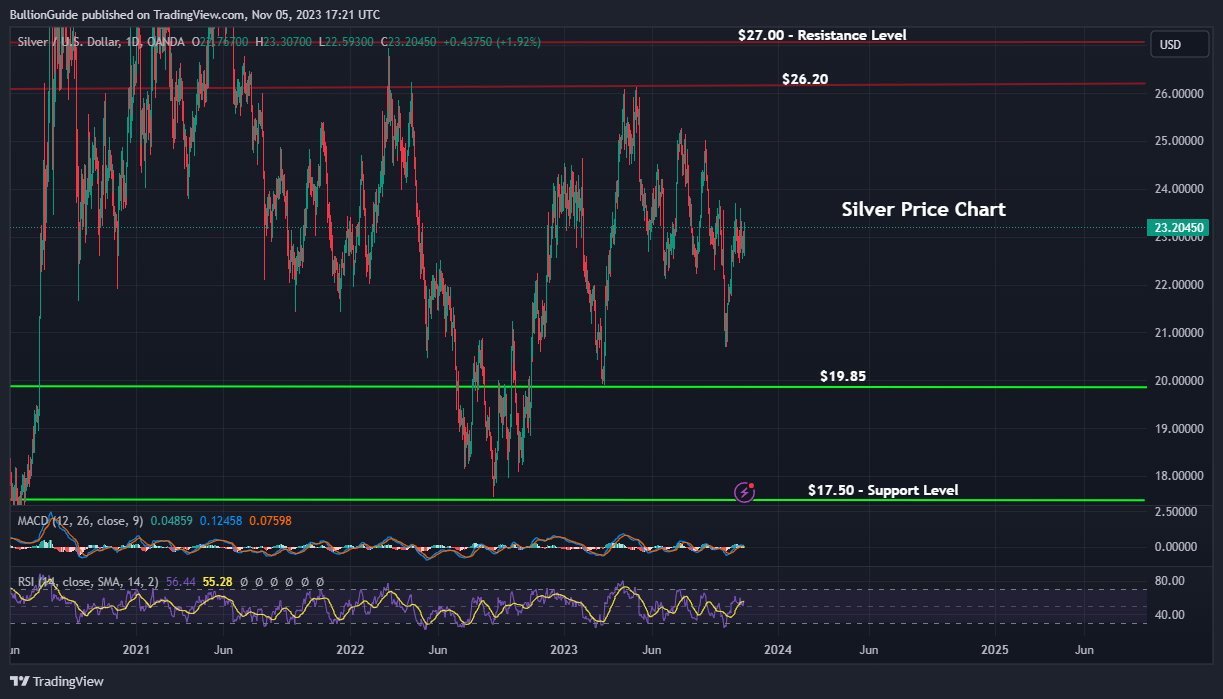 Note: click either chart to see it better
October's Best Articles
*all of these articles were originally posted on the Homepage of the Free-Bullion-Investment-Guide (posted daily after 8pm) 
The "Utility" of Precious metals' place in a portfolio - abrdn
137 Trillion Reasons To Own Gold - QUOTH the Raven
Precious Metals Dealers Charged in $7 Million Retirement Account Fraud - Coin Week
Gold Glitters In China's Financial Storm - U.S. Global Investors
AUDIO: Robert Prechter: How To Stay Safe In The Debt Implosion - McAlvany Weekly Commentary
INTERVIEW: Price Manipulation in Gold and Silver? The Steet.com Interviews GATA (Gold Anti-Trust Action Committee) - The Street
Monthly Gold Compass - October 2023 - incrementum
Copper MMI: Copper Prices Fall to Lowest Level Since November 2022 Amid Surplus Forecast - Metal Miner
Bullion coin sales show mixed results during 2023 - Coin World
Serious Limitations with Precious Metals IRAs - Numismatic News
5 Signs that Gold Will increasingly Flow to the East - Gold Switzerland
Markets Have Suffered A 'Sea Change' - The Felder Report
Restrictive Yields Could Be Fed's Waterloo - Investing.com
An Overview of Today's Gold Market by Richard Mills - Ahead of the Herd
Why Justin Trudeau Is Blaming Grocers for Surging Food Prices in Canada - FEE
REPORT: Gold Demand Trends Q3 2023 - World Economic Council
AUDIO: Four Trillion in US Debt Coming Due into Year-End, Says Chris Puplava - Financial Sense
Affiliate Specials
Please be-aware that Supplies are low with many bullion dealers and other retailers below.
Deals & Specials from 
Apples of Gold - 10% OFF for the MILITARY - USE DISCOUNT CODE: "MILITARY ONLY" at CheckOut
Express Gold Cash - Cash for Precious Metals/Jewelry

Survival Frog - Survival Equipment
The Royal Mint (United Kingdom)
TradingView - Interactive Investment Charts
One Last Thing...
No matter what age you are, no matter where you are in life, the best thing you can do is get your heart and soul right with God = Jesus Christ, the son of God. 
God, the Father, gave all authority to his son, Jesus Christ, after his resurrection from the dead.   
Jesus died on the cross to save mankind from sin and rose from the dead to save mankind from eternal death by giving all those who believe in him eternal life.     For God so Loved the World that he gave his one and only Son, that whoever believes in him shall not perish but have eternal life.  John 3:16

We all know that this life will not last forever, Jesus defeated death to give you eternal life all you have to do is believe to receive this awesome gift.   Learn about Jesus Christ and how he died and defeated eternal death through his resurrection so that you too can have eternal life - here.   

Jesus answered, "I am the way and the truth and the life. No one comes to the Father [God] except through me.    John 14:6
Until next month, Thank you for your time and for your support.
Take Care & God Bless,
Steven Warrenfeltz
www.free-bullion-investment-guide.com

powered by
Other pages
on this Guide

that you
may like...

---
For the Best Bullion Market News...

---
| | | |
| --- | --- | --- |
| | Free-Bullion-Investment-Guide "Search" | |
Free Bullion Investment Guide