Find Bullion Market News here

The Pendulum Swings



plus




Gold, Silver, and the US Dollar




Review and Weekly Outlook
---
Originally Posted on 11/13/2016 @4:16pm
by Steven Warrenfeltz

---
Subscribe by RSS Feed
---
The Pendulum Swings - the Markets are Weary after the 2016 Election.
In last week's post, seen here, I gave you two of my best scenarios about how the gold and silver may act if either Presidential Candidate won the election.
My scenario for a Trump win was completely wrong, but only because of how the markets responded to Trump's Acceptance Speech.
Had Trump come out and said in his acceptance speech, what traders expected to hear him say, they'd still be freaking out over is words.
Here are a few articles that agree with this point of view:
SAXO Group -

What gold did after Trump's surprise victory
The New York Times -

The Trump Stock Rally: Calamity Averted with a Little Charm
Gold-Eagle -

Gold Price At 5-Month Lows – Why Aren't Prices Up Following Trump's Win?
However, what I said, in last week's post, about a Clinton Win started to materialize on Nov. 7th, when the markets were anticipating a Clinton Presidential Victory.
Then on election day, as the vote results started to signal a Trump win, the markets, and the US Dollar sold off.
It wasn't until after Trump's acceptance speech that they moved back up.
In addition, if you were to look at last week's 'Clinton Win' scenario in a totally Messed-Up, Contradictory way, you'd see that what I stated last week was right.
All joking aside; I'm not trying to squirm my way out of taking responsibility for being wrong in my Trump winning scenario last week; so let me explain.

What I am stating here is if you replaced what I said last week about a Clinton win with Trump's name - you'd make the conclusion that what was shown on this blog came true.

Because what we see right now is exactly what would have happened had Clinton won the presidency.

This is what was stated in last week's post:
If Clinton wins, expect Gold and Silver to Drop and the U.S. Dollar and broader markets to climb in price.

The market views Mrs. Clinton as 'More of the Same' or as a 'Safe Bet, ' and it is expected that if she were to win the presidency nothing much would change.

The chart below was posted on this blog 10/08, after silver fell in price and broke its ascending channel; which could be a future indicator of what will happen to Gold if Clinton Wins.

Below is last week's chart.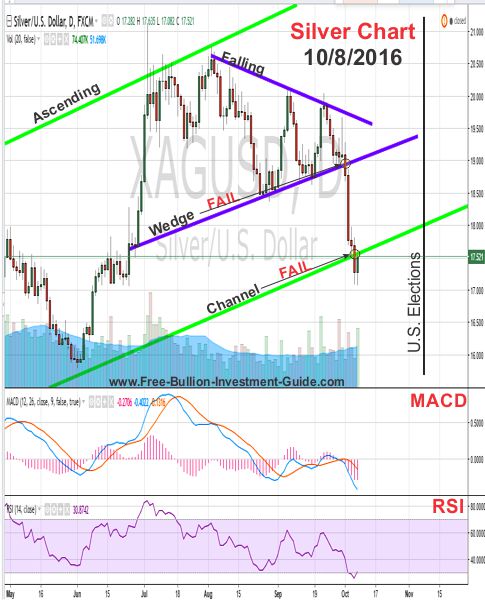 The one similarity between the movements in gold and silver last week and the chart above are that politics dictated their action, nothing else.

'Click the Chart' for a full explanation as to why gold and silver moved so dramatically in the first week of October.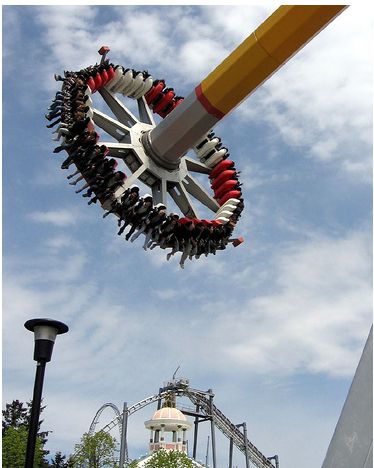 The markets aren't Freaking Out over Trump, yet - but, he's by far a 'Safe Bet' to them, and so far he isn't scaring them.

Traders are biting their nails and are nervous as hell about the future, so expect the Pendulum to make a lot of swings in the next 180 days because the market is hanging on Trump's every word.

In addition, in less than a month the ECB has a meeting on Dec. 8th and the FOMC has a meeting on Dec. 13-14, so hold on because this pendulum ride is just getting started.

(more market analysis is below for gold, silver, and the U.S. dollar)
---
GOLD
Last week, gold fell through the Ascending Channel that I've been drawing for it since it broke below its old ascending channel early last month.

Because of all the unknowns in the Gold Market, I'm going to keep the ascending channel in its place, until next week, because gold is in oversold territory and the markets are very nervous.

Plus, Gold Love's nervous traders, so Gold could easily bounce back up above the bottom of the ascending channel and stay above it, making this latest fall in the gold market an anomaly.    Time will tell.
Charts provided courtesy of TradingView.com
---
Gold's Price Resistance and
Support Levels
Gold's Resistance Level
$1350.00
$1300.00
$1275.00
Gold's Support Levels

$1215.00
$1200.00
$1180.00
---
SILVER
Last week, silver fell below its rising trend-line, but like gold, there is the possibility that it could be an anomaly because of how nervous the markets are now, and in the weeks to come.

Because of this, like gold, I am going to keep the rising trend-line on the charts for next week's analysis to see if the price corrects itself and continues on its upwards track.

However, I do realize that there are some headwinds on the horizon, i.e. the ECB's policy meeting on December 8th and the FOMC's meeting on Dec. 13-14th.

These are additional factors to what the new President-Elect may or may not say in the coming days and weeks to come, so what happens in gold and silver is anyone's guess.
Charts provided courtesy of TradingView.com
Silver's Price Resistance and
Support Levels
Silver's Resistance Level

$18.95

$18.50
$17.70


Silver's Support Level

$17.15
$16.90
$16.30
---
US DOLLAR
The US Dollar moved in unison with the broader markets this week.

Before the U.S. Election (dotted line on chart) the dollar rose because most in the markets expected Clinton to win the Presidency.

Last week, market traders bought up stocks and the U.S. Dollar like a lottery winner, but I think their euphoria will crash into reality sooner than they think.

The U.S. Dollar and the broader markets are all topping in their latest move, so we could see any type of corrective movement in the week ahead.

Because 'Presidential Politics' and 'Euphoric Traders' are the two biggest factors moving this market, it's difficult to say which way the markets will move. Hopefully, next week, more technical analysis can be applied to the price charts.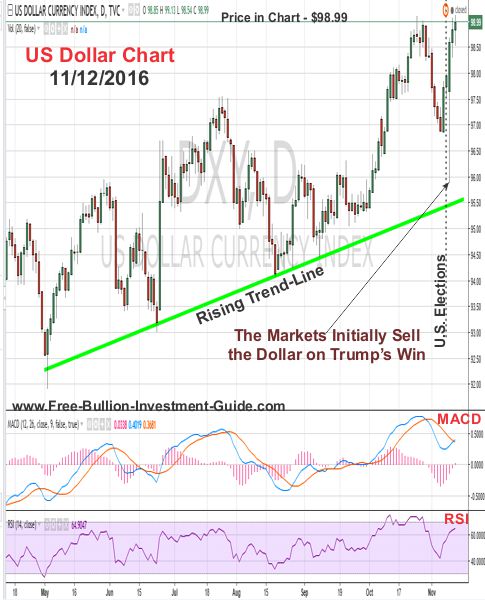 Charts provided courtesy of TradingView.com
---
U.S. Dollar's Price Resistance and Support Levels
U.S. Dollar's Resistance Level

$101.00
$99.50

$99.00

U.S. Dollar's Support Level

$98.25
$97.00
---
Music
This week every time I hear this song I turn it up - The Hollies - 'Long Cool Woman.'  I found this good video that has the lyrics.

God Bless and I hope you have a Great Week! SW
To let those who may not visit this blog know that when I can I prefer to listen to music when I work and for the last five months I've been sharing with the reader's of these posts the song or songs that are my favorites.

---
To see all prior Bullion Market Analysis - Blog posts,
Go to this Guide's Tumblr blog: here.
---
Thank You for Your Time!
---
---
Free Bullion Investment Guide