Find more "Deals on Bullion" here

Politics is in Control this Week




plus




Gold, Silver, and the US Dollar




Review and Weekly Outlook



---
Originally Posted on 10/30/2016 @4:35pm
by Steven Warrenfeltz

---
Subscribe by RSS Feed
---
In review, most of what was stated in last week's blog post, happened, except for the following statement about the GDP numbers that were reported on Friday:

"Economists are predicting to see a number in the range of 2.5%; which I think it will be a surprise to anyone if we get close to that number; So we may see a pop in Gold and Silver late in the week."

I was wrong in my statement, but some of the numbers in this report were clearly over-estimated and here are a few examples of those who agree:
Mish Talk -

Real GDP Increases 2.9% Led by Exports; Expect Revisions
VIDEO :

Santelli Exchange -

On the Averages : Former CBO Director "We're in a 2% economy"
Gold and Silver did see a pop in price on Friday (10/28), but as you can see in the chart below it wasn't from the GDP report.
Gold & Silver 'Pop' in price after FBI announces new Clinton Probe
In addition, the following was stated in last week' blog post:

"Normally, Gold and Silver would dip in price from the ECB news, but they didn't because they are currently being held up by the 'Big Unknown' a.k.a. The U.S. Presidential Election. 

If the Democrat wins, gold will probably fall at least a little in price simply because of the reason mentioned above, the ECB's announcement hasn't been priced into gold because of the unknown's related to the U.S. Election.

Whereas, if the Republican wins, Gold and Silver will most definitely go up, because the market does not know what to expect of him, whereas with the Democrat they expect more of the same."

This CNBC screenshot also supports what was stated above.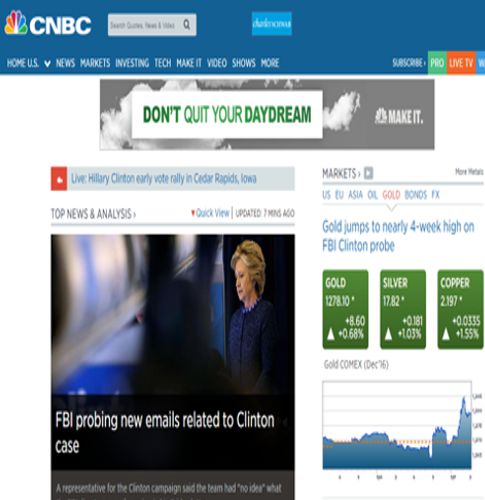 Here is a better view.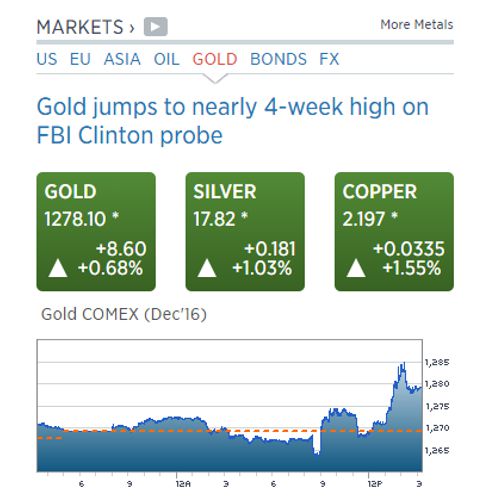 The markets haven't priced in the possibility of Trump winning the Presidency, which is why Gold and Silver Popped in price on Friday.

Time will tell what will happen, and nobody will know who the winner is till the final count, but like BREXIT don't let yourself get caught up in the herd or you may get burned.
The Week Ahead

This week is the run up to the Elections, and the FOMC has a meeting on the 2nd of November.

Don't expect any fireworks out of the Fed, for now; everyone is looking to December for a rate hike, plus, they won't raise interest rates because of the election.

Furthermore, this week I expect the markets to be really nervous, with a sideways trade unless another bombshell is announced on either side of the political spectrum.

If there are more bombshells to be announced and if it helps the Democrat's, expect gold and silver to trade sideways until election day.
But, if it is in the Republican's favor, I expect to see a lot more volatility out of the broader markets with gold and silver moving favorably to the upside.
---
GOLD
Gold has continued to trade sideways inside the new ascending channel I drew for it, after it broke below its old one back on Oct. 5th.

In last week's gold section, I mentioned the following:

"The week ahead, I expect to see more of the same from last week, gold will just be jogging sideways, favored to the upside, until election day."

I expect to see more of the same this week in gold too unless some real bombshells come out from either side of those running for political office.

The way this election year has been going I'd be surprised if something didn't come out.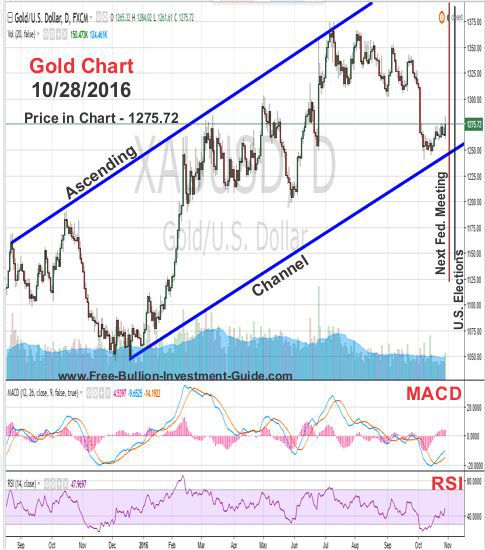 Charts provided courtesy of TradingView.com
The Red line on the Gold Chart above represents when the next FOMC meeting happens on Nov. 2nd and the Black line represents when the U.S. Elections happen on Nov. 8th. 
These lines will be on these charts until they happen.
---
Gold's Price Resistance and
Support Levels
Gold's Resistance Level
$1310.00
$1300.00
$1280.00

Gold's Support Levels

$1250.00
$1225.00
---
SILVER
For the last two weeks, silver has been trading above the rising trend-line shown in the chart below.

Like gold, politics will dictate the markets this week and quite honestly probably most of the week after.

But, like I mentioned last week "...silver will need to stay above this rising trend-line for it to have a brighter short-term future."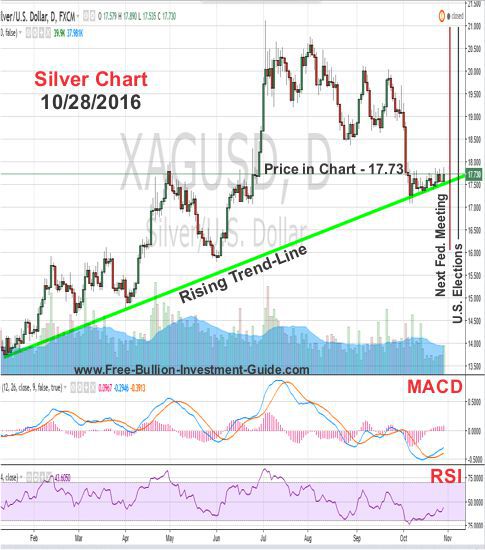 Charts provided courtesy of TradingView.com
Silver's Price Resistance and
Support Levels
Silver's Resistance Level

$18.50

$18.00
$17.75

Silver's Support Level

$17.25
$17.05
$16.90
---
US DOLLAR
Clearly, the news released on Friday about the FBI renewing its probe into Hillary Clinton, hurt the US Dollar.

Like all the charts above, politics will dictate the markets for at least until election day, so if you're in the markets - hold on because it will probably get real bumpy.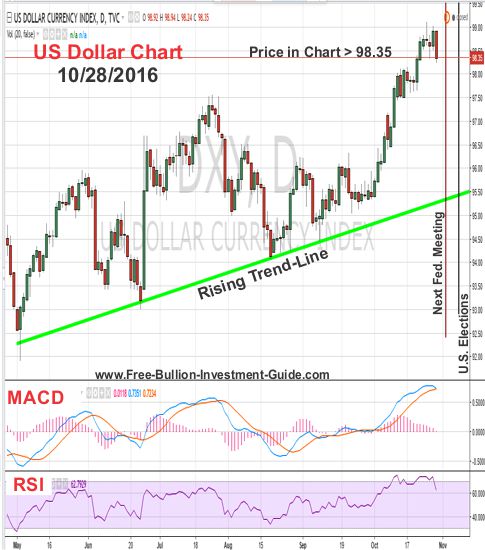 Charts provided courtesy of TradingView.com
---
U.S. Dollar's Price Resistance and Support Levels
U.S. Dollar's Resistance Level

$99.00

U.S. Dollar's Support Level

$98.25
$97.50
$96.90
$96.50
---
Music
When I turned on my music today, this song was the first one I heard; I knew right then that this was the song I was going to post.  

It's one of my all-time favorites, the song is John Lennon's - 'Instant Karma' and it reminds me of my childhood friend who died of cancer and whom I've dedicated the Cancer Fighting Side of this website.

He and his brother loved the Beatles and John Lennon; I remember his bedroom being plastered with Beatles memorabilia.

So, this week's song is for my best friend Scott - one of the most genuine individuals I've ever known.
God Bless and I hope you have a Great Week! SW
To let those who may not visit this blog know that when I can I prefer to listen to music when I work and for the last five months I've been sharing with the reader's of these posts the song or songs that I liked the most while I did the work.
---
To see all prior Bullion Market Analysis - Blog posts,
Go to this Guide's Tumblr blog: here.
---
Thank You for Your Time!
---
---
| | | |
| --- | --- | --- |
| | Free-Bullion-Investment-Guide "Search" | |
Free Bullion Investment Guide